Trevor Noah Asks Hillary Clinton About Right-wing Conspiracy Theories Against Her: 'How Did You Kill Jeffrey Epstein?'
Comedy Central host Trevor Noah brought up the conspiracy theories and right-wing vitriol that seems to follow the former U.S. Secretary of State Hillary Clinton wherever she goes.
Clinton appeared with her daughter Chelsea Clinton on The Daily Show With Trevor Noah to promote the new publication The Book of Gutsy Women, that the pair has co-written, on Thursday.
In a light-hearted reference to one of the latest conspiracy theories besetting the former Democrat presidential contender, Noah asked Clinton: "I have to ask you a question that has been plaguing me for a while, how did you kill Jeffrey Epstein?" as both Clintons and the audience burst into laughter.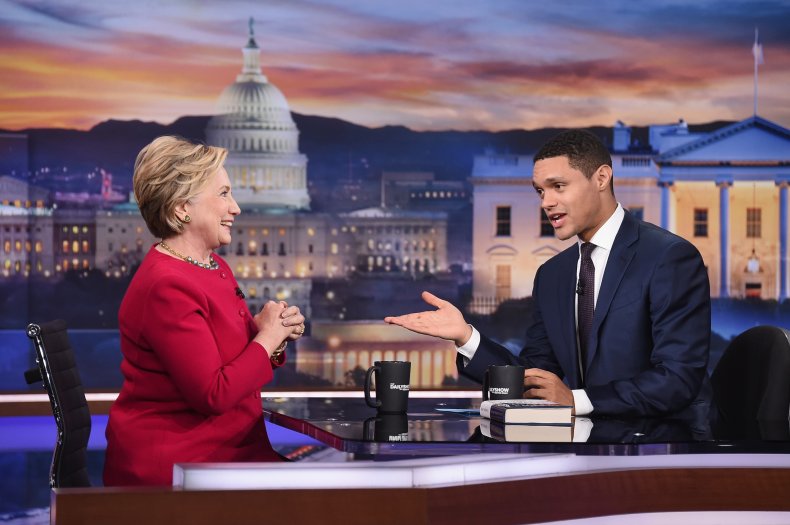 Back in July, before Epstein was found dead in his Manhattan prison cell as he awaited trial on sex trafficking and conspiracy charges, Clinton became the subject of a decades-old conspiracy theory in which far-right pundits linked her to other deaths and the hashtag #ClintonBodyCount started trending, NBC News reported.
On Thursday night's show, Noah continued: "Because you're not in power but you have all the power.
"I really need to understand how you do what you do, because you seem to be behind everything nefarious, and yet you do not use it to become president."
"Honestly, what does it feel like being the boogeyman of the right?"
The former first lady explained it was a "constant surprise to me" how she was the subject of these theories.
"The things they say, and now, of course, it's on steroids with being online, are so ridiculous, beyond any imagination that I could have. And yet they are so persistent in putting forth these crazy ideas and theories. Honestly, I don't know what I ever did to get them so upset."
Chelsea Clinton recounted how she read an interview in 2016 with an undecided voter who thought Clinton was a better candidate but could not discount that he had heard she had murdered more than 50 people.
"He said, somewhat nonchalantly, 'I don't think that she murdered 50, but, like, what if she murdered two?'" Chelsea Clinton said, adding, "And, so, you just think it's like this constant erosion of truth and sanity."
However, Hillary Clinton was herself accused of peddling a conspiracy theory last month when she said that Moscow was "grooming" a Democrat running in the presidential primary to run as a third-party candidate, adding that a certain female candidate "was the favorite of the Russians."
Although she does not mention anyone by name, the comment appeared to be directed at Hawaii representative Tulsi Gabbard, who has been accused of past links with Russia, according to CNN. She also accused Green party leader Jill Stein of being a Russian asset.
Gabbard rejected the insinuation, tweeting: "Thank you @HillaryClinton. You, the queen of warmongers, embodiment of corruption, and personification of the rot that has sickened the Democratic Party for so long, have finally come out from behind the curtain."