Tulsi Gabbard Says Clinton Attacked Her for Supporting Sanders in 2016, Calls for 'New Democratic Party'
Hawaii congresswoman and 2020 presidential candidate Tulsi Gabbard responded to Hillary Clinton's "Russian asset" accusation Sunday in a video demanding an end to what she described as rampant corruption in the Democratic Party.
Gabbard went after Clinton and her "gang of rich, powerful elite" friends who she said hijacked the Democratic Party and have turned it into a corporate-backed "war machine."
In a podcast last week, Clinton, the former 2016 candidate who lost to Donald Trump, claimed both Gabbard and former Green Party candidate Jill Stein are "Russian assets," which drew ridicule from several 2020 candidates as well as the president himself.
Gabbard released a video Sunday accusing Clinton of trying to "destroy" her because she supported Vermont Senator Bernie Sanders during the 2016 Democratic primary.
"People warned me in 2016 that my endorsement of Bernie Sanders would be the end of my 'political career,'" Gabbard said in the video released Sunday afternoon. "They said, 'Clinton will never forget,' that she and her rich and powerful friends, her allies in politics and the media will make sure that you are destroyed."
Fellow Democratic 2020 candidates Andrew Yang and Marianne Williamson joined Stein and Sanders 2020 campaign co-chair Nina Turner in defending Gabbard from Clinton's anti-3rd party accusations.
"There have been countless hit pieces full of smears against me from day one of this campaign," Gabbard continued in the video. "They've tried to destroy my reputation and my lifetime of service because I stood up to them. I spent over 16 years of my life proudly serving the Army National Guard. I still serve as a Major today. I volunteered to deploy to to the Middle East twice."
Gabbard warned her supporters that if the Clinton and Democratic National Convention leaders can label her, a military veteran and congresswoman, as a traitor--then that "machine" can do it to any American.
"If they can falsely portray me as a traitor then they can do it to anyone," Gabbard continued. "And in fact, that's exactly the message that they want to get across to you. That if you stand up against Hillary and the party power brokers, if you stand up to the rich and powerful elite and the war machine they will destroy you and discredit your message."
Gabbard had previously responded to Clinton Friday, tweeting that the former secretary of state is "the queen of warmongers, embodiment of corruption, and personification of the rot that has sickened the Democratic Party for so long..."
Her video message Sunday echoed the same message that she believes the Democratic Party is corrupt and controlled by people alongside Clinton. She called for the formation of a "New Democratic Party" which fights for peace, average Americans and to protect the planet.
"They will not intimidate us, they will not silence us. We are not here just to protest their corruption. I am running for president to take the Democratic Party and our country back from the corrupt elite," Gabbard concluded.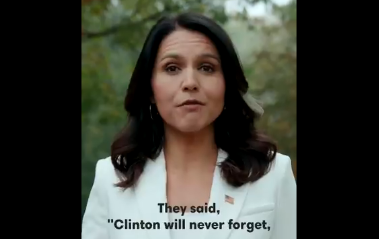 2020 presidential candidate Tulsi Gabbard responded to Hillary Clinton's "Russian asset" accusation Sunday in a video demanding an end to Democratic Party corruption.
Screenshot: Tulsi Gabbard | Twitter