Hillary Clinton's DNC Speech Urges Voters to Stop 'Foreign Adversary' From 'Stealing' the Election
Former First Lady, Secretary of State and 2016 Democratic presidential candidate Hillary Clinton spoke at the Democratic National Convention on Wednesday evening and urged Americans to vote to keep a "foreign adversary" from "stealing" the election.
Clinton encouraged voters to mail in their ballots early and to volunteer as poll workers in order to ensure that Republican President Donald Trump will neither win the electoral college despite losing the popular vote—like he did in 2016—nor "sneak or steal his way to victory" with the help of "a foreign adversary," meaning Russia, though Clinton didn't mention the country by name.
"The morning after the last election," Clinton began, "I said, 'We owe Donald Trump an open mind and the chance to lead.' I meant it. Every president deserves that."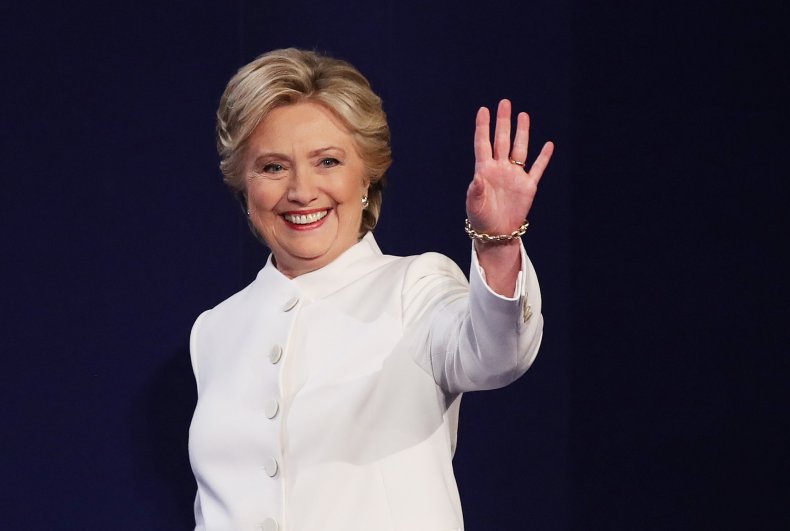 However, after saying that Trump has never "put his own ego and interests aside," she continued, "I wish Donald Trump knew how to be a president, because America needs a president right now," adding, "Remember back in 2016, when Trump asked, 'What do you have to lose?' Well, now we know: our healthcare, our jobs, our loved ones, our leadership in the world and even our post office."
Clinton also cautioned viewers, "Don't forget: Joe and Camilla can win by 3 million votes and still lose—take it from me. So we need numbers overwhelming so Trump can't sneak or steal his way to victory."
In that moment, Clinton was referencing her electoral college loss to Trump in 2016. Even though she beat Trump in the popular vote by a margin of 2.86 million votes, Trump still won the presidency with 304 electoral votes over Clinton's 227 as he won key battleground states like Florida, Iowa, Ohio and North Carolina as well as states that were expected to vote Democratic, such as Wisconsin, Pennsylvania and Michigan.
In February, a U.S. intelligence official told the House Intelligence Committee that Russia's interference in the 2020 election is already underway using a variety of methods with the primary goal of sowing discord in the United States.
In response to her speech, Republican South Carolina Senator Lindsey Graham tweeted, "President @BarackObama and Secretary @HillaryClinton give sore losers a bad name."
In 2015 and 2016, Graham tweeted, "@realDonaldTrump should not be our commander in chief," "Trump gets his foreign policy from watching ... the Cartoon Network," and he called Trump "downright dangerous" labeling him as an "opportunist," and adding, "He's not fit to be President of the United States."
Graham is now one of Trump's most enthusiastic supporters among Republican senators, pledging his vote in 2020, wishing him a happy birthday, going golfing with him and calling him "Just what America needs!" in a January 3, 2018 tweet.