New HIMARS Missiles Could Give Ukraine Forces Major Boost
German weapons manufacturer MBDA is developing a missile that could help Kyiv's forces in the fight against Russia, according to reports in Ukraine.
The Ukrainian military has been using U.S and German-supplied HIMARS (high mobility artillery rocket systems) to repel Russian forces and to go on the offensive.
The joint fire support missile (JFS-M) being developed by MBDA could increase the range of weapons fired by Ukraine from 300km (186 miles) to 500km, according to news site Obozrevatel.
Two key bridges into the Russian-occupied city of Kherson, which Kyiv has been working to retake, were heavily damaged by strikes last week, the British Ministry of Defence said.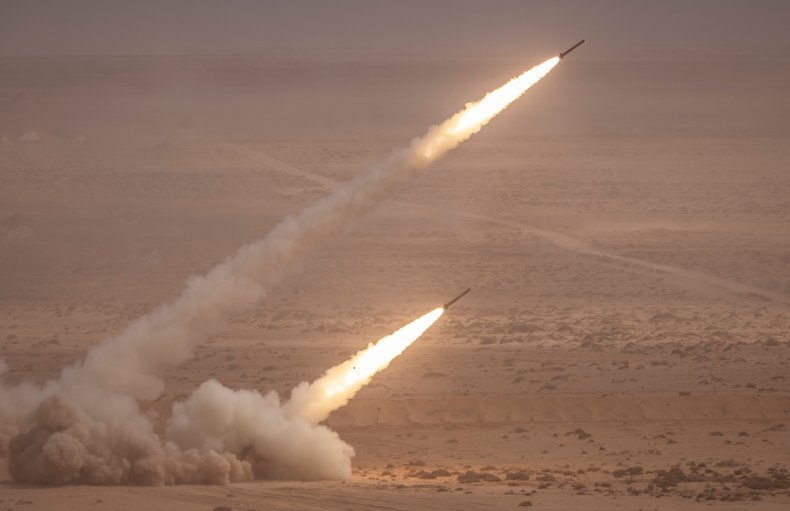 Ukrainian authorities reported on Saturday that the last working bridge over the river in the country's southern region had been damaged, further crippling Russian supply lines, according to the Associated Press.
The JFS-M has a high subsonic speed that ranges from 600km/h to 1000km/h, according to MBDA. Two of the missiles could be placed in HIMARS and four in the M270 multiple launch rocket system.
The missile's low-altitude flight and low-visibility technology could bypass Russian air defenses, something that cannot easily be achieved with the use of ballistic missiles. MBDA has released a video displaying the JFS-M's capabilities.
The U.S. is also developing a missile for HIMARS—the PrSM or precision strike missile—which could have a range of up to 650km.
It is not yet clear when these longer-range missiles will be available to Ukraine, however. Some military experts have suggested that Ukraine could run out of HIMARS missiles in the next few months.
Retired U.S. Marine Corps Colonel Mark Cancian told Newsweek that the supply of American missiles could be depleted within the next three or four months.
This is "a pretty wild guess, but I don't think that's crazy," he said. "Some people have estimated a month or so. I don't think they're firing them that fast.
"We will get to that point where the U.S. will have to reduce the number of missiles provided because the stocks will be running low.
"I think there will be a series of discussions inside the Pentagon. The military will probably want to hold on to more; the civilian officials will probably want to release more, and they'll come to some sort of agreement on what is an acceptable level of risk."
Cancian added: "The number of rockets [produced by the U.S.] is relatively limited." He said the U.S. had produced about 50,000 guided rockets since they began production in 2004 and will buy about 5,800 this fiscal year.
Newsweek has contacted the Russia's Ministry of Foreign Affairs for comment.