Woman Shares the Bonkers Things Men Are Saying on Hinge's New Audio Feature
A woman has shared the wild things men are saying on Hinge, after the dating app introduced a new audio feature.
First there were photos and descriptions of ourselves, then we were able to add video, and finally 30-second voice prompts have arrived after the app unveiled the sound recordings at the end of October.
As singletons quickly uploaded soundbites to their profiles, one woman has shared bonkers things men have been saying on the app.
Melissa Merk posted a video to her TikTok page, @melissamerk, where she wrote: "I was going to delete Hinge but then they came out with the audio feature."
Merk, from Vancouver, Canada, shares a few profiles and plays the voice notes, as one man, in response to "I'm weirdly attracted you", simply says: "You."
Under unusual skills, another man said: "Well I'm surprisingly good at driving with my knees."
One man definitely understood the assignment, and revealed under the overshare category: "I was feeling super stressed so I went to the doctor and she gave me some pills for anxiety, so I tried them out, and I ended up adopting six pet rats. "
Another man declared he knows the best spot in town for "fried chicken." One singleton revealed his simple pleasure is "having a bath after a long day is literally heaven."
A man named Daniel teaches people how to say his name, which is pronounced in the traditional fashion, and even uses it in a sentence, saying: "Hey that cool guy Daniel over there."
Merk's clip, which can be seen here, amassed more than 3 million views since being shared on Monday.
She captioned it "what a time to be alive," and it's received mixed responses. Keira simply asked: "Are men OK?"
Erin O'Neil wrote: "Honestly why is this suddenly making me realize that the only thing that can make a man's profile less appealing is letting him speak."
Starryeyedartist commented: "The 6 pet rat guy is marriage material."
While Caitlin Taft added: "This would eliminate so many right off the bat."
In a follow-up clip, Merk revealed Daniel found her on Instagram, and shared a message from him which read: "Thank you for that. My phone's been blowing up the last 24 hours from friends asking me how to pronounce my name."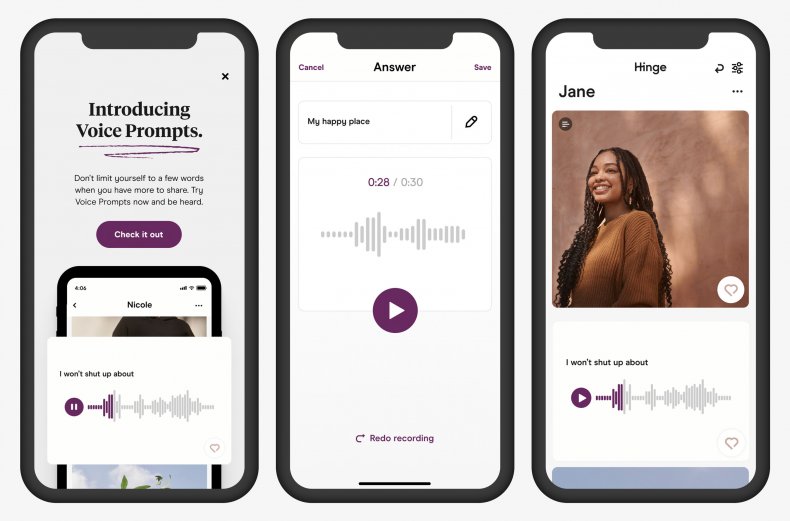 When announcing the new feature at the end of last month, Michelle Parsons, chief product officer, said: "Hinge wants to help people get to know you as soon as they see your profile. If a picture is worth 1,000 words, imagine how many your voice is worth.
"With the introduction of Voice Prompts, we're adding more authenticity to the profile experience, allowing users to fully display their personality in a new way. Our team's focus is to introduce product updates that help our daters move from the selfie to new forms of self-expression," a release on PR Newswire said.
It also said Voice Notes will be added this fall, allowing matches to have a conversation.
Website Business of Apps put Hinge in fourth place in the dating app market, behind Tinder, Bumble and Badoo, when looking at 2021 statistics.
Newsweek reached out to Merk for comment.