Hispanic Cannabis Professionals Discuss Opening Doors for Their Community
The history of cannabis and Hispanic/Latino people in the United States is one full of racism, dating back to when the plant was made illegal in the early 1900s. However, as legalization spreads across the nation, an increasing number of Hispanics are trying to rewrite the narrative of cannabis and their people.
Multiple accounts of how cannabis became classified as a dangerous drug point to a growing movement against immigrants from Mexico in the early 20th century. The term "marijuana" is even believed by many to be a term favored by factions attempting to link use of the plant for intoxication to Spanish speakers.
Eric Schlosser, who wrote the best-selling book Reefer Madness, said in a 1994 article for The Atlantic that "prejudices and fears" led to the spread of false accounts about the supposedly menacing weed causing deviant behavior among American citizens after they were introduced to it by immigrants. State laws and eventual federal legislation paved the way for mass incarcerations of cannabis users, a disproportionate amount of whom were—and still are—people of color.
"In this country, Black and Brown people are still incarcerated at a higher rate than white people for cannabis, despite usage being nearly the same," Alyssa Estrada of the multistate cannabis operator, Green Thumb Industries, told Newsweek. "It frustrates me that people who look like me are sitting in jail for crimes related to a plant that many of us enjoy freely today."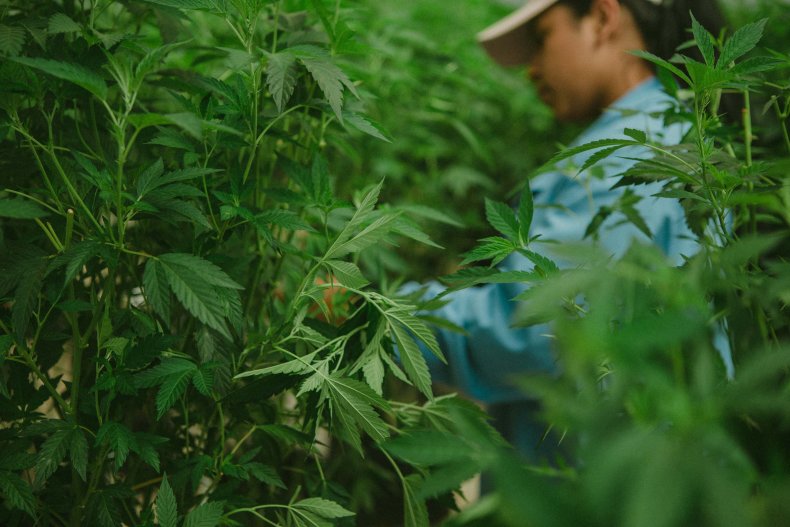 As the social impact manager at Green Thumb, Estrada's job focuses on restorative justice and inclusion efforts in the cannabis industry.
"It's critical that individuals and communities that have been impacted by cannabis prohibition have a seat at the table as key decisions are made in this rapidly growing legal cannabis industry," she said.
In 2020, the California Department of Justice released an annual crime report that provided an example of the disparity of cannabis arrests between people of color and white citizens. The state's data showed Hispanics accounted for around 42 percent of felony cannabis arrests, followed by Blacks at 22 percent.
"The U.S. war on drugs should be seen as an abject failure. Billions of dollars spent, and generations of people (mostly minority men) imprisoned," Gabriel Mendoza, executive vice president of retail operations at the cannabis company 4Front Ventures, told Newsweek.
Mendoza is among the many Hispanic people in the industry who is working hard to flip the script on the cannabis story from a negative one to one that's positive for his community.
"In 2018, I came together with a group of Chicago-based minorities to start a nonprofit named Chicago NORML. It was formed around educating and motivating communities of color to accept the cannabis plant as a tool for social, economic and medicinal freedom," he said. "To date, we've trained thousands on how to enter the industry; we've helped expunge records, we've helped write laws."
Attorney Brian Vicente first became involved in social justice work through litigation work for clients who were AIDs patients seeking to use medical cannabis. Along with being the co-founder of the cannabis-focused law firm Vicente Sederberg, he is also the co-founder and president of the National Hispanic Cannabis Council (NHCC).
"Our mission is to educate the U.S. Hispanic community on the health, wellness and economic aspects of cannabis to empower their support and participation in the industry," Vicente said to Newsweek.
He added: "The illegality of cannabis has been extremely harmful to patients looking for access to legal treatments. Not only that, but a staggering number of communities have also been disproportionately affected by cannabis prohibition."
People of color getting a foothold in the industry is still a huge challenge. In 2017, 81 percent of cannabis business owners in the U.S. were white, compared to 5.7 percent who were Hispanic and 4.3 percent who were Black, according to the cannabis business tracker MJBizDaily.
Many people within the industry say that navigating the legal fine print to opening businesses remains difficult for newcomers, and many states don't offer easy paths to land ownership for cultivation. However, there are a growing number of companies that offer resources for people looking to get into cannabis work, including some that offer a special focus on people of color.
On the Revel is one of the more prominent companies seeking to educate anyone looking to start a career in cannabis, as well as offer help to people who are already in the industry to network. Though based in New York, much of On the Revel's events and lectures can be found online.
"We record our TED talks, and we make them freely available on our YouTube, because we know YouTube's where the masses go to get educated. We could gate it, make it behind a paywall, but we've chosen not to because we know this information is needed," Peter Mercado-Reyes, head of content and community at On the Revel, told Newsweek.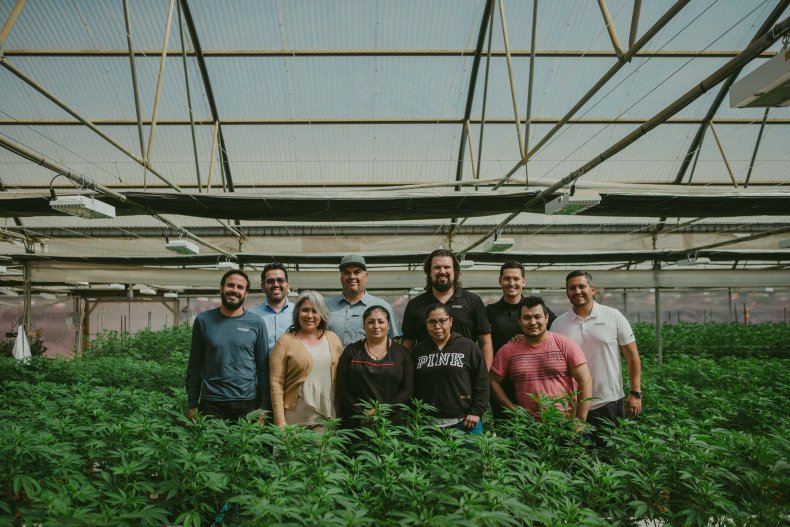 Along with the financial incentives that could come from entering what will all accounts be a hugely lucrative industry, Hispanic/Latino and all people of color might also find a welcoming environment in cannabis work.
Jesús Burrola told Newsweek he worked in construction for 15 years before taking on his current role as the CEO of cannabis cultivator, POSIBL.
"I experienced much more racism in that industry," Burrola said. "I feel the cannabis community is much more progressive community. I'm a Latino. My COOs are Latino. The main shareholders are Latino. The director of cultivations is Latino. The director of operations is Latino. There's more Spanish spoken in this office than English."
He added: "I do think the opportunities right now to create your own business are hard, but they will only get easier. I think those that participate now and do it for the right reasons will have an incredible experience. As opportunities begin to open up, I can't wait to see more minorities and people of color participate as owners."