History Behind the Black National Anthem the NFL Will Play at Week 1 Games
The NFL plans to play a song dubbed as the Black national anthem during pregame ceremonies during the first weekend of its regular-season games. A source told The Undefeated that the song "Lift Every Voice and Sing" could be played before the "Star-Spangled Banner" during Week 1.
The announcement comes during the ongoing protests of police brutality against Blacks following the May 25 death of George Floyd, who died while in custody of Minneapolis police. That sparked protests around the country, and then around the world, against not only the death, but for social justice.
So, what is the "Black National Anthem" and what are the words?
History of the song
"Lift Every Voice and Sing" was written as a poem by former NAACP leader James Weldon Johnson, and then later set to music by his brother, John Rosamond Johnson, in 1899, according to the NAACP.
A group of 500 children at the segregated Stanton School in Jacksonville, Florida performed the song in public for the first time in 1900 on the birthday of former President Abraham Lincoln, who presided over the emancipation of slaves during the Civil War.
Although there are many versions of the song in its 120-year history, here's a video that has both audio and the lyrics shown.
James Johnson, who was the principal of the Stanton School at the time of that first performance, soon became active in government and within the NAACP. He was appointed as U.S. Consul in Venezuela and Nicaragua by then-President Theodore Roosevelt in 1906, and he stayed in that position until 1913. He began working at the NAACP in 1917, and became the executive secretary in 1920.
In 1934, he became the first-ever Black professor at New York University.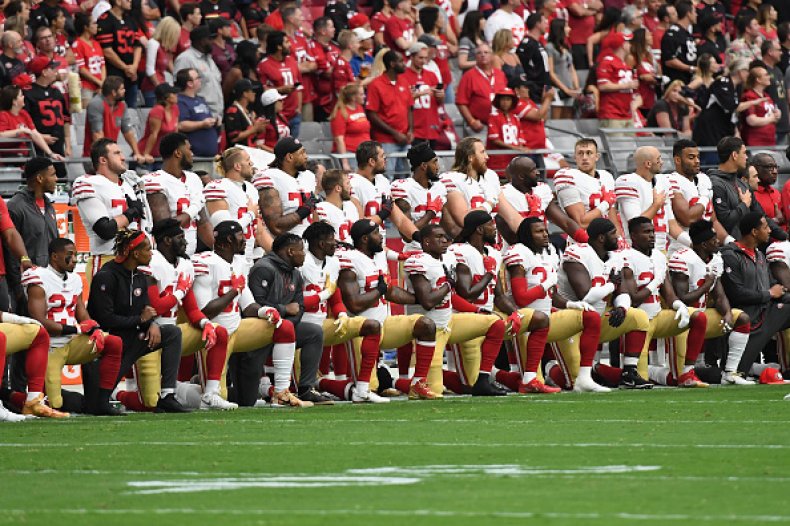 As for the NFL, players began kneeling during the pregame national anthem in 2016. Former quarterback Colin Kaepernick began the protest that season, other players began protesting along with Kaepernick, and soon the movement went outside of football.
Kneeling protests began hurting some teams at the ticket booth, and the NFL in 2018 began prohibiting players kneeling during the national anthem. It most likely hurt Kaepernick's chances at getting signed by any other team.
Fast forward to 2020, and it's been five weeks since the death of Floyd, whose last words heard were, "I can't breathe." The death sparked nationwide protests against Floyd's death, police brutality and racial injustice.
NFL Commissioner Roger Goodell last month said the NFL should have done a better job at listening to its players over the last four years. Even during that apology, Goodell never mentioned Kaepernick by name.
Then last month, Goodell said teams should be receptive to giving Kaepernick another shot at making a roster.