Hitler Portraits, Nazi Memorabilia Found In Raid on Suspected Arms Dealers
A plethora of Nazi memorabilia has been found alongside hundreds of guns and portraits of Adolf Hitler after police raided a warehouse in Spain.
Two Germans and one British man have been arrested under suspicion of leading an international arms ring that sold guns to drug traffickers, the Civil Guard said in a statement on Tuesday.
A total of 160 firearms, including submachine guns and 30 assault rifles, as well as 10,000 bullets and a grenade were uncovered in the raid across three locations in Andalusia, southern Spain.
Photos uploaded by the force show rooms full of Third Reich artefacts, including portraits of Hitler, Nazi military uniforms, emblems and medals.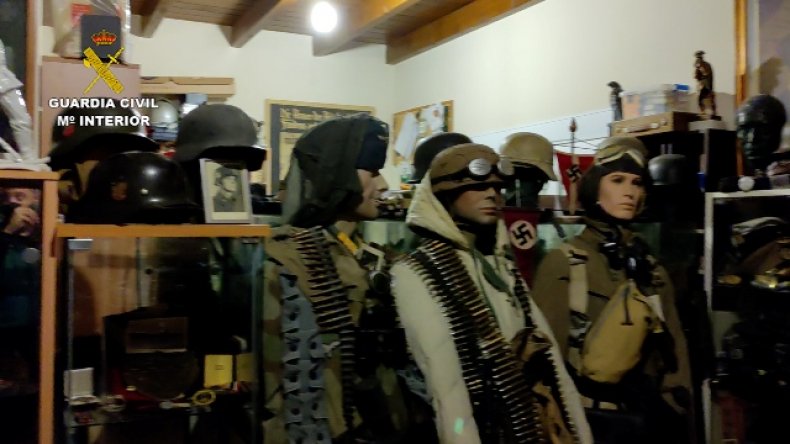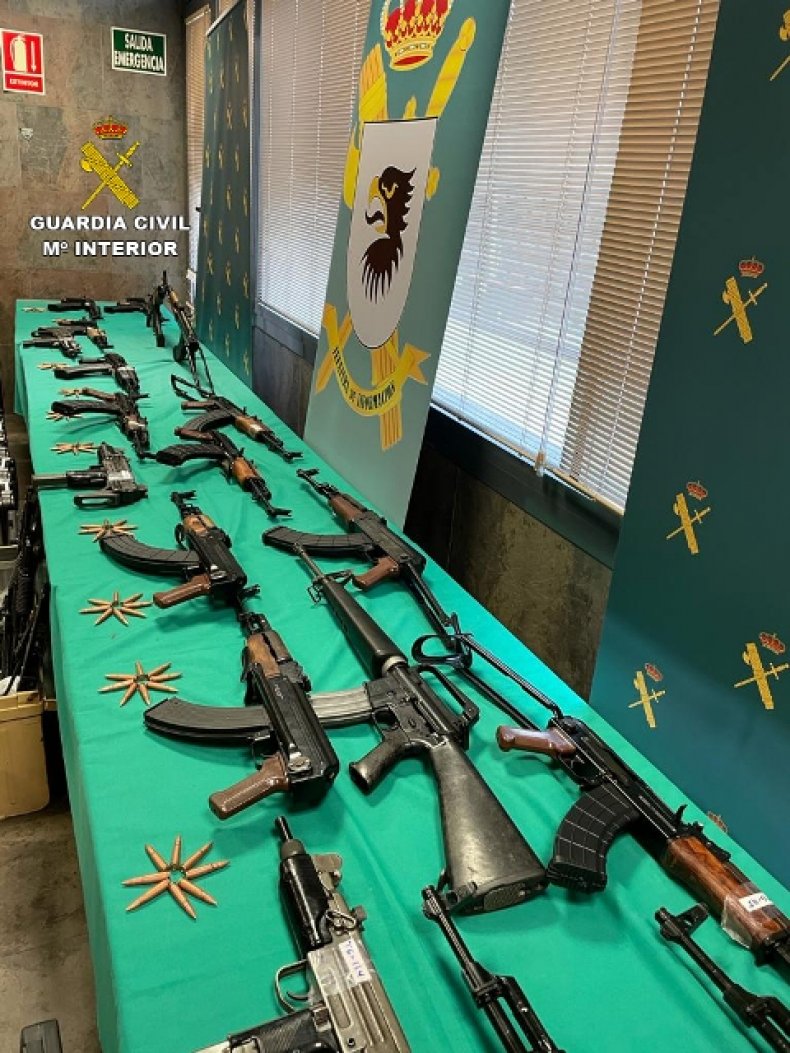 The collection, uncovered in the home of a German citizen reportedly linked to far-right groups, was described as a "museum of Nazi-themed objects" by police.
The arrests came after a year-long investigation into a spate of gun crimes in the region.
Authorities detected an alarming increase in the use of firearms used in so-called "rollovers"—drug theft—and violent score-keeping between drug traffickers on the Costa del Sol and Campo de Gibraltar.
Police had been investigating a man of German nationality living in Malaga under a false identity. The man had fled Germany after a warrant was issued for his arrest for weapons found in Hannover.
Together with the German Criminal Police, investigators carried out a search of his home in Coín—where they found a workshop fitted with sophisticated machinery.
The men are believed to have originally sourced the weapons from eastern Europe before modifying them in the workshop to be sold and distributed to drug traffickers along the Costa del Sol.
A British national is alleged to have acted as an intermediary in the sale of weapons between the German men and drug runners.
Weaponry found included 22 AK47 assault rifles and 1.5 kilograms (3.3 pounds) of explosives.
The three unidentified suspects have been charged with arms trafficking, drugs trafficking and falsifying official documents, according to a press release.
Last year, President Donald Trump controversially unsubscribed from a historic international agreement intended to limit the flow of weapons to potential human rights abuses.
Trump announced in April during a conference for the National Rifle Association that he would remove the U.S. signature from the Arms Trade Treaty (ATT). The firearms advocacy organization and its lobbying arm, the Institute for Legislative Action (NRA-ILA), vehemently opposed the ATT when it was signed by former President Barack Obama in 2014.
Trump vowed to "never surrender American sovereignty to anyone" nor to "allow foreign bureaucrats to trample on your Second Amendment freedom."
"That is why my administration will never ratify the U.N. Arms Trade Treaty," he said. "I hope you're happy."
The move was widely criticized by human rights groups, who saw the decision to withdraw from ATT as exacerbating the already unparalleled level of U.S. weapons sales around the world.
The U.S. accounted for roughly 36 percent of the world's arms sales between 2014 and 2018. Most of these weapons went to the Middle East, according to a report released in March by the Stockholm International Peace Research Institute.