U.S. Has Increased Its Domination of Global Weapons Sales, Selling 75 Percent More Than Closest Competitor Russia
The United States has significantly increased its domination of global weapons sales over the past few years, dramatically expanding its lead over Russia, its closest competitor.
On Monday, the Stockholm International Peace Research Institute (SIPRI) released a new report on global arms sales, revealing that U.S. weapons exports accounted for 36 percent of the global total between 2014 and 2018. During those years, the amount of arms sold globally by the U.S. was 75 percent higher than those sold by Russia. Comparatively, the amount of U.S. weapons sold in the previous four years, between 2009 and 2013, was only 12 percent higher.
"The USA has further solidified its position as the world's leading arms supplier," said Aude Fleurant, director of the SIPRI Arms and Military Expenditure Program, according to Radio Free Europe.
"[It] exported arms to at least 98 countries in the past five years; these deliveries often included advanced weapons such as combat aircraft, short-range cruise and ballistic missiles, and large numbers of guided bombs," Fleurant continued.
After the U.S. and Russia, France ranked third, exporting 6.8 percent of the global total. Germany came in fourth with 6.4 percent, and China ranked fifth with 5.2 percent. Those five nations combined accounted for 75 percent of the world total.
According to the report, "more than half" or 52 percent of U.S. weapons sales were in the Middle East.
"Weapons from the USA, the United Kingdom and France are in high demand in the Gulf region, where conflicts and tensions are rife," Pieter D. Wezeman, a senior researcher with the SIPRI Arms and Military Expenditure Program, said in the report. "Russia, France and Germany dramatically increased their arms sales to Egypt in the past five years."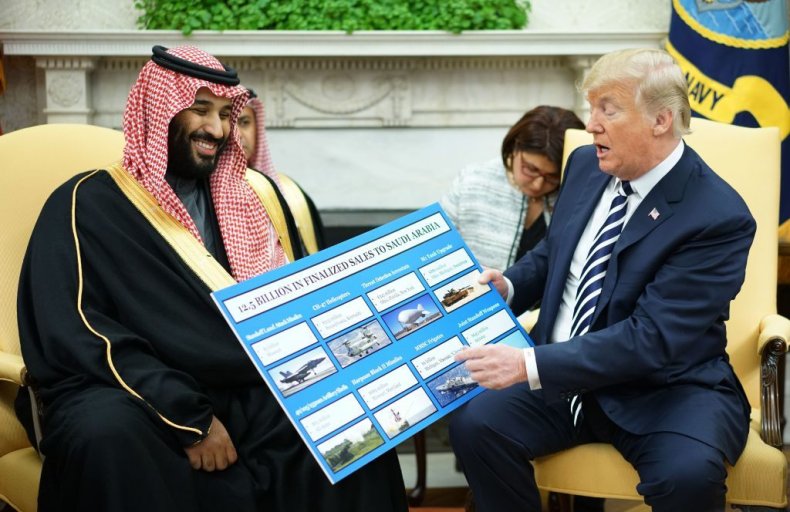 President Donald Trump has touted weapons sales to Saudi Arabia as a prime motivator to avoid holding the kingdom to account over the murder of journalist and U.S. resident Jamal Khashoggi in 2018, and for other human rights abuses. He has also warned that the kingdom would start buying from Russia if Washington took a critical stance toward Saudi leaders. While Trump has been criticized for that position, the bulk of the arms deals were actually brokered under former President Barack Obama.
In fact, Obama, who previously won the Nobel Peace Prize, has been credited with inking more international arms deals than any other president going all the way back to World War II.