Meet the Student Behind Hive, the Twitter Alternative Challenging Elon Musk
A new social media app has been rapidly gaining new users in recent days, with many hailing it as a "Twitter alternative" as they defect from the platform, upset with changes brought in by new owner Elon Musk.
Hive Social is a mobile-only social networking app that recently celebrated one million users. Hive members are given a feed of accounts and access to a Discover page to explore trending content and profiles.
The familiar interface mixes pictures and text in posts that can be liked, replied to, and re-posted—giving those looking for something new in the social space something new to try.
Hive Social was founded by a student in Southern California who spoke to Newsweek about the app's creation, rapid growth, and future hopes.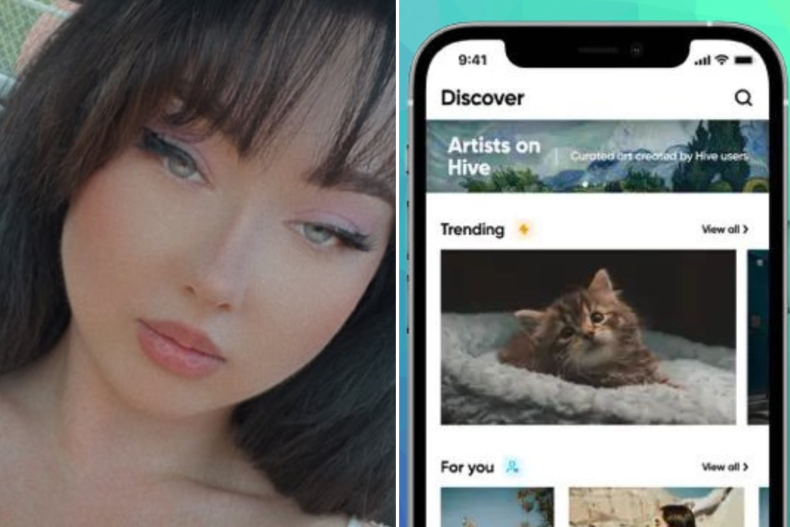 Who Owns Hive Social?
Raluca Pop, also known as Kassandra Pop, is a student living in Southern California and the founder and creator of the Hive Social app.
"Sometimes it's tricky for people to pronounce, so I just go by Kassandra," Pop told Newsweek, explaining her alias.
Based in Southern California, Pop, 23, created Hive Social after feeling that traditional social media wasn't offering what she wanted any more.
"I used to be in the micro influencer space and I was just seeing a lot of changes that Instagram was making and got really tired of it," she said. "You know, the algorithm, the overwhelming ads... It just didn't feel fun anymore."
Instead of waiting for someone else to make a change, Pop decided she would try her hand at creating the social space she desired, and in June 2019 started to teach herself how to code.
"I didn't have any technical background before that," explained Pop. "I believe I launched the first version in October 2019 and have been working on it ever since."
The first version was created by Pop and a freelance developer who supported it, and today her team isn't much bigger with a single designer and developer on board.
"It's just the three of us and we're managing pretty well I think," laughed Pop.
'I Feel Like Users Might Feel Stuck on Other Platforms Right Now'
As she was speaking to Newsweek, Pop checked the Hive Social database which was currently listing 1,240,000 users, with thousands more in the previous few hours.
"We had a quarter of a million sign ups today," said Pop. "The issue we're trying to resolve right now is the different sign in methods for Hive. A lot of people are getting an error."
New Hive Social users have been struggling to create an account with their email address, leaving some stuck at the sign-in page.
"It's because people have actually exceeded the email verification quota which is set to 100,000 a day. We're going to be increasing that to be able to keep up with the demand," explained Pop.
With many Hive Social users moving over to the platform from Twitter in reaction to changes being made by Musk, others have hailed Hive Social as an alternative.
"I don't think it's a direct competitor to any specific social media," said Pop. "I know we have been called either an Instagram or Twitter alternative, but I would think of it as a competitor in general in the social media space. We're really just establishing our brand and making it our own."
'I Would Really Like to Continue Being Number One'
In the early days of her new social idea, Pop took out two personal loans from a federal credit union to fund Hive Social, and later received $25,000 from an "angel investor."
"It was someone I had talked to about Hive and they really like it, so decided to take a chance, and we're grateful to them because it allow us to push out this update," explained Pop.
The Hive Social team is also in the process of crowdfunding on WeFunder for support to keep the app running.
For a platform growing rapidly, Pop has some lofty ambitions for the future of Hive Social, which has reached number one on the top free social apps on the Apple App Store..
"I would really like to continue being number one," she said. "And I would love to have over 20 million daily active users."
But it isn't just numbers that Pop is interested in, she also wants people to enjoy the experience with her platform.
"I know metrics are very important to social media companies, but I also want users to continue genuinely enjoying the app," she said. "I feel like users might feel stuck on other platforms right now and I would hope that's not their experience with Hive, and that we can just continue making a fun experience for them."
How Will Hive Social Evolve?
In early days and still busy perfecting the platform, Pop also cleared up some of the questions being asked by users so far.
On Thursday as an influx of users rushed to create a Hive Social account, some found that they were left with the same username as another user—meaning their account was not unique.
"That came from when our server crashed," explained Pop. "People were still able to sign up but the function that we had to prevent duplicate usernames were not functioning.
"Our solution is to add numbers at the end of each username to differentiate them. That will be in a future update," she said.
Another issue raised by new Hive Social users was post duplication whereby they were seeing the same 'reposted' post again and again on their feed.
"If a user follows ten people and those ten people repost the same post, then it will show up like that on someone's timeline," said Pop. "We'll work to figure a solution where maybe the algorithm can detect that."
Other new users have asked if there will be a verification process, similar to Twitter's blue tick system, and Pop has a plan.
"We want to do two different types of verifications," she explained. "We're thinking one type to verify someone's identity and prevent impersonations for the average person, and another verification for celebrities, government agencies, influencers or brands."