Hobby Lobby Boycott Calls After 'Vote Trump' Display Spotted in Store
Hobby Lobby is facing fresh calls to boycott the arts and craft giant as a pro-Trump display was spotted at one of its stores. A photo of a display reading "USA vote Trump" in decorative letters was shared in a tweet that has now gone viral.
Kari Brekke shared a photo of the display, which was originally posted in Lincoln Project Group on Facebook, in a tweet that currently has thousands of likes and shares.
While it is unclear whether the display was deliberately designed by a Hobby Lobby employee, or whether it was arranged by a customer, the photo sparked fresh calls to boycott Hobby Lobby, following a string of controversies that have already seen people vowing to never set foot inside the craft store.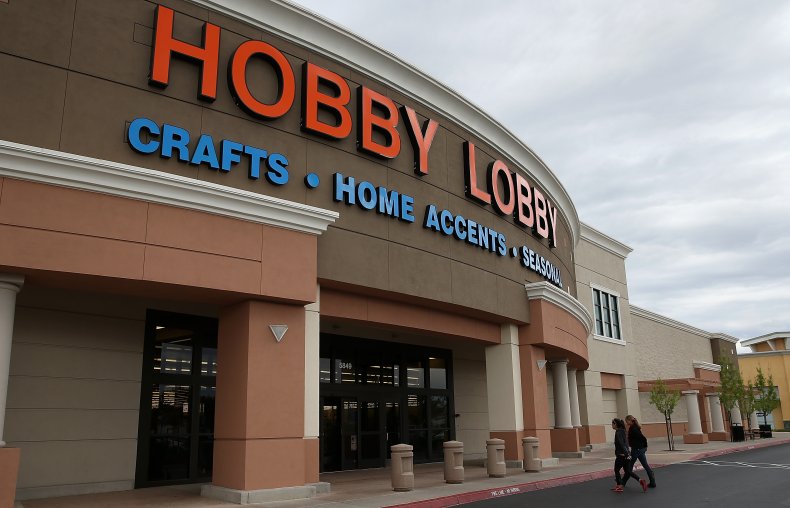 Hank Green said: "We're all aware that customers re-arrange these letters all the time, right? Call [me] old fashioned, but I prefer to be outraged at Hobby Lobby for making it so that employers can decide what kind of healthcare their employees can get."
Bonnie Smalley said: "Since Hobby Lobby is trending, never forget they're [the] reason your employer can deny your right to medical treatment based on 'religious objections'. I have NEVER shopped there. Ever."
In 2014, Hobby Lobby successfully passed a ruling in the U.S. Supreme Court that allowed certain companies to deny their employees' access to birth control through their health insurance plans. The owners of Hobby Lobby claimed that allowing their employees such access violated their religious beliefs.
Hobby Lobby has also had people boycott the store over the discovery that it has illegally obtained thousands of artifacts from Iraq to display the Museum of the Bible, which is sponsored by Hobby Lobby president Steve Green.
Twitter users are citing the artifacts scandal as the reason why they are refusing to shop at Hobby Lobby, with one tweeting: "Oh yes, holy Hobby Lobby that illegally bought and smuggled ancient Iraqi and Egyptian artifacts into the U.S. They had to return them but only because they got caught. I haven't shopped there in years and never plan to."
More recently, Hobby Lobby has faced a backlash for defying lockdown orders and then furloughing workers with no pay. The craft store initially attempted to remain open by declaring itself an essential business and reopened stores in Texas, Colorado, Ohio, and Michigan despite mandates.
The chain declined to pay its furloughed workers and instead encouraged them to use the U.S. government's coronavirus stimulus package.
However, despite the backlash, the Hobby Lobby display was welcomed by Trump supporters, like McKayla, who said: "I see boycotting Hobby Lobby is trending simply for supporting the president. Looks like it's time to do some mega shopping there tomorrow."
Singer Kaya Jones shared the original photo of the display and said: "Hobby Lobby we love you," with an American flag emoji.
While it is unclear whether this was a deliberate political message from Hobby Lobby, CEO David Green has expressed his support for Trump, saying in 2016: "For Americans who value freedom of religion, we must elect a president who will support a Supreme Court that upholds not only this freedom but all that have emanated from it. That president is Donald Trump."
Newsweek has contacted Hobby Lobby for comment.