Hollywood Celebrities Condemn Echo Park Homeless Crackdown
News that Los Angeles police plan to clear the homeless encampment in Echo Park has been met with outrage online.
The LAPD has declared an unlawful assembly and order to disperse as hundreds of protesters gathered in the city to object to the plans.
Police were met with more than 200 protestors on Wednesday night.
Notices of the park's closure were posted around the area, particularly on the east side of the park, where homeless people have been camping throughout the coronavirus pandemic.
The signs say that the park closes on Thursday and warned that all personal property must be removed, "including, but not limited to, tents, chairs, tables, backpacks, bags, and personal items."
Mitch O'Farrell, an L.A. city councilman, issued a statement that "the Los Angeles Police Department was asked to support community safety efforts during installation of the fencing to assist in the rehabilitation of Echo Park."
The statement, per NBC Los Angeles, continues: "Department personnel are deployed in that area so that those efforts can begin in a safe and unimpeded manner.
"Our homeless service providers will return tomorrow morning to continue their work with the park's unhoused residents to offer shelter and services to anyone who wants and needs the assistance."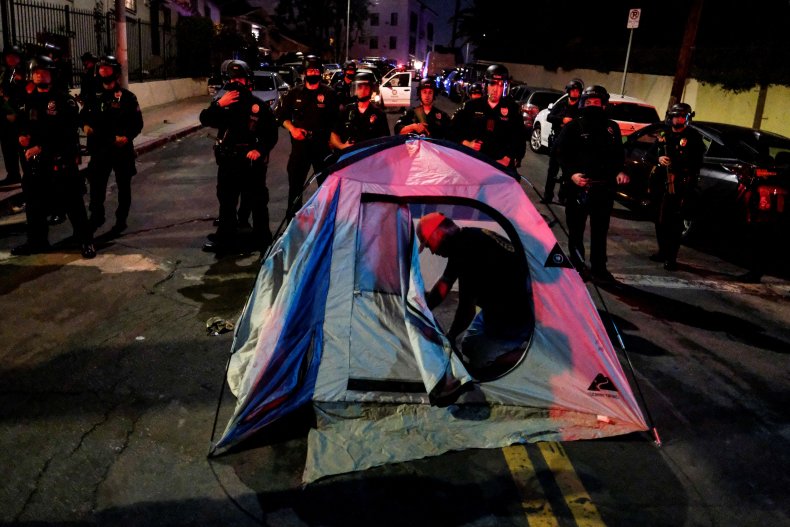 The clearing of the homeless encampment has been condemned by a number of high-profile voices online.
Filmmaker Ava DuVernay reacted to reports that there has been an "installation of a fence," tweeting: "That's a snazzy way to say humiliate, uproot and discard unhoused people at Echo Park Lake under cover of night in a raid that you tried to keep secret from the public."
Author Roxane Gay labeled the situation a "travesty."
"What's happening in Echo Park is a travesty. We happened to be there earlier this evening," she tweeted. "As always, the residents were minding their business. There was no need to raze the encampment and displace displaced people."
Comedian Rhea Butcher added: "So @MitchOFarrell decided to deploy 400+ cops & helicopters & fencing to sweep unhoused people from Echo Park lake at sundown because he's a cruel man owned by developers and NIMBY's. Solidarity with the brave people standing up to LAPD for our unhoused neighbors."
Actor Justice Smith tweeted: "what the lapd is doing to the unhoused residents of echo park is f****** disgusting #EchoParkRiseUp."
YouTuber Akilah Hughes posted: "The treatment of the homeless population in Echo Park is unconscionable. If you want nature without people, don't move to a city. The park exists FOR PEOPLE."