Hollywood Sign Sees Rare Snowfall As Los Angeles Braces for Blizzard
When the Hollywood sign was last blanketed with white, it took nearly 400 gallons of paint. Now, in a rare sight, the sign has been coated with snow as Los Angeles and the surrounding areas prepare for a blizzard.
The snowflakes in Tinseltown came as a coast-to-coast storm brought freezing cold wind gusts and blizzard conditions to much of the northern continental U.S., with states in the Great Lakes and Northern Plains experiencing the brunt of the snowfall.
Meteorologists anticipate that the worst of the winter weather will shift towards being centered on California through Thursday and into Friday, prompting Los Angeles and Ventura counties' first blizzard warning in 34 years.
The National Weather Service (NWS) said a joint record low of 41 F was set at Los Angeles Airport at around 11 a.m. PT (2 p.m. ET) on Thursday, and a measuring station on Mount Wilson—near the Hollywood sign—had already seen 1.5 inches of snow by 10 a.m. (1 p.m. ET).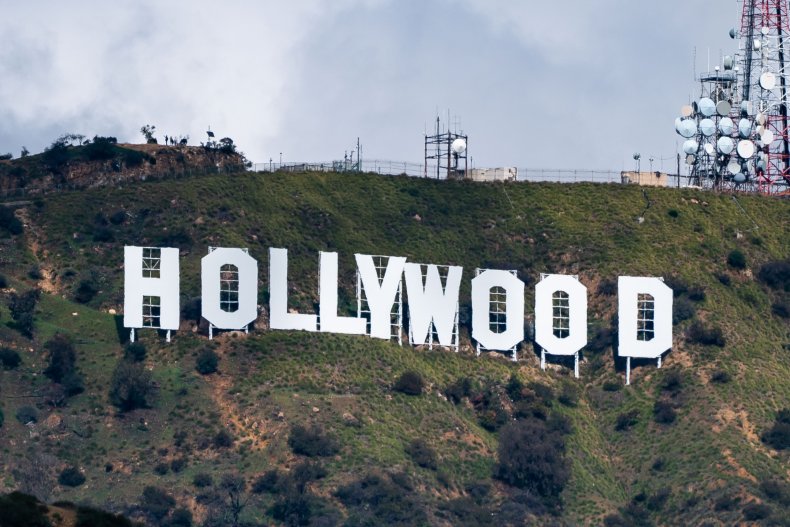 The meteorological agency said that "after a little investigating" it was able to confirm that snow or graupel—tiny snowballs made from freezing water droplets forming around flakes—fell on Mount Lee, on which the sign sits, at around 9:15 a.m. (12:15 p.m. ET) on Thursday.
"It's snowed in Hollywood and I made a snowball," Jeff Zarrinnam, chairman of the Hollywood Sign Trust, said in a video, holding his handiwork up in front of the famous landmark. "This is crazy—crazy weather we're having."
"In all my years here it's never snowed nor sleeted at the Hollywood sign!" model Jessica Vaugn tweeted.
The blizzard warning remains in place as Thursday's snow conditions are "all a precursor" to a new storm, which is expected to make landfall from the Pacific on Friday.
The local NWS branch extended its blizzard warning to 4 p.m. on Saturday as it expects "multiple rounds of new snowfall" to accumulate, with a heightened risk of flash flooding across southern California from Friday morning into Saturday.
The winter storm has already hammered electrical grids with knocked-down utility poles and ice-encrusted power lines. According to live data aggregator PowerOutage, more than 53,000 homes in California were without power as of 3:40 a.m. ET on Friday; nearly 725,000 were in the dark in Michigan, which has been hard-hit by the snow.
In an update on Thursday evening, Pacific Gas and Electric, one of California's main suppliers, said the current storm was bringing "extensive" wind and precipitation to its service area. Since the first wave on February 21, it has restored power to 422,000 customers.
Meanwhile, Caltrans urged Californians to stay off the roads, with Highway 154 closed in both directions on Thursday due to the snow.
NWS Los Angeles clarified on Wednesday that the blizzard warning was not the first it had ever issued, but the first since a new coding system was implemented in 2006. It later credited Greg Diamond, a Fox meteorologist, for unearthing the last warning, on February 4, 1989—some 34 years ago.
"Even if this is not our 1st, this is a dangerous storm," it added in a tweet. According to an LA Times article from 1989, the last snowstorm caused "scores" of traffic accidents, killing at least one person.