Holy Fire Update: Holy Jim Canyon Fire Burns 22,000 Acres As Firefighters Work Toward Containment
The Holy Fire in California has burned over 22,000 acres since it began and damaged or destroyed over 20 structures. Thanks to continued progress made by firefighters, however, the flames are expected to be fully contained by Sunday.
The fire began on August 6 in Holy Jim/Trabuco Canyon in Southern California and has since spread to 22,885 acres and completely destroyed at least 12 structures. While the cause of the fire is still listed as unknown on the National Wildfire Coordinating Groupwebsite, 51-year-old Forrest Gordon Clark was arrested in connection to the fire and charged with two counts of felony arson, one count of felony threat to terrorize and one count of misdemeanor resisting arrest.
Volunteer Fire Department Chief Mike Milligan previously told Newsweek that he'd received an angry text from Clark about three weeks before the fire that said, "This whole place is going to burn like you planned." While he wasn't sure about the meaning of the text, he took it seriously and alerted authorities at multiple agencies.
Milligan added that there were numerous instances of Clark berating his neighbors over clashing religious viewpoints to the point where Milligan didn't want to have to interact with him.
"He is very intelligent, calculating and manipulative," Milligan told Newsweek about Clark. "He knows what he's doing."
Clark owns a cabin in the area and during his first court appearance called the charges against him a "lie," according to the Los Angeles Times. His bail was set at one million dollars and during a postponed arraignment on Friday, Judge Kimberly Menninger ordered Clark to undergo a mental evaluation, according to CNN. Menninger expressed doubt that the defendant was competent after a series of outbursts during the hearing. If convicted, Clark faces a maximum penalty of life in prison.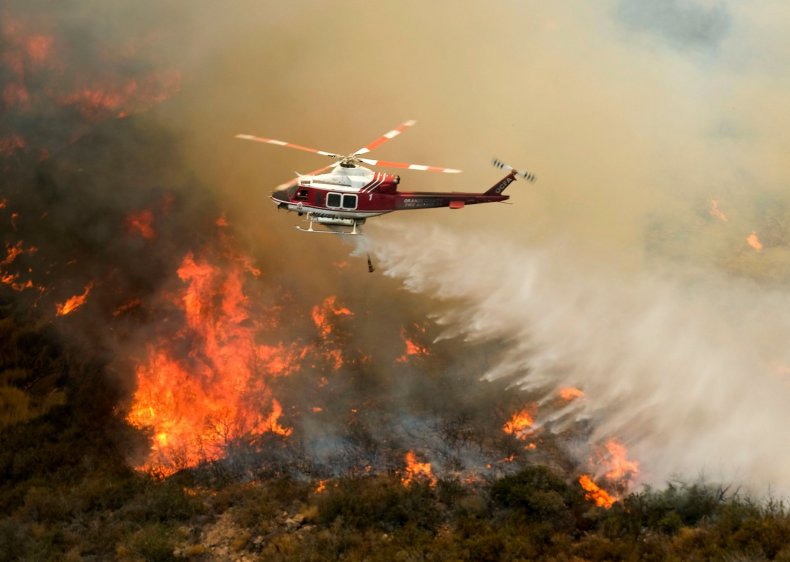 To fight the blaze, helicopters and airplanes dropped fire retardant on the flames and an estimated 1,000 firefighters were sent to the Cleveland National Forest. Evacuations were ordered for over 21,000 people and about 9,000 structures were threatened. However, on Wednesday, all evacuations had been lifted.
Originally expected to be contained on Tuesday, the estimated date of containment was pushed back when the terrain of the remaining burn area proved to be hard to reach. Jake Rodriguez, a U.S. Forest Service public information officer, told KNBC that the 324 firefighters assigned to the Holy Fire on Monday were predominantly focused on fire suppression rehab, including filling in holes caused by dozers.
"It's never over till it's over," Rodriguez explained. "It's going to be a marathon to close it all up, but the heat of the battle is over now. It's the more tedious work now to get it all buttoned up and secure."
As of Wednesday, the fire was at 91 percent containment. The Orange County Fire Authority is asking anyone who was in the Holy Jim Canyon area on August 6 around when the fire began at 1:30 p.m. PDT to contact Investigator William Lackey at 714-573-6700 or 714-573-6709.
Firefighters are battling several other blazes throughout the state, including the Mendocino Complex fire, which has burned 410,482 acres since it began on July 27. It's has since become the largest fire in California's history, claiming the life of one firefighter and destroying over 170 structures. On Wednesday, it was at 74 percent containment and is expected to be fully contained on September 1.