As the coronavirus pandemic continues to claim lives around the world, many people may find themselves caring for seriously ill relatives who die at home.
Due to social distancing guidelines and stay-at-home orders across the U.S., removal of bodies may take longer than usual and families may need to keep their deceased loved ones at home for an extended period of time.
Funerals have either been banned from taking place, as in the case of Washington state, or are limited to immediate family only due to bans on large gatherings. Reuters reported that funeral homes in California, where people have been ordered to stay indoors, have limited the options they offer and are limiting the number of relatives who can attend, even at outdoor burial ceremonies.
But families who can't hold a traditional funeral can opt for a home funeral — where a loved one's body is cared for and funeral rites are performed at home until the time of disposition.
To help those in such situations, a team of home funeral guides and funeral directors affiliated with the non-profit National Home Funeral Alliance (NHFA) put together a webinar with information on the topic. Keeping a loved one at home until burial is legal in every state, although some require the involvement of a funeral director, according to the NHFA.
Amy Cunningham, a funeral director from New York City who helped put together the webinar, shared the video on her Facebook page, writing, "This is hard to write and hard to post. Hospitals aren't admitting the less gravely ill. People you know may soon be caring for a loved one with COVID-19 in their residence and it's conceivable that a death could occur in the home. A team of us affiliated with The National Home Funeral Alliance pooled information for those in such a situation."
The webinar advised that during the pandemic every death should be treated as coronavirus-related. The video offered some guidelines on how to avoid spreading the virus. "Regardless of the cause of death, we must act as though COVID-19 is present to ensure everyone's safety," it said.
People should limit the number of people involved in all facets of care and caregivers should use personal protective equipment such as masks, gloves, goggles, and gowns.
A mask should be placed on the deceased and ice should be placed on the back of their neck, the webinar advised. Chest compressions and unnecessary movement of the body should be avoided and hand washing, sanitizing, and social distancing protocols should be followed.
The webinar also warned people that immediate removal of a deceased body may not be possible and obtaining a death certificate might be difficult, too.
"Many people will unintentionally find themselves with a deceased family member in their home and lack immediate removal of the body," the webinar said. "What we may see in the coming weeks and months is usual filing procedures being suspended or modified. Paper death certificates may be difficult to obtain from the issuing medical authorities in states that allow them and they may be difficult to file due to social distancing, restricted hours or outright closure of offices or stay-at-home orders."
It advised people to contact their local filing office for temporary protocols and restrictions and their local funeral director to co-ordinate the filing of death certificates and transportation of the body.
Funeral directors "may well become the only conduit for filing a death certificate electronically through the Electronic Death Registration System required in most states," the webinar added. "This is important because without it, the body cannot go to final disposition leaving the family in limbo."
The webinar also advised mourners to have funerals with limited numbers, adding that others can pay their respects from afar.
"With a ban on congregating to avoid spread of the virus, funerals are being discouraged or not allowed," it said. "While we're used to encouraging more contact, now we have to find ways to create sacred space and ceremonies that bring families together using online platforms."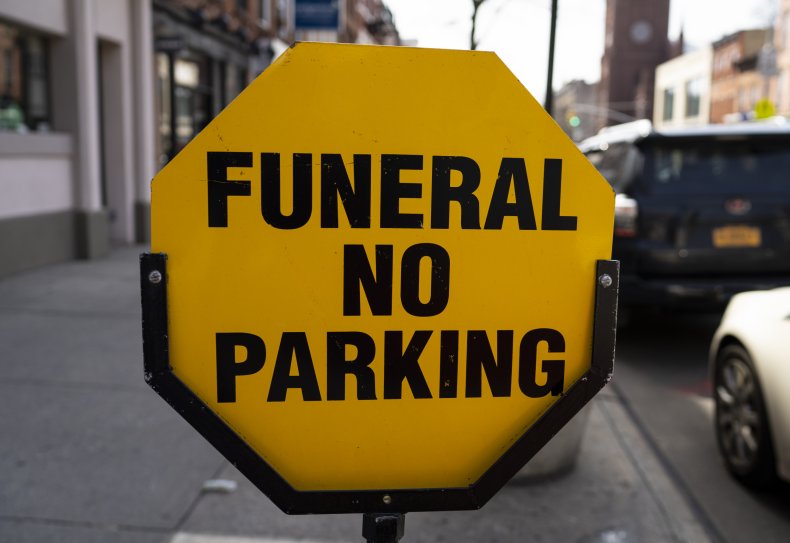 Lee Webster, the former president of the NHFA and the director of New Hampshire Funeral Resources, told Newsweek: "Should anyone find themselves in this situation over the coming weeks and months, this is the funeral time.
"This is when those present (and anyone who can livestream in) have the opportunity to create ritual and ceremony if that is important to them, but just as importantly, this is an opportunity to absorb the loss in your own time, without any artificial timetable. Sitting in churches and other venues with people for a modern funeral is absolutely valuable, but this contemplative personal time is overlooked in our culture.
"By changing the way we view that time of waiting for final disposition for our loved ones who die at home, we stand to find ways to turn that time into engaging in our grief in a positive way. The act of caring for our own at home is really about empowering families to understand that they may not have control over this pandemic or the death of their loved ones, but they do have control over how they will use that time after the death to do what needs to be done physically and emotionally and spiritually."
Webster added that although he recommends following the hygiene protocols laid out by the U.S. Centers for Disease Control and Prevention (CDC), there is a difference between having a dead family member lying in a bed with family members practicing those guidelines and the CDC guidelines that are specific to body handling for professional removal or autopsy.
"There's a lot of panic out there about this distinction," Webster said. "We want to be clear that we are talking about basic care, such as cooling the body with ice, AC, open window in cool weather, etc., covering the decedent's mouth with a mask, even if it is improvised, keeping distance between caregivers at all times, and minimal handling or touching of the body to avoid mechanical exhalation of droplets."
The advice comes after the CDC urged Americans to livestream funerals to avoid spreading coronavirus.
Dr. David Berendes, an epidemiologist at the CDC, said in a webinar with the National Funeral Directors Association earlier this month, "As you think about planning for the event, limit the number of people if possible, use live-streaming options and perhaps have only immediately family on hand. While you're at the event, promote social distancing etiquette, hand hygiene and try to limit other people coming in and out."
This article has been updated with a statement from Lee Webster.
This graphic, provided by Statista, shows the number of confirmed COVID-19 cases in the U.S. as of March 26.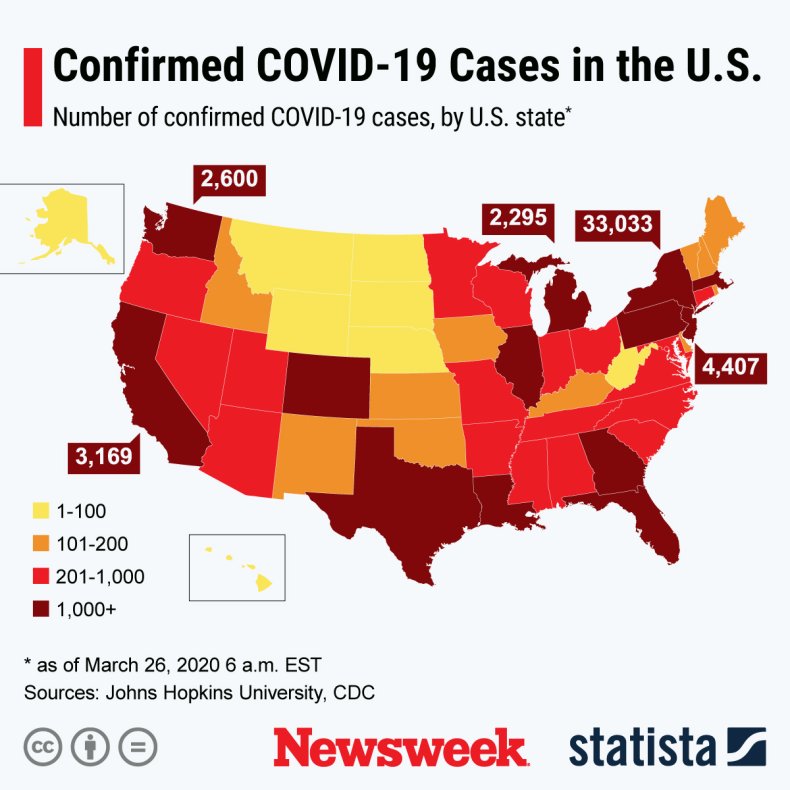 World Health Organization advice for avoiding spread of coronavirus disease (COVID-19)
Hygiene advice
Clean hands frequently with soap and water, or alcohol-based hand rub.
Wash hands after coughing or sneezing; when caring for the sick; before, during and after food preparation; before eating; after using the toilet; when hands are visibly dirty; and after handling animals or waste.
Maintain at least 1 meter (3 feet) distance from anyone who is coughing or sneezing.
Avoid touching your hands, nose and mouth. Do not spit in public.
Cover your mouth and nose with a tissue or bent elbow when coughing or sneezing. Discard the tissue immediately and clean your hands.
Medical advice
Avoid close contact with others if you have any symptoms.
Stay at home if you feel unwell, even with mild symptoms such as headache and runny nose, to avoid potential spread of the disease to medical facilities and other people.
If you develop serious symptoms (fever, cough, difficulty breathing) seek medical care early and contact local health authorities in advance.
Note any recent contact with others and travel details to provide to authorities who can trace and prevent spread of the disease.
Stay up to date on COVID-19 developments issued by health authorities and follow their guidance.
Mask and glove usage
Healthy individuals only need to wear a mask if taking care of a sick person.
Wear a mask if you are coughing or sneezing.
Masks are effective when used in combination with frequent hand cleaning.
Do not touch the mask while wearing it. Clean hands if you touch the mask.
Learn how to properly put on, remove and dispose of masks. Clean hands after disposing of the mask.
Do not reuse single-use masks.
Regularly washing bare hands is more effective against catching COVID-19 than wearing rubber gloves.
The COVID-19 virus can still be picked up on rubber gloves and transmitted by touching your face.