Home of Rochester Mayor Lovely Warren Subject of Criminal Investigation, New York State Police Say
New York State Police have conducted a search at the home of Rochester Mayor Lovely Warren as part of a criminal investigation. Legal authorities haven't revealed the exact reasons for the investigation.
Police arrived near 4:30 p.m. local time. They were seen carrying items outside of Warren's home including a blue plastic container and several black bags, according to the Rochester City Newspaper. Police also marked off the house with tape and redirected traffic away from its location. Legal authorities departed the premises around 6:30 p.m., according to WHEC.
New York State Police Major Barry Chase confirmed that the investigation is targeting Warren's home. He called the investigation ongoing.
"The Mayor is just learning about the events that unfolded this afternoon and has no more information than the rest of the community," the mayor's director of communications said in a Wednesday night statement. "She hopes to learn more details this evening and will have a statement tomorrow."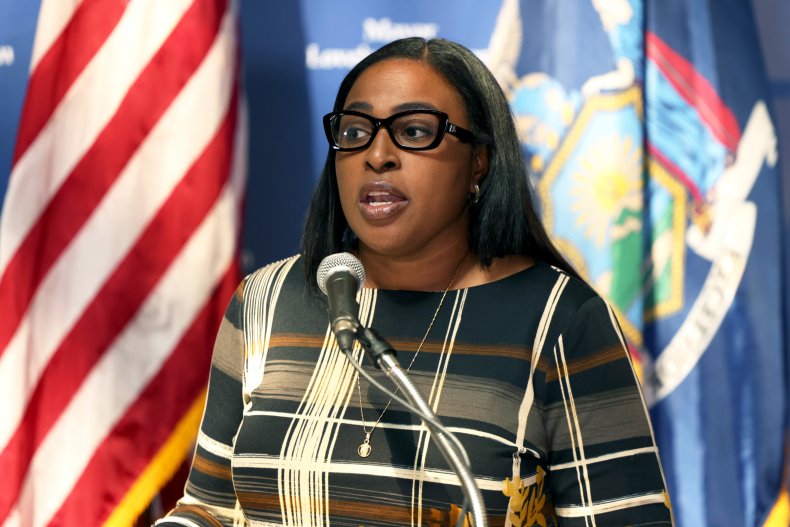 Warren is currently under indictment on felony campaign fraud charges with the case pending in state court. The charges arose from Warren's 2017 re-election campaign. Her two competitors in that race accused her of using her political action committee to make larger-than-allowed donations to her campaign.
The Monroe County District Attorney's office told the Associated Press that Wednesday's police search of her home wasn't connected to the campaign finance charges.
Warren pleaded not guilty to those charges. She said that any errors were accidental rather than intentionally done to skirt campaign finance laws. If convicted, state law would allow for Warren's removal from office, the loss of her pension as well as the loss of her law license.
Warren is running for a third term in office against Democratic challenger Malik Evans, a city council member. The two will face off in the June 22 Democratic primary.
Warren's re-election effort has been opposed by local racial justice activists who criticized her response to the March 2020 police killing of 41-year-old Black man Daniel Prude.
Prude is a Rochester man who died by asphyxiation in police custody after being stripped naked and restrained with handcuffs. Though the medical examiner ruled his death a homicide, city officials didn't acknowledge his death until September 2020, one month after Prude's family released videos of his death.
Warren said she wasn't made aware of Prude's death until August 2020. The city council pledged to investigate how city officials became aware of Prude's death. Activists have protested Prude's death as part of the larger Black Lives Movement against police brutality and institutional racism.
Newsweek contacted Warren's office for comment.