Homeland Security Secretary Doubles Down on Border and Slams 'Lawlessness' of Asylum Seekers
As the Trump administration faces heavy criticism over U.S. Border Patrol agents' use of tear gas against Central American migrants at the southern border on Sunday, Department of Homeland Security Secretary Kirstjen Nielsen slammed asylum seekers over their "lawlessness."
Appearing to defend her agency's response to the hundreds of migrants who approached the U.S.-Mexico border on Sunday, Nielsen said she would not "tolerate" any kind of "lawlessness" from anyone hoping to seek asylum in the U.S.
In a Twitter statement, Nielsen said migrants "attempted to breach legacy fence infrastructure along the border and sought to harm CBP personnel by throwing projectiles."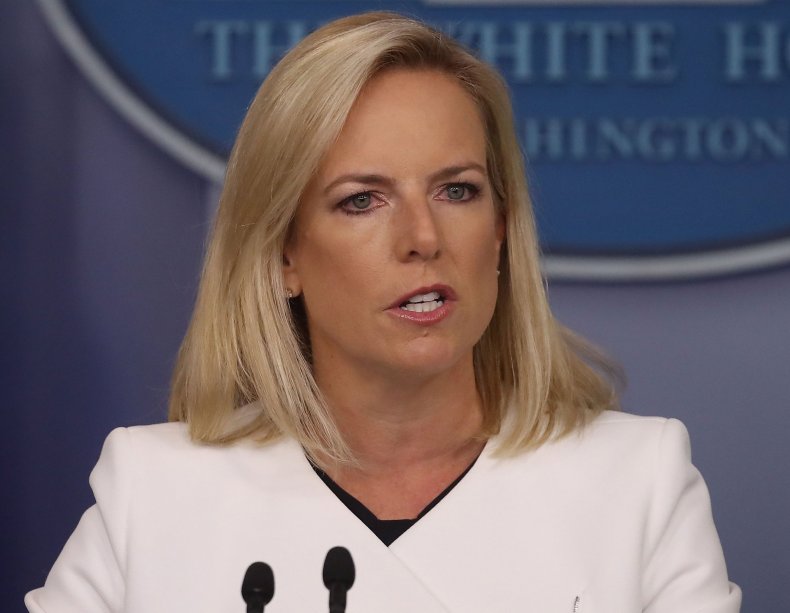 While the DHS chief did not comment specifically on her agency's use of tear gas, she did say that CBP was "forced to close the San Ysidro POE [port of entry] to ensure public safety in response to a large [number] of migrants seeking to illegally enter the U.S."
"DHS will not tolerate this type of lawlessness and will not hesitate to shut down POEs for security reasons," Nielsen said.
"We'll seek to prosecute to the fullest extent of the law anyone who destroys federal property, endangers our frontline operators or violates our sovereignty," she added.
In its own statement, the CBP directly defended its use of tear gas, writing on Twitter that Border Patrol agents "deployed" the substance "to dispel" migrants "because of the risk to agents' safety."
The agency asserted that several migrants had thrown projectiles at its agents, with some being struck by the objects.
On Monday morning, President Donald Trump called on Mexico to deport asylum seekers "back to their countries" and threatened to close the southern border "permanently" if the situation at the border was not brought under control.
"Mexico should move the flag-waving Migrants, many of whom are stone cold criminals, back to their countries," Trump said in an early morning tweet.
Read more: Donald Trump threatens to close southern border 'permanently if need be'
"Do it by plane, do it by bus, do it any way you want, but they are NOT coming into the U.S.A.," the president, who spent his Thanksgiving break with his family at his Mar-a-Lago resort in Palm Beach, Florida said. "We will close the Border permanently if need be."
On Sunday, Mexico's interior ministry said it planned to deport those caught trying to "violently" and "illegally" cross into the U.S. out of the country.
While the situation on Sunday started with a peaceful march in Tijuana, Mexican authorities have said that some members of the caravan had tried to cross the U.S.-Mexico border in a "violent" manner.
Meanwhile, the office of Tijuana Mayor Juan Manuel Gastélum said on Sunday that as many as 39 members of the caravan had been arrested over causing riots, disrupting the public and assaulting citizens, "among other causes."
It is unclear whether all 39, if any, of those arrested will be deported.