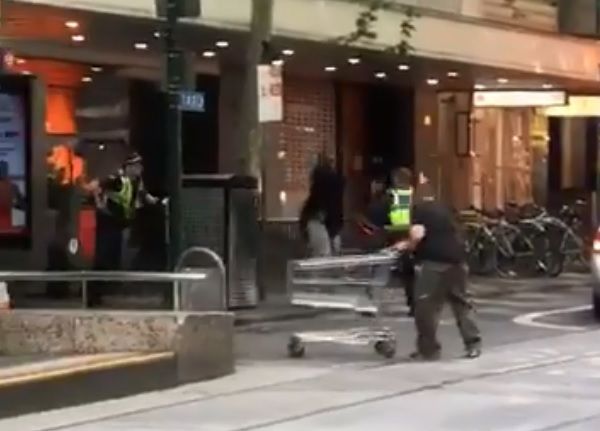 A fundraising campaign for the homeless man who used a shopping cart to help take down an armed terrorist in Melbourne, Australia, has already raised more than $60,000.
Michael Rogers, 46, helped officers after Hassan Khalif Shire Ali launched a knife attack in the city's business district of the afternoon of November 9.
One person died and two others were injured during the terror attack before the suspect was shot by police. Ali later died in hospital from his injuries.
Rogers was later dubbed "Trolley man" [Australian term for cart] on social media after footage showed him coming to the assistance of two officers while the suspect lunged at them with a knife.
A GoFundMe page entitled "Not All Heroes Wear Capes" was later set up by the Melbourne Homeless Collective charity in order to raise money for Rogers after he was found to be living on the streets.
The page has raised more than A$84,000 ($60,000) in less than 24 hours.
"We're absolutely blown away by everyone's generosity and spirit in helping our hero 'Trolleyman' get back on his feet," an update on the GoFuneMe page read.
"We don't actually have a set target to reach but due to the incredible generosity we've seen so far we'll keep increasing the total accordingly. We've far surpassed our original goal. Let's aim for the sky. Our hero absolutely deserves it."
In the wake of the attack, Australia's 7 News tracked Rogers down to a park bench. He told the station that his decision to take down the terrorist with a cart was "a spur of the moment thing."
"I've seen the trolley to the side, so I've picked it up and I've ran and threw the trolley straight at him—got him, but didn't get him down," Rogers told Seven News.
"And I did that motion…quite a number of times but it just wasn't getting him down. I did that motion quite a number of times, but it just wasn't getting him down," he added.
Australia's Prime Minister Scott Morrison praised the bystanders who assisted police during the attack.
"I praise the bravery of the police who were on the scene and took action and those who selflessly came to the assistance of the injured and provided comfort to the distressed," he said, reports The Sydney Morning Herald.