Hurricane Michael: Six-year-old Girl Allegedly Molested at Shelter
A 60-year-old man has been arrested on suspicion of molesting a six-year-old at a school in Florida, which was being used as an emergency shelter during Hurricane Michael.
The Okaloosa County Sheriff's office arrested John Stapleton, who is homeless, on suspicion of lewd and lascivious molestation of a victim under the age of 12 following an incident at Davidson Middle School.
A witness told Okaloosa County Sheriff's officers she saw a recording of Stapleton touching the child in a lewd manner underneath her clothing, according to a statement.
After investigators examined the video, the suspect admitted touching the girl but denied it being in a lewd manner.
Davidson Middle School was the primary shelter in Okaloosa County to protect residents from Michael, the first category 4 hurricane to make landfall in Florida's Panhandle since record-keeping began in 1851.
At least six people are confirmed to have died—four in Florida, an 11-year-old girl in Georgia, and one person in North Carolina—as winds of up to 155 miles per hour battered Florida and other east coast states.
More than 1.4 million people are still without power after Michael made landfall on the Florida Panhandle on Wednesday (October 10).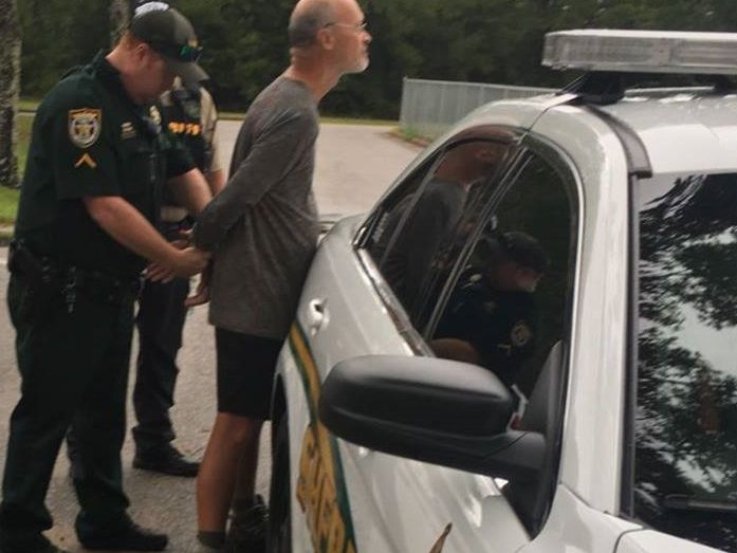 Residents have described the devastating destruction the hurricane left behind as it tore through towns.
"All of my furniture was floating," Linda Marquardt, 67, who rode out the hurricane with her husband at their home in Mexico Beach, told the Associated Press.
"A river just started coming down the road. It was awful, and now there's just nothing left."
Marquardt was one of around 285 Mexico Beach residents who chose not to obey evacuation orders ahead of the hurricane and decided to stay in their homes.
The area is believed to have been the worst affected by the hurricane. "Mexico Beach took the brunt," FEMA Administrator Brock Long said. "That's probably ground zero."
In their latest update, their National Hurricane Center (NHC) said Michael is centered over North Carolina, about five miles northwest of Roanoke Rapids. It is expected to continue southeastern towards Virginia before moving into the western Atlantic Ocean.