Honda Is Out To Prove That Sedans Still Matter, and They're Succeeding
In a market dominated by sport utility vehicle, crossover, and truck sales, the Honda Motor Company continues to recommit to sedans. The automaker, who produces cars under the Honda and Acura brands for the North American market, is one of the few remaining companies with a robust car lineup.
It has shown it isn't ready to give up on four-door cars, currently offering the small Civic, midsize Accord, and alternative fueled Clarity and Insight, along with Acura's Integra and TLX.
Honda isn't just producing traditional family-friendly sedans these days. They're also continuing to push forward with enthusiast vehicles. The automaker's luxe sister brand Acura is doing the same, giving its new Integra a manual transmission option. That makes it part of the 13 percent of cars that still offer the ability to shift their own gears, down from 37 percent a decade ago.
"The Integra name has always had strong enthusiast appeal and the manual transmission is a key component. Keeping the MT as a part of the Integra equation was a way to stay true to that DNA. We have seen a tremendous positive response with initial MT reservations and sales exceeding 65 percent," Emile Korkor, Assistant Vice President, Acura National Sales told Newsweek. "We're thrilled to see such response that will continue to inspire a new-generation of enthusiast buyers for the Acura brand,"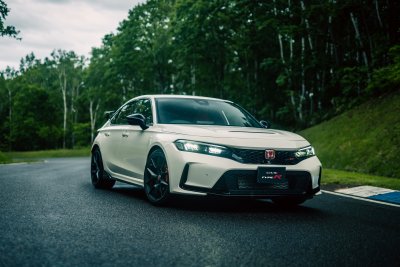 The high-performance 2023 Honda Civic Type R debuted in July as a much calmer-looking sports hatchback/sedan than its wild and winged predecessor. Honda didn't give all the details, saying only that it will be the most powerful Type R ever produced.
It keeps its previous layout, joining the Civic hatchback and the sedans in the lineup, with the Type R moniker denoting its sportiest models. The Type R is still produced in Japan, the hatchback moves to Honda's plant in Indiana.
The badge first saw a home on the Acura NSX sports car, followed by the Acura Integra. The 2023 model marks 30 years of Type R and a half century of the Civic passenger car.
Honda has sold millions of Civics over that time, with its biggest years cresting 300,000 units moved, though sales shrunk in 2020 and 2021 to about 260,000 per year. Those big numbers still make it an outlier in the sedan vehicle category, which now accounts for only about 20 percent of the market. Crossovers, pickups and SUVs make up about 75 percent of sales overall.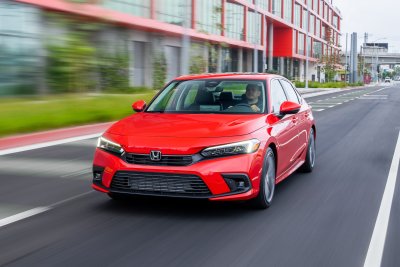 "The thing about Honda is that sedans have always been a part of our heritage. Civic is almost a brand in itself," Dan Calhoun, senior product planner for Honda told Newsweek.
"It's number one in millennials, number one with Gen Z and number one with multicultural buyers. Civic customers are also very loyal, and the nameplate provides that feeder model, to move into more cars or SUVs."
The first Honda Civic landed in the United States in 1972 with a 1.2-liter four-cylinder engine, becoming popular after the 1973 oil crisis, which saw Americans looking for economical alternatives to even the smaller vehicles like the Ford Pinto and Chevrolet Vega.
Both engine size and sales grew over the decades with the Civic being sold in coupe, sedan and hatchback form. The current model is available as a sedan and a hatchback, the latter now built in Indiana after a $50-million investment in 2021. The Type R has four doors and a liftback. Honda noted that while 20 percent of the market for four-door cars doesn't seem big, it's still about 3 million vehicles annually.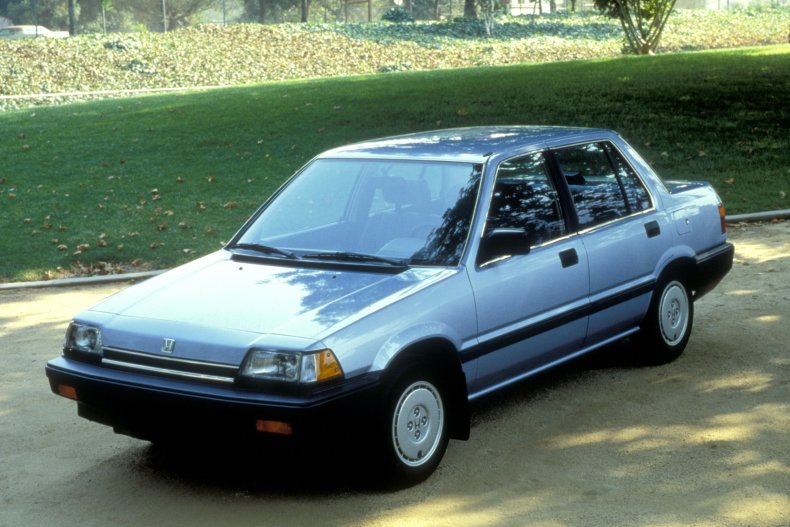 "While it's a fair statement to say that the majority of American new vehicle shoppers do want an SUV, there is still a significant market for passenger cars like the Honda Civic," AutoPacific president and chief analyst Ed Kim told Newsweek.
"Our research shows that demand for passenger cars generally stems from either a desire to spend less money since cars generally cost significantly less than their SUV counterparts, or from a desire for more performance and handling."
There's also an advantage for those that stay in the game. The Civic has been the best-selling retail passenger car for six years running. A third of Honda's 2022 U.S. sales came from passenger vehicles. Additionally, the Civic is global with 55 percent finding homes overseas.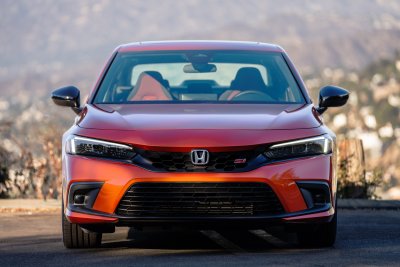 "The Civic is a global vehicle with healthy volume outside of the US as well, helping to ensure volume to support development," Stephanie Brinley, principal automotive analyst at S&P Global told Newsweek.
"While not abandoning Civic, Honda has put more emphasis on utility vehicles and adjusted its expectations for the car. Civic can still be a profitable entry that is part of supporting a wide range of customer demands. For now, there is little reason for Honda to drop Civic or Accord."
Honda says the Civic is still the entrance into its brand, and it's still the most searched vehicle online by car buyers, even if the company also has the HR-V subcompact crossover that starts at about $700 less.
"We have the youngest buyers, under 35, in both percentage and volume in the market. The young people really gravitate to the Civic. It's stylish and fun to drive, and the Type R trim is actually our youngest of the Civic buyers," said Calhoun.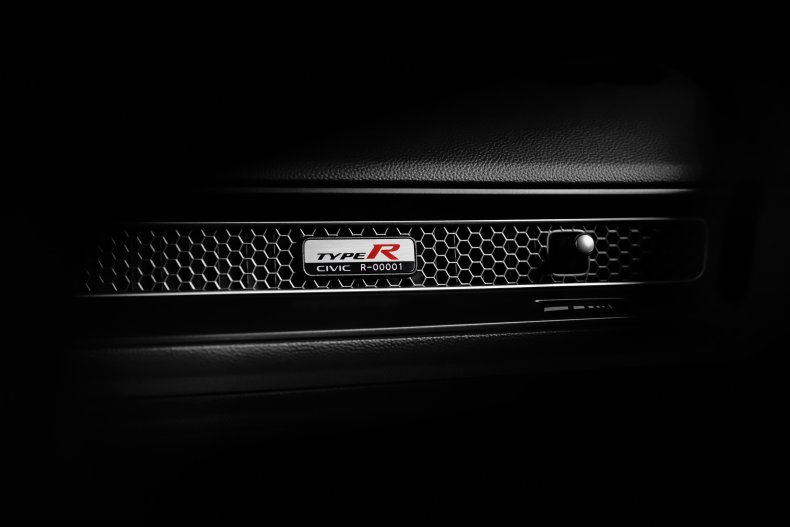 The Type R badge has never been on a high-roof vehicle, which have less spirited driving dynamics than a sedan or coupe. From Brinley's point of view, the trim is about tradition, despite its younger buyer, giving it a special place in the enthusiast corner of the industry.
"The Civic Type R is about demonstrating engineering expertise and connecting with the driver; it will be a niche product and account for only a low percentage of Honda's US or global sales. But it can create excitement and continue brand heritage. As long as Honda stays in the compact car market, having a performance version of the vehicle is part of the equation," she said.
The new Civic in general, and Type R specifically, was a big design departure from the previous model as Honda tried to bring back more of the classic styling of the marque, including on the sportiest version.
"The tenth generation was a major change, and really well received across all the body styles. For the 11th generation we looked back on the historical design values of low and wide, thin and light. Type R is an extension of 11th gen, meaning it received the same, less noisy styling touches," said Calhoun.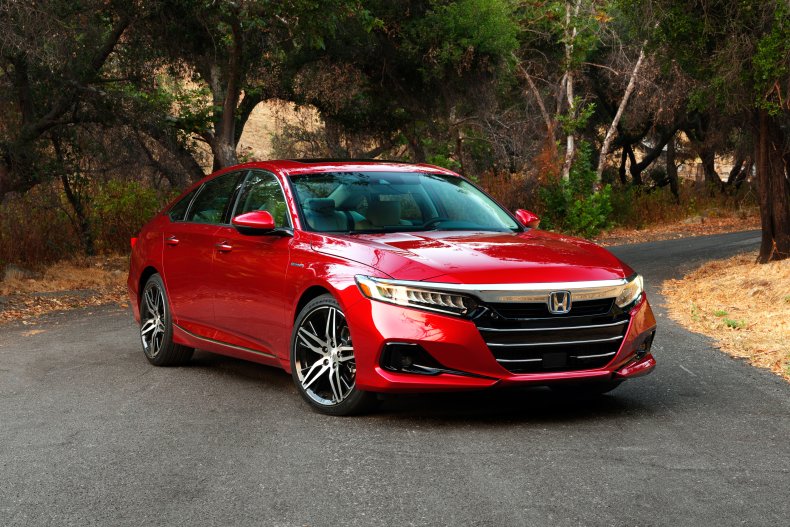 The next Honda Accord sedan will get some of the same toned-down treatment as it arrives in early 2023. A hybrid sedan version will follow, with Honda saying it wants that powertrain to be about 50 percent of the sales mix. It will not have an electric variant this time around.
"Sedans are an important part of Honda's core business as evident by the continued customer demand for models like the Civic and Accord," Mike Kistemaker he is Assistant Vice President, Honda National Sales told Newsweek. "With the all-new Accord coming next year, we look forward to growing our hybrid sales mix which is an important part of our electrification strategy."
Calhoun says that even when electric vehicles are the norm, there will be room for sedans.
"I think there's always room for passenger cars. In a 50-million-unit industry there's still a 3-million-unit market. There are enough people that really like the way they drive and look, and there will still be a market, maybe not as big but it will exist," he said.