Hong Kong Activist Joshua Wong Charged With Conspiring to Commit Subversion
China has charged dozens of pro-democracy campaigners in Hong Kong with conspiring to commit subversion, under new draconian security law being enforced on the territory.
Forty-seven people—reportedly including prominent young activists Joshua Wong, Lester Shum and Owen Chow—were charged on Sunday in the Chinese government's continued crackdown against opposition voices.
It comes after 55 pro-democracy campaigners were arrested in raids last month, as China imposes legislation outlawing "subversive" acts in the formerly British-controlled territory.
U.S. human rights lawyer John Clancey is among only eight of those arrested who have not been charged. He remains on bail, Reuters reported.
Responding to the charges, the U.S. called for the immediate release of those being held under the so-called "national security law" and for all charges to be dropped.
"Political participation should never be a crime," a Department of State spokesperson told Newsweek. "These individuals simply sought to exercise their rights by participating or helping others to participate in elections. This is yet another example of how the National Security Law is used to stifle dissent, not improve security."
Beijing has recently warned Washington not to interfere in Hong Kong matters.
The controversial law came into force last year after mass pro-democracy protests in 2019. Critics say it has silenced anti-government voices and stripped Hong Kong of its autonomy that China agreed to maintain when taking control in 1997.
Sam Cheung, a 27-year-old participant in an unofficial primary election in 2020, was charged after reporting to a local police station, Reuters reports.
"This is a very strong signal from President Xi (Jinping) that he wants to eradicate the whole pro-democracy camp in Hong Kong," exiled activist Sunny Cheung told Reuters by phone.
"If the international community doesn't react to the authoritarianism of the Chinese Communist Party, Xi will win and liberty and democracy will fall."
The European Union joined the U.S. in condemning the charges and calling for the immediate release of those arrested.
"The nature of these charges makes clear that legitimate political pluralism will no longer be tolerated in Hong Kong," its Hong Kong office said in a statement.
Newsweek has contacted those representing activists, including the imprisoned Joshua Wong, for comment.
China's decision to charge pro-democracy campaigners comes less than two months after it warned President Joe Biden's administration not to interfere with matters in Hong Kong.
Secretary of state Antony Blinken has previously tweeted in support of Hong Kong's pro-democracy movement after local police confirmed the initial arrests.
"The Biden-Harris administration will stand with the people of Hong Kong and against Beijing's crackdown on democracy," Blinken wrote on Twitter.
Beijing sent a warning later that same day, with foreign ministry spokesperson Hua Chunying telling reporters: "No other country has the right to make wanton criticism or interfere."
The United States should "respect facts and the rule of law," she added, while calling on Washington to "stop fabricating all sorts of pretexts for wanton political suppression and restrictions against China."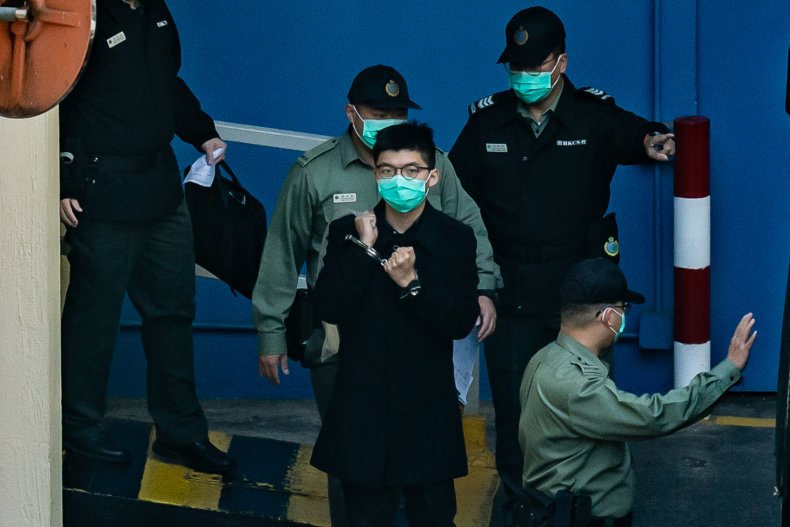 Update, 3/1/21: The U.S. Department of State's response has been added to this article.