China to Place Electronic Tags on COVID Patients to Stop Them Leaving Home
From July 17, Hong Kong will require all COVID-19 patients under home quarantine to wear an electronic bracelet to stop them from leaving their homes, the city's new health minister Lo Chung-mau announced Monday.
Lo, approved by Beijing last month as part of new Chief Executive John Lee's Cabinet, also said Monday that the Hong Kong government "recommends" to roll out in part the health code adopted in mainland China, that prevents COVID patients from visiting public venues, and requires mandatory quarantine for overseas visitors, AFP reported.
The measure will turn the QR codes of COVID-positive patients red on their LeaveHomeSafe app, and travelers will have yellow QR codes, Lo said, noting that it would make it easier to identify those who are infected and those who have come from overseas.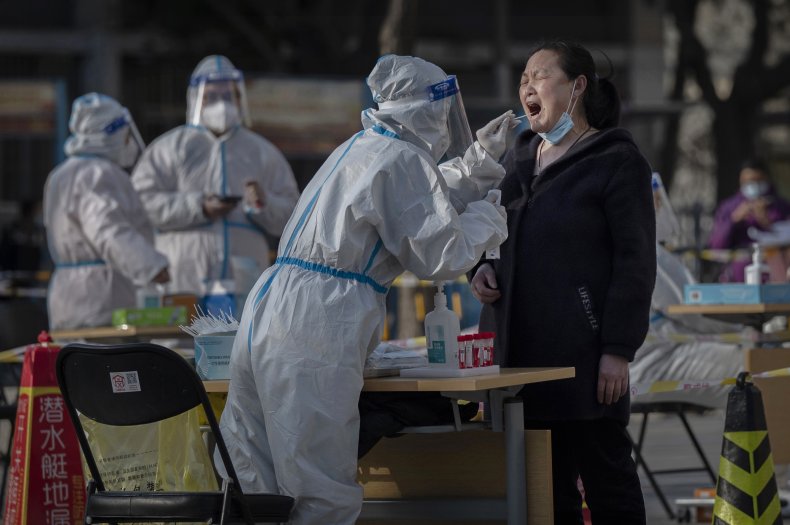 The official, 61, made headlines in February when he said that Hong Kong must maintain a COVID "zero tolerance" policy, because living with COVID-19, the disease caused by the novel coronavirus, would "get us all killed."
Hong Kong's government used electronic wristbands earlier this year to monitor COVID patients undergoing home isolation, as part of measures that were implemented to battle rising infections amid a fifth wave.
Lo said inbound travelers who have completed their mandatory quarantines but are still being monitored may be restricted from entering premises such as hospitals or homes for the elderly. The group may also be barred from taking part in "mask-off activities," reported RTHK.
The health minister said further details would be provided later, and that the measures were considered after analyzing Hong Kong's local infection rates.
"Every city is different. Hong Kong is very different from Shanghai or Macau, in terms of the total population, in terms of the age distribution, and also in terms of the vaccination as well as the fact that Hong Kong has already had the fifth wave which has caused widespread infections. We've paid the price," Lo said.
"In addition, Hong Kong is a very international hub. All these are considered when we design our policy," the official added.
A total of 2,611 new daily COVID-19 infections and seven deaths were reported in Hong Kong on Monday.
Lo said that the new measures are designed to prevent COVID-19 patients from leaving their homes and from entering public venues, and are not for real-time tracking purposes.
The health minister also ruled out a possible lockdown in Hong Kong.
Lo, in his first press conference as the city's new health minister on June 20, promised to roll out "evidence-based COVID policies," stressing that not all of mainland China's COVID-19 policies would be suitable for the city.
"By using scientific, effective and precise control measures, the maximum results can be achieved with minimum cost," Lo told reporters, echoing a line that is often used by Chinese President Xi Jinping in speeches and in Chinese Communist Party propaganda, Bloomberg reported.
Lo separately said on Sunday said that he intends to ramp up PCR tests for high-risk people. Those who work in high-risk settings such as nursing homes or hospitals may soon be subject to screening weekly with PCR tests, and eventually twice a week or every two days, he said.
"Everyone agrees that those who have COVID-19 should actually not go out and harm the rest of the population," he said. "If we give COVID-19 positive people freedom and let them roam the surrounding areas, those without COVID-19 will have their freedoms affected."
Update: 7/11/22 7:33 a.m. EDT: This article has been updated with additional background information.