Hong Kong Councillor's Ear Bitten Off and Four People Slashed With Small Blade as Pro-Democracy Protests Turn Violent
Four people were slashed with a small blade and a local councillor had his ear bitten off as protests in Hong Kong turned violent again.
People across seven districts took to the streets on Sunday to protest against alleged police brutality and several shopping malls were brought to a standstill.
Among them were Cityplaza mall in the Tai Koo district on Hong Kong Island and the New Town Plaza mall in Sha Tin and footage from both locations showed riot police storming the buildings and firing tear gas at protesters.
In Tuen Mun, Radio Television Hong Kong (RTHK) reported that numerous people locked themselves in a mall in the district, fastening doors with cable ties and umbrellas to prevent riot police from entering.
During the melee and fracas at Cityplaza, a Pro-Beijing, mandarin-speaking man reportedly began arguing with pro-democracy protesters, according to Hong Kong Free Press (HKFP).
It was then that he slashed several people with the blade, before protesters subdued the man.
Warning: The below video contains potentially shocking images
A RTHK report said one man was slashed from his shoulders and down his back and that two women were among the victims.
While the attacker was being restrained by protesters, several people reportedly confronted him, including 34-year-old Democratic Party member Andrew Chiu who has held the Tai Koo West constituency seat since 2008.
During the confrontation, footage from the incident showing the attacker breaking free from the crowd and lurching towards Chiu. He could then be seen wrapping his arms around his head before digging his teeth into his ear.
It was then sheared off and spat out before countless pro-democracy protesters descended onto the man and took him to the ground. Numerous people could then be seen punching and kicking the man in retaliation.
It was not clear what happened to the attacker following the brawl.
The five that were injured, including the councillor, were taken to Pamela Youde Nethersole Eastern Hospital, according to a government spokesperson, reported. One of them is said to be in serious condition.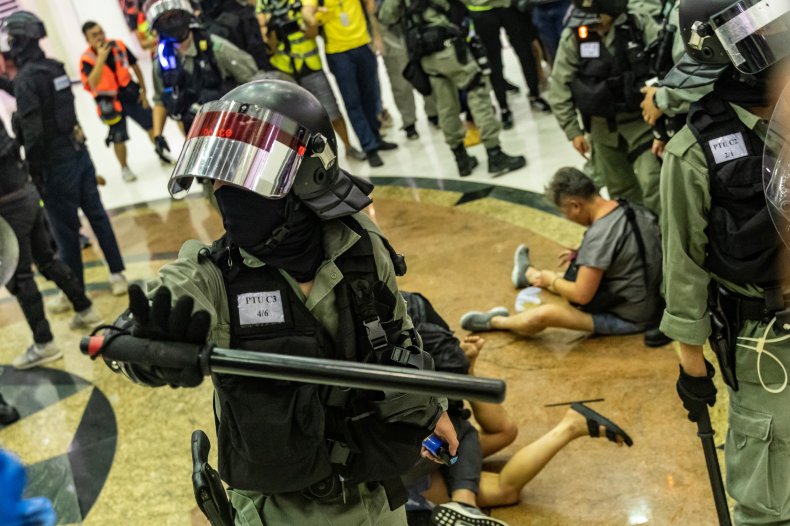 The attack is the latest in a string of violent incidents that have plagued Hong Kong since protests began in March. A day prior, a police press release said that upwards of 100 people were arrested on Saturday and 25 people were injured.
Last month, a leader of one of Hong Kong's largest pro-democracy groups was taken to hospital after being attacked with hammers. Photographs and videos of the incident showed Jimmy Sham of the Civil Human Rights Front lying in the street, covered in blood.
The protests, which evolved from a campaign to demand the withdrawal of an extradition bill that would have allowed people from Hong Kong to be taken to mainland China, have now focused on police brutality and other pro-democracy demands after the bill was withdrawn last month. The protests have now entered their fifth month.