Hong Kong Police Are Torturing Detained Protesters, Report Claims: 'I Tried to Shout but I Couldn't Breathe'
Hong Kong police are engaged in "disturbing" and "pervasive" brutality against protesters, according to a new report released ahead of what will be the 16th consecutive weekend of mass anti-Beijing demonstrations.
Amnesty International spoke with 21 people arrested during the demonstrations. They recounted arbitrary arrests, beatings and cruel and unusual punishment that the organization said amounts to torture.
The human rights group said its report uncovered an "alarming pattern of the Hong Kong Police Force deploying reckless and indiscriminate tactics." Amnesty called for an independent investigation into such behavior, a demand shared by the Hong Kong protesters that has gone unheeded by the territory's pro-Beijing government and Chief Executive Carrie Lam.
The mass protests began in June, as millions of Hong Kongers took to the streets to demand the withdrawal of proposed extradition legislation that would have allowed fugitives to be sent to mainland China for trial.
Opponents argued this would have undermined the "one country, two systems" agreement under which Hong Kong was handed to Chinese control in 1997, and affords residents greater personal and political liberties than their mainland compatriots.
Government intransigence prompted further demands as the movement grew to include amnesty for the more than 1,300 people arrested, retraction of the term "rioters" to describe the activists, an independent inquiry into police violence, and universal suffrage for the territory.
Clashes between police and marchers have grown increasingly violent. Where once Hong Kong's police force were considered "Asia's finest," they are now reviled by the demonstrators.
Officers dressed in full riot gear now routinely use tear gas, pepper spray, batons, water cannons, beanbag rounds and rubber bullets to disperse protesters. The force has also been accused of collaborating with pro-Beijing gangs, allowing armed men to assault activists and bystanders on the city's subway and elsewhere.
Protesters, meanwhile, have armed themselves with face masks, goggles, helmets, makeshift shields, clubs and even Molotov cocktails and other projectiles, and direct violence against police lines has become common. The vast majority of activists, however, have remained peaceful.
But police have also been accused of brutality and sexual assault against detained protesters, even when those arrested are subdued. Nicholas Bequelin, East Asia Director at Amnesty International, said there existed a "plethora of police abuses" away from the front line of the protests.
Security forces have, Bequelin added, "engaged in a disturbing pattern of reckless and unlawful tactics against people during the protests [in an] apparent thirst for retaliation."
Those interviewed reported routine violence, sometimes in response to perceived non-compliance. One man, after refusing to answer an officer's question, was taken into a room and beaten.
"I felt my legs hit with something really hard," he recalled. "Then one [officer] flipped me over and put his knees on my chest. I felt the pain in my bones and couldn't breathe. I tried to shout but I couldn't breathe and couldn't talk."
The so-called "raptor" squads of specialized anti-riot police—officially called the Special Tactical Squad—have been accused of some of the worst violence. Multiple interviewees reported being beaten by raptor officers, even when handcuffed and subdued.
One young female protester said she was hit from behind by a baton while fleeing a police charge. Her hands were then zip-tied, but the beating continued as she lay on the ground defenseless.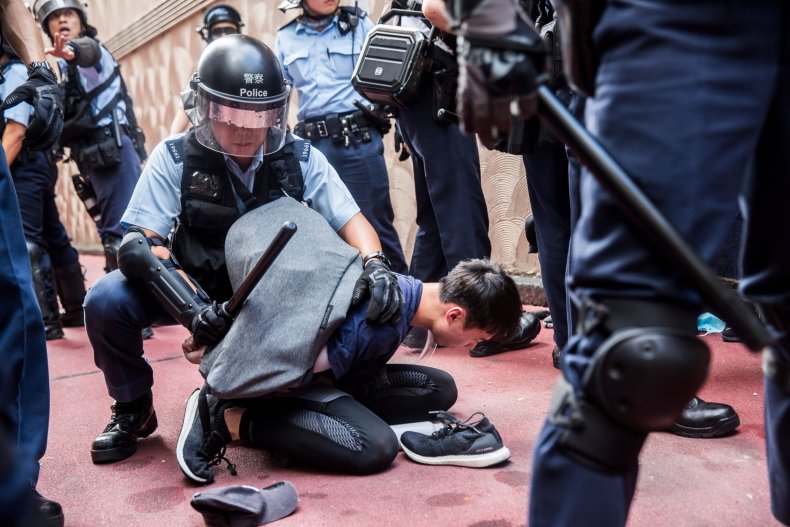 A male protester had a similar experience, being knocked down from behind by charging raptor officers. "Three of them got on me and pressed my face hard to the ground," he explained.
"A second later, they kicked my face...The same three STS kept putting pressure on my body. I started to have difficulty breathing, and I felt severe pain in my left rib cage ... They said to me: 'Just shut up, stop making noise,'" the man added. He was eventually hospitalized for injuries including a fractured rib.
Eighteen of the 21 interviewees said they had been hospitalized as a result of the beatings meted out by officers. Three of those spent five days or more in hospital.
Others have had laser pens—used by protesters to dazzle police and interfere with recording and facial recognition devices—intentionally pointed into their eyes. One protester told Amnesty that police pinned him to the ground and shone a pen in his eye, demanding: "Don't you like to point this at people?"
Another said he had a laser pen shone in one eye for some 20 seconds while detained in a police station. "They said: 'If you like to point the pen at us so much, why don't you do it to yourself?'" the man explained.
A female protester told Amnesty that police forced her to strip and undergo a humiliating full-body search as punishment for talking back to officers. The organization said this was inconsistent with police procedure.
Some of those injured by police were also denied immediate medical assistance. Amnesty reported that police routinely delayed medical care for between five to 10 hours after injured protesters first requested an ambulance. Officers reportedly refused to allow detainees to go to the hospital until they had given statements and been processed through detention facilities.
Similarly, protesters were reportedly denied demands for legal counsel. At the San Uk Lang detention center near the mainland border, detainees were even told their legal counsels could not be contacted because the phone network was down, Amnesty said.
"It's happening all over"
The Hong Kong Police Force told Newsweek by email that its officers "respect the privacy, dignity and rights of the person under police custody and have a set of standard procedures in handling a person in police custody," including arranging medical care and legal counsel when required.
The statement also said that police respect "stringent" guidelines on the use of force, and that any force used "shall be the minimum force necessary for achieving a lawful purpose." The force claimed that all its officers "exercise a high level of restraint at all times in the use of force" and that any force "shall cease once the purpose of which has been achieved."
But Brian Castner, a weapons investigator on Amnesty's Crisis Team who has been on the scene of several protests in recent weeks, told Newsweek he was surprised at how reckless and unprofessional Hong Kong police were in dealing with, and perhaps even provoking, protesters.
"It's not proper police work," Castner suggested, having seen police take up positions far from protesters and shoot towards the crowds with pepper balls—non-lethal shotgun rounds filled with pepper spray that break on impact.
"They are flailing," he added. "They're reckless, they're making bad policing decisions."
The cause of the violence against protesters under arrest is unclear. Months of action have no doubt made officers angry, frustrated and exhausted, and as such breakdowns in discipline are not a surprise. However, the violence could also be directed or allowed by those further up the chain of command, designed to crush the spirit of protesters and intimidate them off the streets.
Regardless, Castner said the research team "definitely found a pattern of abuse... a pattern of beatings during arrest that are completely uncalled for and not necessary to subdue a subject."
"We definitely found use of pepper spray and rubber bullets as dispersing devices, which is completely contrary to international standards," he continued. "It's happening all over. It is not one police station, it is multiple police stations...It's widespread."
The government has thus far refused to consider an independent inquiry into police violence. Instead, Lam and her colleagues have said that any investigations will be left to the internal Independent Police Complaints Council. Protesters are outraged at the clear conflict of interests, and few have any hope that its findings will be meaningful.
"There is no confidence in the IPCC," Castner explained. "There needs to be an outside look at this."
No deaths have been confirmed—despite rumors of at least one protester being beaten to death by police at a subway station—though several protesters have died in accidents or by suicide. But with tensions running high and potentially lethal weapons already in use, the risk of fatalities is constant.
Castner said his "number one fear" is that a poorly trained, scared and exhausted police officer "takes a shot when it's not necessary" and "kills somebody out of incompetence and negligence."