What began as a protest against extradition legislation has morphed into an epic struggle for the future of Hong Kong.
Amid the city's gleaming skyscrapers, international corporate headquarters and luxury hotels, millions of people have taken to the streets in defiance of the influence of mainland China.
Hong Kong's unique status—conferred during its 1997 handover from British to Chinese control—has long been a political flashpoint, whether latent in times of relative calm or explosive during periods of anti-government and pro-democracy dissent.
The "one country, two systems" agreement afforded Hong Kong residents personal and political freedoms not enjoyed by their mainland compatriots. However, the handover agreement only guaranteed these rights until 2047.
At the time, the West hoped that the lure of global markets and greater prosperity would pull the Chinese government towards liberalism, and perhaps even democracy. This hope has proved misplaced. Under President Xi Jinping, China is ready to forge a path to superpower status, its domestic power secured by a one-party, authoritarian surveillance state.
The protesters in Hong Kong appear to be fighting a losing battle. Every year the territory is less vital to China's growing economy, as megacities like Shanghai and Beijing—among others—become more attractive financial centers. And for all the warm words from abroad, no nation will be willing to risk relations with China over what Beijing has termed a domestic dispute.
But the activists have surprised the Hong Kong and Chinese governments with their numbers, tenacity and ingenuity. Rarely has a street protest movement been so well coordinated, supplied or prolonged.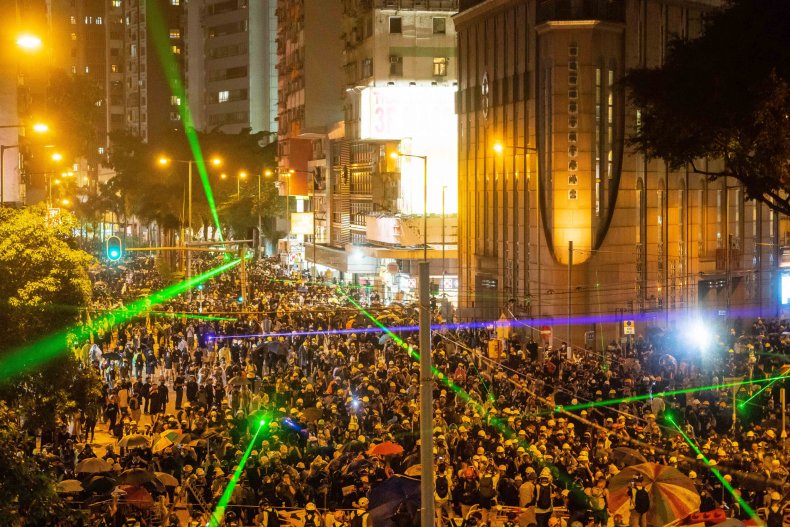 High-tech, low-tech
All this is even more impressive given that the demonstrations have no defined leaders. The movement grew organically, spreading via online forums like LIHKG—similar to Reddit—and group chats on the encrypted Telegram messaging app.
Some of the larger Telegram groups have tens of thousands of members. Users share news updates, information about police deployments, escape routes and targets for protests. There are different chats for different targets, allowing large groups of activists to work independently.
The app's poll function allows users to vote instantly on whether to stay at a demonstration or disperse. Last month, for example, protesters on Telegram voted 79 percent in favor of targeting Hong Kong's international airport, forcing hundreds of flights to be canceled.
Protesters have developed a simple yet effective system of hand signals to communicate with one another amid the chaos of street clashes, according to Hong Kong-based writer and lawyer Antony Dapiran.
Different signs can indicate a need for helmets, water, saline solutions, scissors or umbrellas, among others. This goes some way to explaining why the demonstrators so often seem to have all they need at hand, and the uncanny ability of supply teams to always be where needed.
"Be water"
All this means protesters can "be shapeless, formless, like water," as movie star Bruce Lee once said. Eschewing the occupy tactics of past protest movements, the activists are instead moving regularly, suddenly and in force. Police have struggled to pin them down and react to simultaneous actions in different areas. This has led to some observers terming the unrest the "Water Revolution."
The 2014 Umbrella Movement struggled to maintain popular support because of its disruption of daily life in Hong Kong. Eventually, people became tired of not being able to access certain areas of downtown. This time, however, it's different. Periodic disruption is far more palatable, and changing targets mean the chaos is spread around.
Jacques deLisle, a professor at the University of Pennsylvania Law School and an expert in Chinese law and politics, said the persistence of the movement is notable, "despite the harsh measures by the [Hong Kong] government and threats from Beijing."
"Be water" seems to be working better than occupy. "Perhaps because they generate less blowback from a frustrated public, perhaps because they demand less from participants, perhaps because they are less easily stopped," deLisle suggested.
Rachel Yeo, a locally based journalist who has been covering protests on the ground, explained to Newsweek that with "no single person giving orders" it also lessens the risk of arrest for individual demonstrators, while increasing their overall potency.
Activists have also learned lessons from the government's persecution of the Umbrella Movement's leaders. Then, crowds would more readily show their faces. But mindful of the prison sentences handed to those leaders and China's surveillance capabilities, Yeo said that marchers today use masks, sunglasses, hats and other clothing to hide their identities "as much as possible."
This decentralized movement makes it hard for police to cut the head off the snake, though police have targeted leaders of past movements to kill their momentum.
Pro-democracy activist Joshua Wong, for example, emerged as a prominent leader in the Umbrella Movement and was only recently released from prison. When released on bail, Wong said it was "ridiculous" for the police to be framing him and other pro-democracy advocates "as the leaders of the anti-extradition bill protests."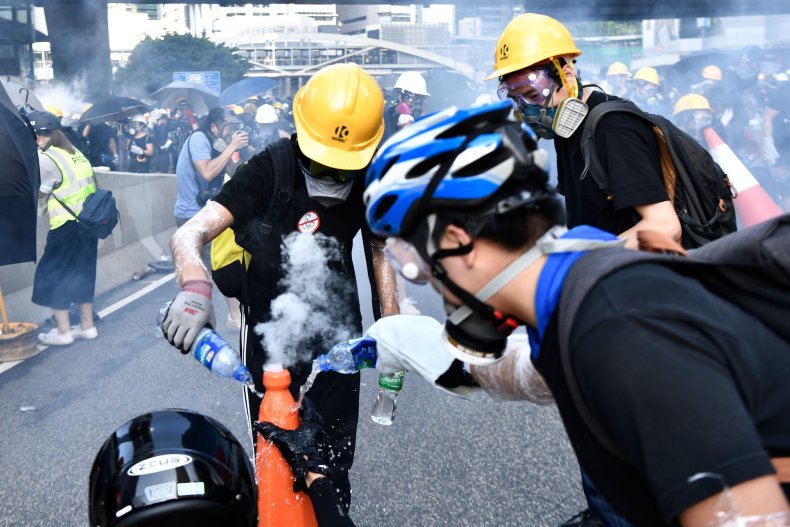 On the front lines
Indeed, Hong Kong authorities seem to have been caught flat-footed by the movement. "They do not seem to have anticipated the tenacity and adaptability of the protesters," explained deLisle.
"It's evident both in their reactive quest for new tactics and their resort to brutal measures, sometimes in a seemingly panicked manner, which has greatly damaged the once highly-positive reputation of the Hong Kong police," he added.
The leaderless crowds have proven themselves adept at battling Hong Kong's police force, which in the space of a few months has gone from a respected symbol of the territory to a despised institution among protesters.
As the unrest has dragged on, police have grown increasingly violent. Pepper spray, baton charges, tear gas, water cannons, beanbag rounds and rubber bullets have all been used against the crowds.
Barrages of tear gas—sometimes allegedly fired without heeding legal safety requirements—especially, have been a favored method to clear crowds without having to engage directly.
Protesters have amazed social media users with their rapid response tactics to snuff out the potent chemical weapon. Activists have organized small teams of so-called "firefighters" who wait just behind the front line, armed with water, traffic cones and masks.
When a gas shell lands, they rush forward and place the cone over the round. They then pour water down the opening at the top of the cone, dousing the shell while containing much of the gas. Individuals armed with water bottles and flasks have achieved the same, popping shells into the containers to disarm them before dumping the spent cartridges back onto the street.
This prompted the emergence of so-called "frontliners"—young activists armed with largely rudimentary weapons who take to the front line with the express purpose of fighting police officers and protecting marchers. Whether throwing Molotov cocktails, putting up barricades or destroying facial recognition cameras, the frontliners are the tip of the spear.
"They are generally praised by other pro-democracy supporters for their bravery, despite the violence," Yeo explained. "On the other hand, they are also criticized by police/government supporters for committing unlawful acts." These are the "rioters" so maligned by the government, and have even been compared to terrorists by both Hong Kong and Chinese officials.
"The increase in violence is, sadly, not surprising in context," deLisle reflected. "It's been a cycle of escalation between police and protesters and it reflects the collision of protesters' sense of urgency and regime intransigence. One should not lose sight however of how much of the movement has remained peaceful."