Hong Kong Protests: Cash Bounties Are Being Offered to Identify Masked Anti-China Activists
A website has been launched offering bounties to anyone who can identify masked anti-government protesters in Hong Kong who engaged in violence and vandalism amid the mass demonstrations gripping the special administrative region.
The website—named 803.hk after an August 3 incident in which activists threw a Chinese flag into Hong Kong's harbor—is offering varying totals of between HK$200,000 (around $25,500) and HK$1 million (around $127,500) to identify individuals engaged in the most direct anti-government actions, Bloomberg noted.
It is not clear who is behind the website nor whether they have any link to the governments of either Hong Kong or Beijing. The website says those running the page "come from all walks of life and hope that Hong Kong will return to peace as soon as possible."
The site also says that the rewards will come from private sources and will be supported by crowdfunding, while stressing that the identities of any informants are "absolutely confidential." Once a report is received, the group says it will be passed onto Hong Kong police via a lawyer.
The most lucrative bounties—at HK$1 million ($127,500)—are for those who tore down a Chinese flag and threw it into the water and for those who used black paint to deface the Chinese government's seal at the China Liaison Office in downtown Hong Kong in July.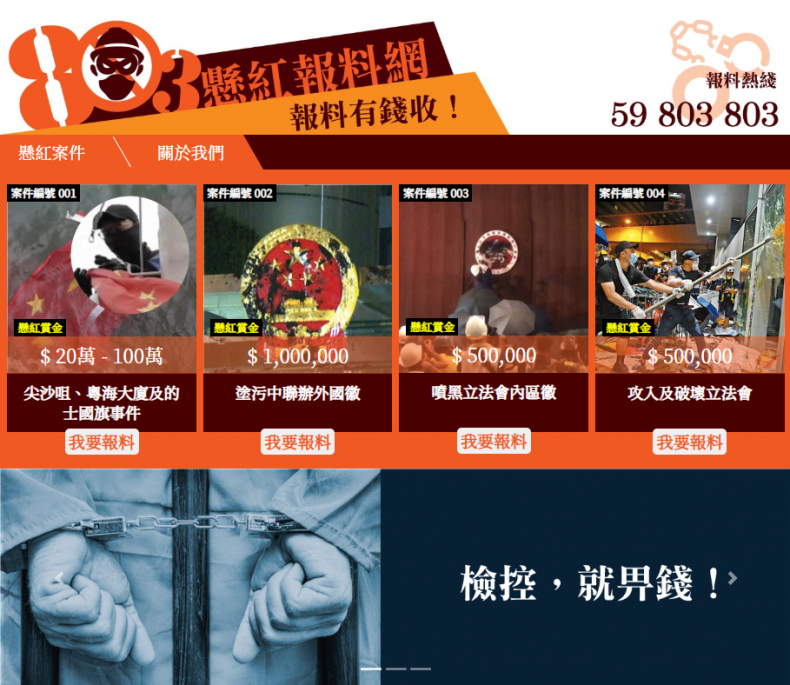 The next highest band of rewards—of HK$500,0000 ($63,750)—relate to those who vandalized the Legislative Council Building at the start of July, inflicting some HK$10 million ($1.27 million) worth of damage.
The lowest strata of bounties—HK$200,000 ($25,500)—is for those engaged in lower-level violent acts. These include vandalism of police vehicles, destruction of facial recognition posts and violence that occurred at Hong Kong's international airport.
Under existing Hong Kong law, it is illegal to desecrate the national flag or emblem. Offenders can be punished by up to three years in jail or a fine.
More than 800 protesters have so far been arrested for involvement in the protests since June, the youngest of whom is just 12 years old. Protesters are demanding a general amnesty for all those arrested and prosecuted, while 3,000 legal professionals in the territory have marched to demand an end to what they have termed political prosecutions.
Former Hong Kong CEO Leung Chun-ying shared the 803.hk website on Facebook, urging Hong Kong residents to spread the campaign.
Pro-Beijing Leung led the territory from 2012 to 2017 and steered the executive during the 2014 pro-democracy Umbrella Movement. He previously offered to pay a HK$1 million reward to anyone who could identify the activist who threw the Chinese flag into the harbor on August 3.
The current round of protests began in March over a proposed change to Hong Kong's extradition laws, which would have allowed the region's government to extradite criminals to China for trial.
Opponents feared it would allow Beijing to target political opponents in Hong Kong and undermine the "one country, two systems" accord under which the island has been governed since it was transferred from British to Chinese rule in 1997. The agreement affords Hong Kong residents greater political and personal freedoms than their compatriots on the mainland.
The former British colony has experienced 12 weeks of consecutive protests, attracting significant international attention. Despite shelving the proposed extradition bill, the Hong Kong government led by CEO Carrie Lam has been unable to quell the unrest. This has raised concerns that Beijing may send in mainland security forces to crush the movement and restore order.