Video of Hong Kong Protesters Using Lasers Against Police Goes Viral, Then China's Military Shares Its Own Video
A video showing demonstrators using lasers against police in Hong Kong has gone viral, just as the local garrison of Chinese troops shared its own clip demonstrating its anti-riot capabilities.
The 29-second protest footage was first shared Sunday by journalist Alejandro Alvarez, then by French outlet L'Important on Tuesday and shared the following day by freelance journalist Alessandra Bocchi in a tweet that has since gathered tens of thousands of retweets and well over 150,000 likes. A mass of protesters is seen shining multi-colored lasers through what appeared to be tear gas at a group of police officers clad in anti-riot gear in what Bocchi and New York University political science professor Ian Bremmer asserted was an attempt to thwart facial recognition technology.
The science fiction-like visuals were among the many dramatic scenes to emerge from the months of unrest sparked by a controversial bill that would see Hong Kong citizens capable of being extradited from their semi-autonomous special administration region to the mainland under the full jurisdiction of the Chinese Communist Party in Beijing.
Even after Hong Kong Chief Executive Carrier Lam promised to suspend the bill last month, angry citizens have called for it to be scrapped entirely as well as her resignation and greater freedom from the central government.
With some isolated instances of violence being blamed on both rioters and authorities, speculation has mounted as to whether the Chinese government planned to respond. Though this reaction was so far limited to political support for Lam, a new video showed the Chinese military was more than ready to intervene if needed.
Since Hong Kong sovereignty was handed over from the United Kingdom in 1997, China has deployed a garrison of the People's Liberation Army there, while law enforcement and other administrative functions were performed by branches of Hong Kong's Security Bureau. This local agency included the Hong Kong Police Force, which was deployed on the frontlines of the recent unrest that began in March, with the military standing by.
On Wednesday, the People's Liberation Army Hong Kong Garrison posted a three-minute video entitled "Anti-riot Drill Footage" to its official account on Weibo, China's top social media platform. The clip opens with Chinese troops storming urban areas, guns blazing and firing tear gas at masked protesters who are later arrested en masse.
Armored personnel carriers can be seen roaring through terrain, firing machine guns as troops poured out fire an anti-tank missile. Even Type 056 corvette warships and Harbin Z-9 helicopters are seen unleashing their full range of weapons as mobile launchers fire surface-to-air missiles. The ballistic montage then slowly fades into patriotic scenes of marching troops and interviews with citizens praising the skills of the People's Liberation Army.
At one point one of the personnel can be heard yelling "all consequences are at your own risk" in Cantonese. Troops are then seen carrying a red flag is then seen with the slogan "WARNING Stop Charging Or We Use Force" not unlike those carried by the embattled Hong Kong Police Force.
Also on Wednesday, People's Liberation Army Hong Kong Garrison commander Chen Daoxiang described violent escalations as "absolutely intolerable," saying "we strongly condemn this" at an event marking the 92nd anniversary of the founding of the armed forces.
Asked about these remarks, Chinese Foreign Ministry spokesperson Hua Chunying called them "impressive and encouraging" at a press conference Thursday in Beijing. She said the central government "firmly supports" Hong Kong's government and its police, noting that "the PLA Hong Kong Garrison will continue to be the anchor for Hong Kong's long-term prosperity and stability."
The protests have caught the attention of former colonizer London, as well as Washington, both of whom have offered their support to the demonstrations. China has warned the U.K. and the U.S. not to interfere, although officials have pointed to the appearance of both countries' national flags at rallies and meetings between top members of President Donald Trump's administration and vocal Hong Kong opposition figures as evidence that foreign interference was already underway.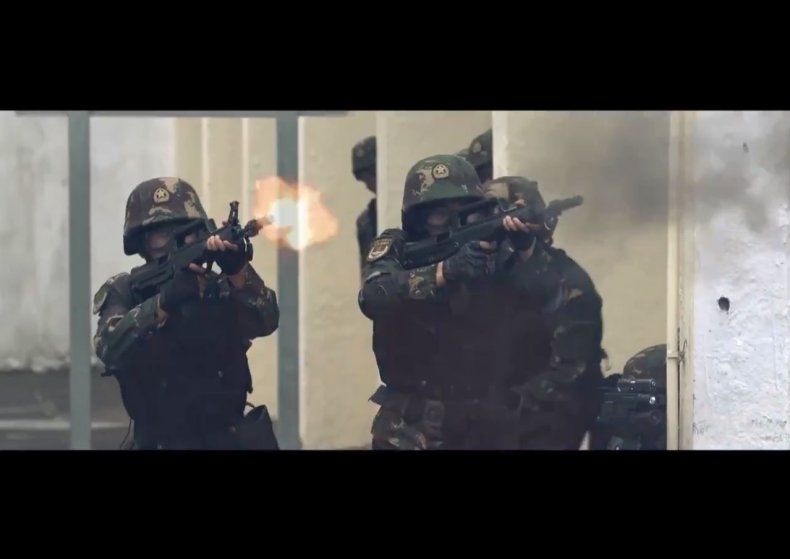 Secretary of State Mike Pompeo called the accusation "ludicrous on its face" on Tuesday, but Hua doubled down on these accusations when asked the following day, telling reporters Wednesday that "we can see it clearly from the recent media reports."
"If the U.S. disagrees, it can just prove its innocence by listing facts and make clear promises that it has not interfered in Hong Kong affairs and will not do so in the future," she added. "We will most certainly welcome that. You may ask the U.S. side what actions it will take to prove its innocence and make such promises."
It has also raised anxieties in Taiwan, a breakaway island state born from a rival government that lost a civil war in 1949 but not recognized by China. Chinese President Xi Jinping has proposed instituting a similar "one country, two systems" policy that applies to Hong Kong and Macau to Taiwan, but has warned that he would retake what he saw as a natural part of his country by force if necessary.
The Taiwanese Foreign Ministry also shared the Chinese military video Wednesday, writing in a tweet initialed by Foreign Minister Jaushieh Joseph Wu: "Beijing is celebrating Armed Forces Day in a most uncivilized fashion. The people of #HongKong are gifted a video of vile threats! The PLA is supposed to protect the people, not pound them into submission. It's time for authoritarian China to back off!"