Months of anti-government protests in Hong Kong show no signs of dissipating. What began as opposition against an extradition bill has ballooned into a wider movement against Chinese encroachment on the territory and against the Beijing-backed Hong Kong government.
Past pro-democracy movements in the territory have petered out as residents grew tired of disruption and weary of conflict. The current unrest remains vigorous—and indeed developments have recently taken a dark turn—but how long it will last remains to be seen.
The unrest stems from a proposed extradition bill that would allow Hong Kong to extradite criminals to face trial in mainland China. Opponents fear this would enable Beijing to target its political opponents in the territory and undermine the "one country, two systems" agreement active since Hong Kong was handed back to Chinese control.
For all their numbers, the protesters have a relatively weak hand. Mass protest is not new to Hong Kong, and the cultural, political and legal contrasts between the city—a former British colony handed back to Chinese control in 1997—and the central government in Beijing make such frictions almost inevitable.
International support for the protests is a vital way for the pro-democracy activists to amplify their message and exert additional pressure on Beijing via the international community. In particular, Hong Kong residents are looking to the U.S. and U.K., the latter because of the territory's former status as a colony.
Activists have taken to the streets waving the Star-Spangled Banner and the Union Flag, a direct challenge to Beijing's rule. When marchers stormed the Legislative Council building, one activist raised Hong Kong's colonial-era flag while others defaced the territory's modern seal.
While the upper echelons of British politics is more or less united in its criticism of Chinese encroachment, President Donald Trump has been less forthcoming. On Tuesday, a reporter questioned Trump about the footage showing attacks on subway passengers by allegedly pro-government criminal gangs.
Asked whether he had a message for President Xi Jinping based on the footage, Trump replied: "You could say what you said, but you could also say that he has allowed that to go on for a long time, and, you know, it's been relatively—I think it's been relatively non-violent."
Hong Kong police have also been accused of undue violence against protesters, using tear gas, rubber bullets and batons to break up demonstrations. For their part, small groups of protesters have also used weapons to vandalize government buildings and at one point ransacked Hong Kong's Legislative Council building, breaking into and damaging the council chamber.
Trump noted that "China could stop them if they wanted," adding: "I think President Xi of China has acted responsibly. Very responsibly. They've been out there protesting for a long time." The president also said he hopes "that President Xi will do the right thing."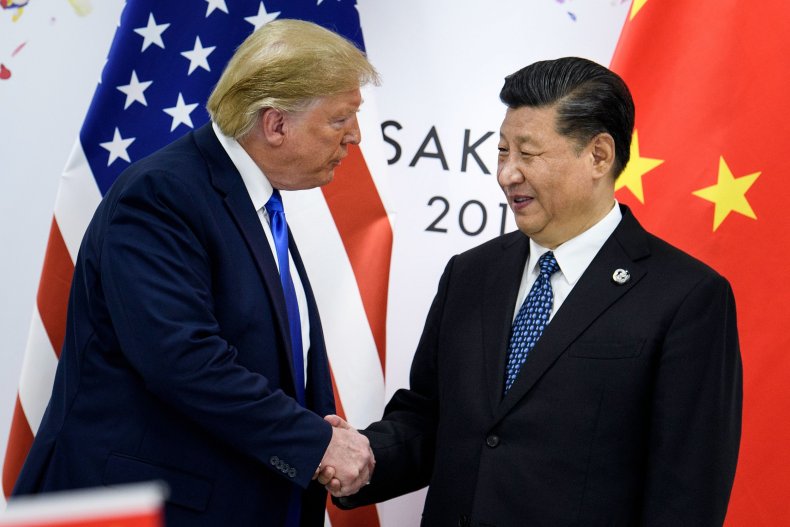 Earlier this month, Trump said he had spoken with Xi "briefly" about the protests when the two leaders met at the G20 summit in Osaka, Japan. "I've rarely seen a protest like that, it's very sad to see," Trump told reporters in the Oval Office. He added that he hoped the unrest "gets solved."
Before the G20 meeting, protesters marched to the British and U.S. consulates in Hong Kong to read out a petition seeking "your engagement and assistance to fight back against this authoritarian regime with us." Trump's comments following his talks with Xi would have been a grave disappointment to Hong Kong's democracy advocates.
Trump often makes bullish public statements about foreign leaders, only to take a more measured approach when meeting them in person. Xi is a good example. While Chinese trade and diplomatic practices are among his favorite gripes, the president has reveled in his relationship with the Communist Party dictator.
The White House did not respond to Newsweek's request for clarification on the president's stance on the unrest in Hong Kong.
Jacques deLise, a professor at the University of Pennsylvania Law School and an expert in Chinese law and politics, told Newsweek the U.S. has always been "kind of tepid in its foreign policy in promoting human rights and democracy." But even with this trend, "under Trump it's taken a big step back."
"We saw that in Trump's soft-peddling of the anti-extradition bill protest issue when he met with Xi Jinping at the G20," deLise said, which he described as "par for the course for him." The U.S. has "backed off," deLise suggested. "Not that we would have changed anything profoundly, but we backed off."
Trump stands more or less alone in his failure to take a strong stance against China's Hong Kong policy. As with Russia and North Korea, the State Department and lawmakers from both sides of the aisle have been more vocal than the president in their advocacy of human rights and democracy in the territory.
Secretary of State Mike Pompeo, for example, "expressed concern" over the proposed extradition law in May, according to the State Department. The secretary also said he supported "Hong Kong's long-standing protections of human rights, fundamental freedoms, and democratic values, which are guaranteed under the Basic Law."
Prominent Republican lawmakers have also spoken out. Senate Majority Leader Sen. Mitch McConnell said the whole world "should be watching the drama unfolding on the streets of Hong Kong," and suggested that the Beijing government had failed to "respect the basic rights of people it claims as its own citizens."
Sen. Lindsey Graham, meanwhile, condemned China's "heavy-handed" policy towards Hong Kong, while Sen. Ted Cruz said Hong Kong residents "are fighting against the tyranny of the Chinese Communist Party" and said the U.S. should re-evaluate its approach to Beijing.
The support for the demonstrators is bipartisan, which can be said of few current issues whether domestic or foreign. Earlier this month, two Republican and two Democratic senators—Marco Rubio, Jim Risch, Ben Cardin and Bob Menendez—reintroduced the Hong Kong Human Rights and Democracy Act, designed to reaffirm U.S. commitment to democracy, human rights, and the rule of law in the territory.
"The U.S. must send a strong message that we stand with those peacefully advocating for freedom and the rule of law and against Beijing's growing interference in Hong Kong affairs," Rubio said in a statement. Cardin added, "We cannot stand idly by as the rights of the people of Hong Kong are trampled on by China."
This week in an email sent to Newsweek, a State Department spokesperson reiterated the department's view that "all sides" should "exercise restraint and refrain from violence."
The statement added: "It is important for the Hong Kong Government to respect the freedoms of speech and assembly, as guaranteed by the Basic Law. Societies are best served when diverse political views are respected and can be freely expressed."
The spokesperson called the reported attacks by criminal gangs on pro-democracy protesters as "particularly disturbing," adding that the government must "respect the freedoms of speech and assembly" and "respect Hong Kong's high degree of autonomy."