Hong Kong Police Accused of Using Undercover Officers to Infiltrate Demonstrators
Hong Kong police are being accused of using undercover officers dressed as protestors to infiltrate and arrest demonstrators in the Chinese territory, where unrest has continued for weeks.
Video footage obtained by the Hong Kong Free Press appears to show not only uniformed police making arrests, but officers dressed in the black t-shirts and hard hats that have become a symbol of the resistance.
The clash took place Sunday night in Hong Kong's Causeway Bay neighborhood. After receiving reports of infighting among demonstrators, riot police charged at a group at the intersection of Percival Street and Hennessy Road. In the video, two men—one in uniform, the other in civilian clothes and a hard hat—are seen pinning a bleeding demonstrator to the ground.
With blood streaming from his mouth, the man says, "I understand, don't press me, I'm sorry. I've already been arrested by you, I understand... Don't do this, I beg you," according to the Press.
The men in plainclothes can be seen brandishing batons and tear-gas respirators, despite no gas having been deployed in the area. Some carried green glow-sticks, allegedly used to signal their affiliation.
If true, the use of undercover operatives embedded among protestors is an escalation of police tactics used to handle the demonstrations.
Activists also accused police of using excessive force over the weekend, including using tear gas and rubber bullets at retreating demonstrators. One widely circulated image showed a female protester shot in the eye.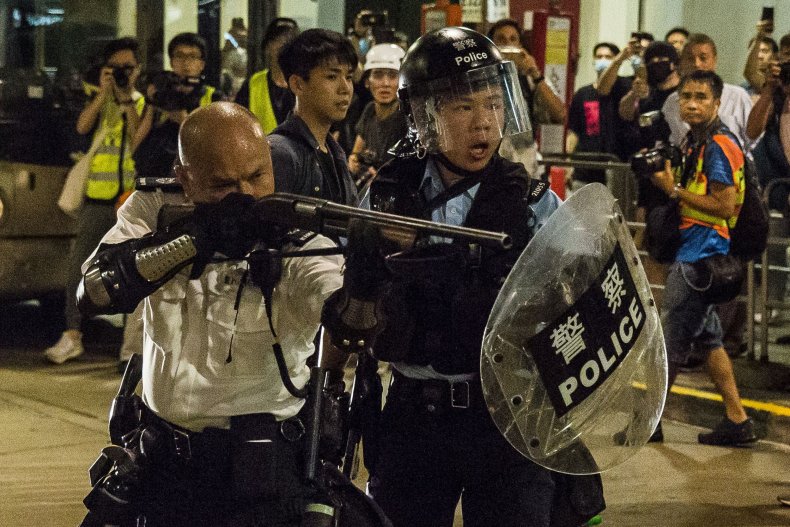 "Firing at retreating protesters in confined areas where they had little time to leave goes against the purported objective of dispersing a crowd," Man-Kei Tam, Director of Amnesty International Hong Kong said in a statement. "The Hong Kong police have once again demonstrated how not to police a protest. Violence directed at police does not give officers a green light to operate outside of international policing standards."
But a spokesman for the Hong Kong and Macao Affairs Office of the State Council accused radical demonstrators of using terrorist tactics against authorities.
"Radical demonstrators have repeatedly used extremely dangerous tools to attack police officers, which already constitutes a serious violent crime, and also shows the first signs of terrorism emerging."
Protests have rocked Hong Kong since the spring, after the passage of a controversial law that would allow Hong Kong citizens who have been accused of crimes against China to be extradited to the mainland.
On Monday, all departing flights at Hong Kong International Airport were canceled after some 5,000 activists occupied the busy hub.