'Making Crap Up': Democrats Allege Obstruction Over White House Preventing Hope Hicks from Answering Questions
White House lawyers prevented former Trump campaign and former White House official Hope Hicks from answering an array of questions before members of the House Judiciary Committee Wednesday about her time working for the administration, according to several Democratic lawmakers in the room.
Democrats told Newsweek that White House lawyers, several of which they said were present for the closed-door deposition, objected to all questions regarding Hicks' time working as White House communications director, but did not do so for questions regarding her role as a campaign aide. Hicks also had private representation, they said.
Several Republican committee members confirmed that Hicks, a key Mueller report figure who was referenced 184 times, was answering questions. They would not, however, elaborate as to what type.
The move by the White House to prevent another former official from answering questions by claiming "absolute immunity" further infuriated Democratic members, who accused the White House of committing obstruction of justice and threatened to enforce the committee's subpoena for Hicks' testimony by taking the matter to court. The White House did not exert executive privilege.
A transcript of Hicks' deposition will be made available to the public in the coming days, according to Judiciary Chairman Jerrold Nadler.
"The White House counsel's directive not to answer any of these questions will ultimately be decided by a court, and today establishes a record for refusal or willingness to comply with the approval of the president and the White House," said Judiciary member David Cicilline, a Rhode Island Democrat.
He furthered labeled the White House's claim to "absolute immunity" as "bogus" and alleged it was an "ongoing effort" by Trump to obstruct Congress' investigations into the administration. He said the topic of Trump ordering hush-money payments be made to women in the run-up to the 2016 election with whom he allegedly had extramarital affairs with came up but that it had not yet been explored in depth.
Among the topics that Democrats said were discussed so far include the hush-money payments, campaign discussions of WikiLeaks and Hicks' knowledge of any Russian interference during the campaign. In previous testimony, Hicks, who at the time was still White House communications director, said she frequently told "white lies" on Trump's behalf. Still, Cicilline said that she failed to express regret.
Several of Cicilline's Democratic colleagues also questioned the legitimacy of such a blanket claim of "absolute immunity" to prevent testimony, amounting it to obstruction of the Judiciary Committee. The panel has been investigating the president's attempts to thwart the Russia probe that were detailed in the Mueller report.
"I'm watching obstruction of justice in action," said Representative Ted Lieu, Democrat from California. "[Absolute Immunity] doesn't exist. And you have to ask the question, what are they trying to hide from the American people?"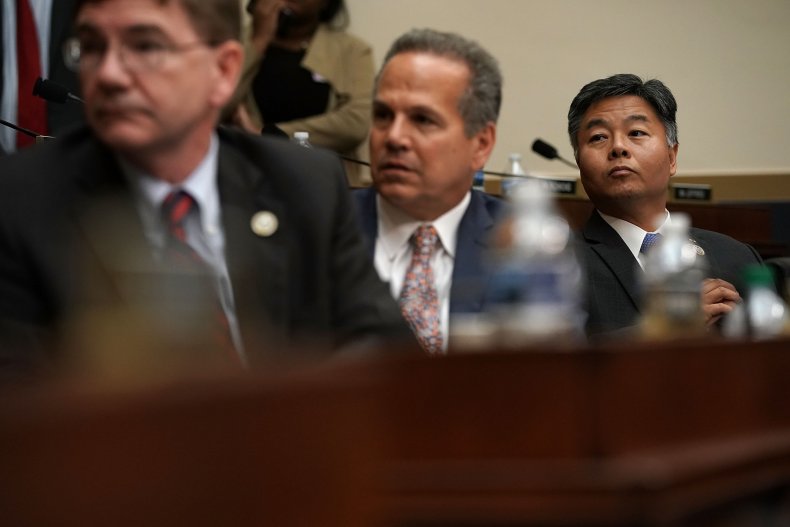 Lieu said that White House lawyers in the room objected to Hicks answering any questions "related to her tenure at the White House," including the location of her office, and characterized the immunity claim as the White House "making crap up."
"It's ridiculous. There's no such thing as absolute immunity," he added.
The top Republican on the committee, Representative Doug Collins of Georgia, accused his Democratic counter-parts of attempting to "re-litigate the Mueller investigation," and that no new information was revealed. Several Democrats conceded that, as of Wednesday morning, they had yet to learn much new information as well, but expressed confidence that further questioning throughout the day would prove successful.
"There's nothing new here. What was in the report has been reported, Ms. Hicks' testimony has been consistent with that," Collins said. "This has been another time that [Democrats] can get a press release."
Trump appeared to take notice of Hicks' trip to Capitol Hill, taking aim at Democrats in a series of tweets.
"The Dems are very unhappy with the Mueller Report, so after almost 3 years, they want a Redo, or Do Over. This is extreme Presidential Harassment. They gave Crooked Hillary's people complete Immunity, yet now they bring back Hope Hicks," he wrote.
The president continued, saying Hillary Clinton's email scandal warranted further probing rather than the Mueller report. "That is real Obstruction that the Dems want no part of because their hearings are RIGGED and a disgrace to our Country!" he tweeted.