'Horizon Zero Dawn' Sequel Announced for PS5, Titled 'Horizon: Forbidden West'
One of the last games shown during Sony's PS5 online presentation was Horizon: Forbidden West, the sequel to 2017's Horizon Zero Dawn.
A lengthy story trailer was released Thursday showing series protagonist Aloy in a brand new environment where animal life is dying. She continues to search for what is doing this while also avoiding the many dangers of the "machines," giant mechanical creatures that inhabit this world.
Aloy, voiced by Ashly Burch, will search for the cause of the machines becoming more violent towards humans, but she'll have to worry about more than just the beasts, there seems to be a tribe that has learned to control these powerful creatures. Burch also features in the Apple TV series Mythic Quest: Raven's Banquet.
Here's the official synopsis for the upcoming game: "Horizon: Forbidden West continues Aloy's story as she moves west to a far-future America to brave a majestic, but dangerous frontier where she'll face awe-inspiring machines and mysterious new threats."
Watch the story trailer for Horizon: Forbidden West below.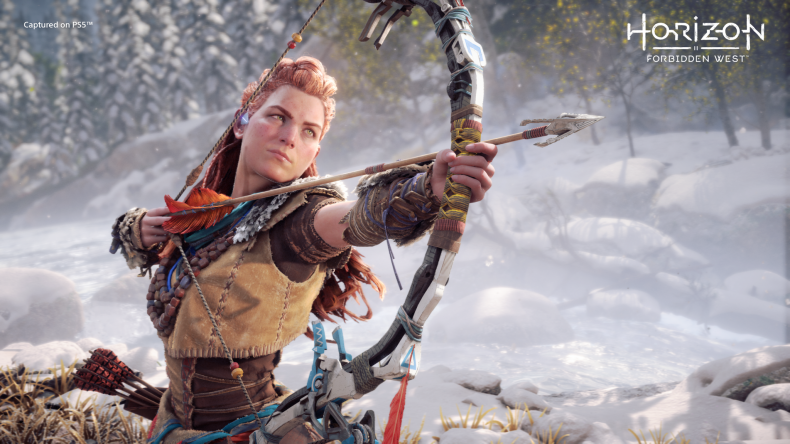 Ahead of the official reveal, many gamers began speculating on whether the Horizon Zero Dawn sequel was indeed in the works. The morning of the PS5 presentation, clues were found around social media.
The first was Michelle Jenner, the Spanish voice actor for Aloy the game's protagonist posting a reaction gif to PlayStation's official tweet about the presentation.
Later in the day, Dutch composer Joris de Man, who composed the music for the first Horizon Zero Dawn commented on the PlayStation UK tweet, teasing what may be shown.
Of course, the original Horizon Zero Dawn released in 2017 as a timed PlayStation exclusive. It followed the story of the female protagonist Aloy, a former member of the Nora tribe in the 31st century. In this world, humans have scattered into tribes with limited technology. The world is inhabited by mechanical creatures called "machines."
The machines and humans lived peacefully, until something called the "derangement" began making the mechanical creatures more aggressive towards people. Aloy sets out to find the source of the derangement and save the human race.
Horizon Zero Dawn has an average score of 89 on the review aggregator Metacritic and was nominated for game of the year at the 2017 Game Awards.
A DLC expansion called The Frozen Wilds was released in November of 2017, a few months after the release of the core game.
Are you excited for the sequel to Horizon Zero Dawn? Let us know in the comments section.