Horrific Video Shows Moment Whale Lands on Tourist Boat Injuring Passengers
The horrifying moment a whale breached and crushed a tourist boat in Mexico, injuring four passengers, has been caught on film.
The video, caught and posted to Twitter by BrujitaMerak, shows the huge whale leaping out of the water, in Topolobampo bay of Ahome in the Gulf of California.
The whale can then be seen landing right on top of the tourist boat as onlookers gasp in fright. The boat stays afloat but appears close to capsizing.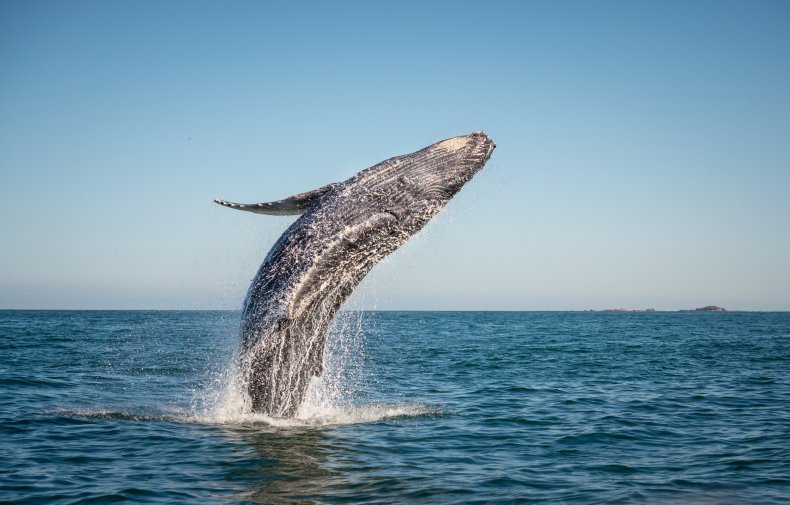 The whale can be seen splashing about in the water following the incident before the video ends.
Two men and two women traveling aboard the tourist boat were injured and taken to the hospital, Mexico News Daily reported.
A picture also posted by BrujitaMerak shows the boat following the incident. The roof of the vessel appears to have completely collapsed. Mexico News Daily reported the railings were also destroyed.
Newsweek has contacted the Ahome tourist authority for comment.
Topolobampo bay is a popular whale-watching area. At this time of year, pacific gray humpback whales are in these waters to breed.
The best time of year for spotting whales close to the area is between December and April, however, some whales may stay in the area throughout May.
Humpback whales can weigh from 55,000 to 66,000 pounds.
Jesús Valdez one of the passengers aboard and a former councilman for the area, had rib fractures and a head injury following the incident, according to online newspaper Línea Directa Portal. Another female passenger suffered a broken leg.
A Civil Protection coordinator for the area, Omar Mendoza, told the newspaper that the boat had been too close to the whale, which may have provoked its behavior.
Following the incident, Ahome Mayor Gerardo Vargas said that tourists should "not get too close to the whales."
"We can enjoy their beauty, but at a distance, prudently," he said.
One Twitter user commented on the video, claiming that it had been caused by "human recklessness."
BrujitaMerak, who posted the video, responded and said that whales are not usually seen in this bay, and "it is believed that it was trapped."
However, BrujitaMerak also agreed that the boat could have invaded the whale's space.
Whales very rarely injure people. However scientists have long suspected the whales breach this way as a form of communicating. Although it was the first time it ever happened in this particular bay, it is not the first time whales have injured people by breaching nearby to a boat.
Another incident in the Gulf of California saw five people injured when a boat collided with a whale in La Paz, Mexico News Daily reported.