'Hospital Emergency' Declared in Maryland; Health Centers to Implement 'Crisis Policies'
Hospitals and health centers associated with the University of Maryland Capital Regional Health (UM Capital) have declared a "hospital emergency" amid a recent spike in COVID-19 hospitalizations throughout the state.
Facing increased emergency patients and significant staff shortages, the hospitals will implement "crisis policies" to help workers effectively treat patients.
The specific policies are still being determined. They could include "streamlining processes, modifying surgical schedules ... simplifying documentation, and redeploying staff," UM Capital said in a recent press statement.
All policies will be decided upon in partnership with Johns Hopkins Medicine and in line with recommendations from the National Academy of Science, Engineering and Medicine, the statement added.
"This is not a decision we made lightly. It is one that was made after exhausting all other avenues to address issues that are challenging our operations," said Trudy Hall, MD, UM Capital vice president and deputy chief medical officer.
"COVID-19 has created the necessity for healthcare organizations to be nimble and vigilant in fighting this pandemic," Hall continued.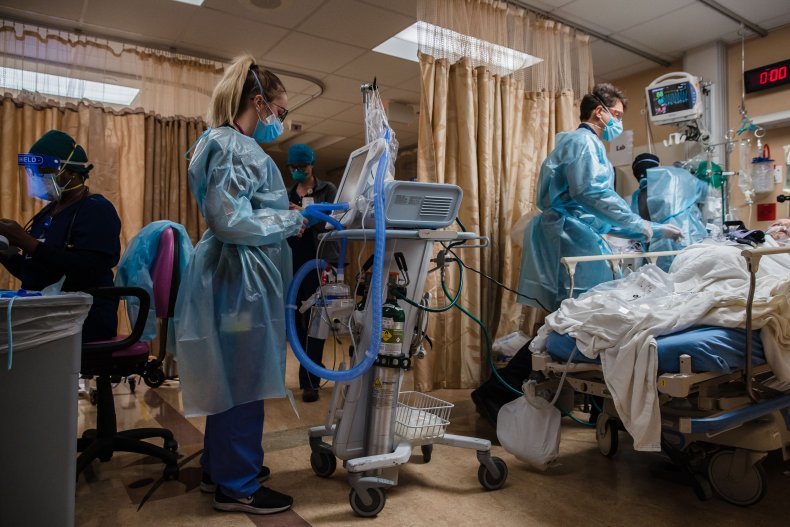 On Wednesday, Maryland's Republican Governor Larry Hogan announced that the state's COVID-19 hospitalizations had reached record levels. The surge, he said, has primarily been driven by unvaccinated people.
As of Dec. 31, Maryland reported a daily average of 2,148 COVID-related hospitalizations, a 49 percent increase from two weeks prior. Overall, hospitals are at 92 percent to 93 percent capacity, WBAL-TV reported.
As a result, healthcare workers are working longer hours and being asked to come in on their days off, Bob Atlas, president of the Maryland Hospital Association, told the aforementioned news station.
On Dec. 31, Maryland also reported a daily average of 8,882 new COVID-19 cases, a 563 percent increase from two weeks prior.
In response to the surge, Hogan announced the creation of a Surge Operations Center, which will coordinate with hospitals and help optimize their staffed bed space, WTOP reported. Hogan also committed $100 million to help healthcare centers address urgent staffing needs.
Additionally, Hogan announced that he had extended the hours of state-run COVID-19 testing sites and mobilized the Maryland National Guard to stand up multiple surge testing sites. He also mentioned efforts to distribute at-home rapid test kits in the state and pledged $30 million to help schools enhance their own testing resources, WTTG reported.
Maryland isn't the only state that has had to instate crisis policies amid the ongoing COVID-19 pandemic.
To help guide overwhelmed hospital workers, in September, the Idaho Department of Health and Welfare (DHW) activated crisis standards of care. Such standards help hospital workers decide which patients should receive priority care when resources—like beds, ventilators and care workers—are scarce.
For example, if an overwhelmed hospital has one patient who had a life-threatening heart attack and another who is dying of COVID-19, doctors will use the standards to determine which will receive priority care. The standards take each patient's age, their underlying chronic health conditions and other factors into consideration.
California also prepared similar "worst-case" guidelines in April 2020 when new COVID-19 cases threatened to overwhelm state hospitals.