ABC News Host Confronts Lindsey Graham Over Trump Calling Him a 'RINO'
During an interview on Sunday, ABC News host George Stephanopoulos grilled Senator Lindsey Graham, a South Carolina Republican, about Donald Trump, and recent criticism he received from the former president.
On February 1, Trump called Graham a "RINO," or "Republican in name only" after the senator criticized the idea of pardoning convicted January 6 rioters, which Trump floated during a rally in Texas last month. During an interview with CBS, Graham called the idea "inappropriate."
"I don't want to reinforce that defiling the Capitol was OK," he said. "I don't want to do anything that would make this more likely in the future."
After being asked about Graham's response on Newsmax, Trump said, "Well, Lindsey Graham's wrong. I mean, Lindsey's a nice guy, but he's a RINO. Lindsey's wrong."
Stephanopoulos asked Graham where "things stand" with him and Trump, and whether he supports "his comeback in 2024."
The Republican responded by saying that the GOP presidential nomination is Trump's "for the taking" calling Trump "the most consequential Republican in the Republican Party today."
However, Graham said Trump shouldn't focus on the outcome of the 2020 race. The former president has continued to baselessly claim that widespread fraud took place during the last presidential election.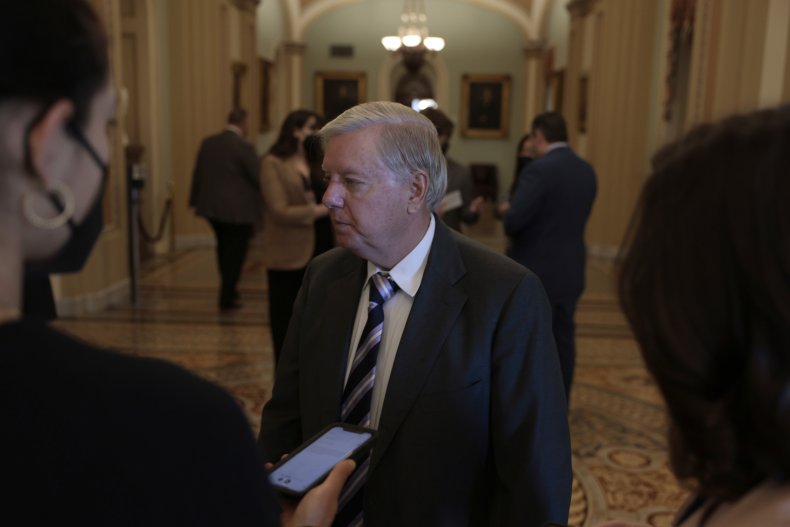 Graham said he thinks Trump has a "great chance of being president again in 2024 if he'll start comparing what he did as president versus what's going on now and how to fix the mess we're in."
"If he looks backward, I think he's hurting his chances," he said.
Stephanopoulos later asked, "[Trump] doesn't really show any signs of changing. He continues to lie about the 2020 election, a couple of weeks ago he talked about pardoning the January 6 rioters. He called you a RINO...because you disagreed with that. There's no evidence that the president is going to change."
"For the president to win in 2024, he's got to talk about the future. He's got to talk about how to fix our broken border, how to fix the damage done through the Biden economic agenda...I do believe if he talked about what he's capable of doing, and remind people of what you did in the past, he has a chance to come back," the senator said.
Graham added that if Trump "continues to talk about the 2020 election, I think it hurts his cause and quite frankly, it hurts the Republican party."