'Hostile' Alligator Found Near Food Stamp Office: 'Times Are Getting Rough'
Officers with the Perry County Sheriff's Office in Mississippi wrangled a five-foot alligator that was spotted near a food stamp office on Monday.
The department shared a Facebook post and several photos explaining the call after the gator was seen outside of the office in New Augusta.
The Mississippi Department of Wildlife, Fisheries and Parks estimated there are between 32,000 and 38,000 alligators and roughly 408,000 acres of alligator habitat throughout Mississippi.
"We have discovered that the average size of Mississippi alligators is much larger than alligators sizes reported from other states, such as Florida or Louisiana, where alligators are hunted," the agency stated.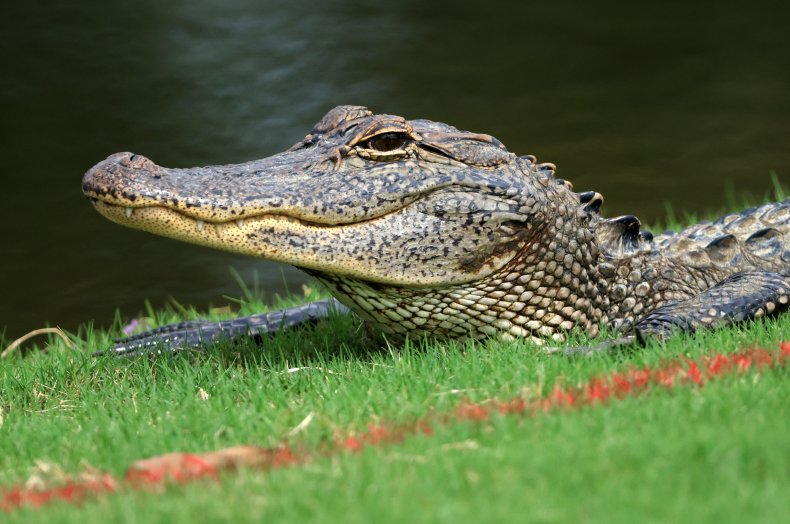 There have been calls about nuisance alligators, which is an alligator that is aggressive, seeks handouts or appears in places they should not be in, like pools or garages.
The organization urges people to avoid approaching feeding and harassing alligators.
In the department's Facebook post, photos gave viewers a look at just what officials were handling.
"After making contact with the alligator she (just found it was a female) became hostile and was taken into custody by our Perry County [Emergency Management Director] Colby Prine," the post read.
The photos show the official placing a large piece of fabric over the front half of the alligator.
Sheriff Mitch Nobles told Newsweek the gator was laying out in the sun near the office until several employees called the police to remove it. He explained that the alligator only became aggravated when the fabric was placed over her.
"She was taken out to the Pascagoula River and was released on her own recognizance and will appear later in court for disorderly conduct," the caption concluded.
Nobles said it is not uncommon for the department to receive calls about alligators.
Facebook users chimed in with their thoughts in the comments section.
"Times are getting rough [she] was trying to apply for assistance," one Facebook user wrote.
"[She] got to eat too," one comment read. "Good job."
One person wrote, "[She] was just wanting some food stamps [she] said with the price of everything."
This is not the first time an alligator was found somewhere it was not meant to be.
Police officers in Florida moved an 11-foot alligator that caused a traffic jam as it was trying to cross the road.
Another gator was seen walking along a sidewalk just outside of a fast-food restaurant's drive-thru.
A 550-pound alligator managed to break into a family's private swimming pool, but it was subdued and released back into its native habitat.