Alligator Stalks Sidewalk, Shocks Customers at Popular Fast-Food Chain
An alligator shocked the morning breakfast crowd in a North Carolina town when it crossed into the drive-thru traffic of a Bojangles before stalking the sidewalk.
Drivers waiting in the drive-thru at the Bojangles in Southport, North Carolina, on Saturday whipped out their phones to capture the alligator on video.
Alligators are often found in swamps, marshes, bay lakes, rivers, creeks and ponds, along the East Coast, including coastal North Carolina, but become less common in the north of the state, according to the North Carolina Wildlife Resources Commission (NCWRC).
While alligators pose little threat to North Carolinians, feeding or approaching an alligator can not only make it aggressive, but it's also against the law.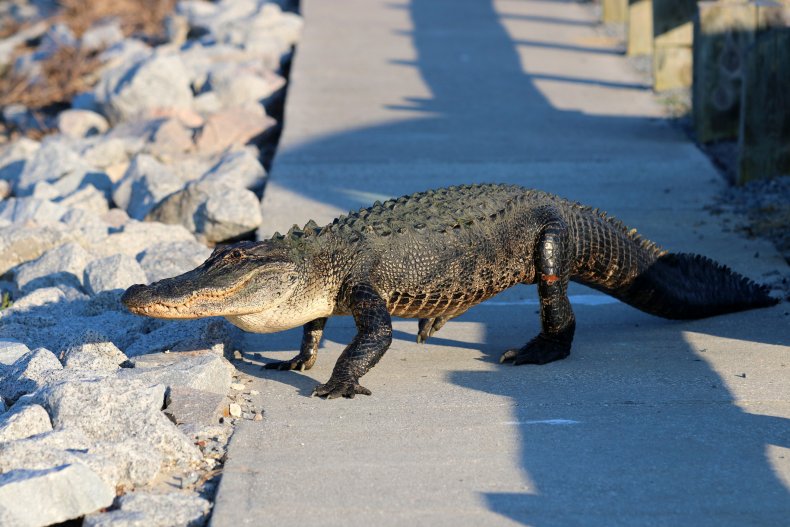 One video, posted to Facebook by Stacy Gore, showed the 4-foot-long gator casually walking the sidewalk next to the drive-thru.
Gore told Newsweek that she and her husband, Bart Gore, were waiting at the drive-thru speaker when they saw the gator stroll in front of the car directly ahead of them.
"This little guy made picking up breakfast interesting for my husband this morning," Gore captioned the video.
Other drivers can be heard laughing and sounding shocked in the background of the video.
Many users in the comments made jokes about the hungry gator probably craving a Cajun Chicken Filet Biscuit, a Bojangles favorite.
"Get that boy a Cajun filet," Rebecca Tucker commented on the video.
"Somebody get that gator a biscuit he's hungry," another user, Heather Whitney Kuykendall, commented.
"Curbside delivery!" Mark Barka commented.
Gore told Newsweek that although nobody noticed at first, when she and her husband saw the gator crossing the parking lot, they were both "quite surprised."
"There were even people walking up to the building from the parking lot and they didn't see it," she said. "Once they realized it was there, they turned around and headed back toward their car. By the time my husband started filming, people were excited."
The News and Observer reported that the alligator was estimated to be about 4 feet long and believed to be a juvenile American alligator.
While alligators in Florida can grow up to 15 feet long, most North Carolina male gators can reach up to 13 feet and females measure less than 9 feet.
The largest alligator ever examined in North Carolina measured 12.5 feet long and 475 pounds, according to the NCWRC. The longest female examined measured in at just over 8 feet.
Newsweek reached out to the North Carolina Wildlife and Resource Commission for comment.
Alligators thrive in warmth, so they are most active when the summer temperatures start to set in, especially in warmer areas like Florida.
Newsweek previously reported that a 13-foot alligator was caught strutting through a man's backyard on surveillance footage.
Newsweek also reported about an alligator that interrupted a swim team practice by hanging out at the bottom of the pool.
In March, another gator in Florida prompted a homicide investigation after a human arm was found inside the reptile's mouth.
Updated 5/11/2022, 12:20 p.m. ET: This story has been updated with a verified video of the incident.