Huge Florida Alligator Struts Through Backyard Before Laying Down for Rest
A huge 13-foot alligator has been filmed strutting across a backyard in Florida before lying down for a rest by a surveillance camera.
In the footage, captured by Ring, the alligator can be seen making its way through the garden in Titusville, Florida. Sounds of other wildlife can be heard in the background.
There are about 1.3 million alligators in Florida. Most residents know how to stay clear of them, however, sometimes they end up wandering into properties.
Dan Powell told Newsweek he was home when this particular alligator walked through his backyard. At the time, he didn't see it—it was only when Powell went to his friend's house two doors down that he heard the gator had been lurking around the neighborhood. He said he regularly sees the reptiles wandering around the surroundings of his home.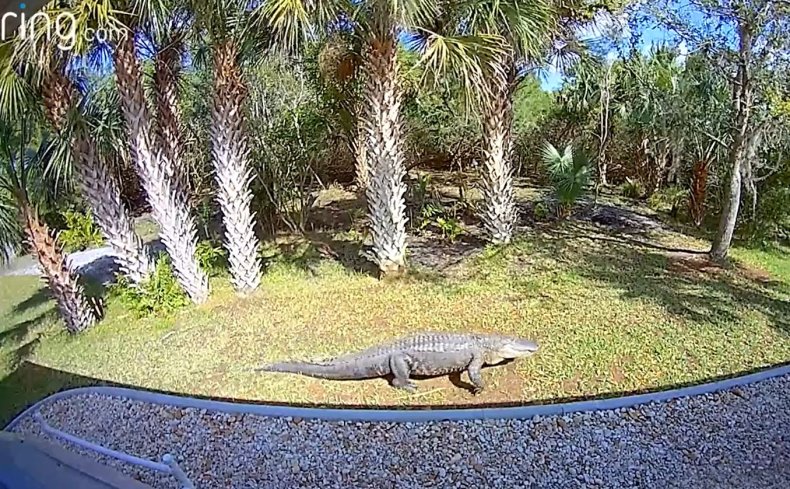 This particular alligator is well known to locals and Powell said he has seen this alligator about six times before. One time, he saw the huge gator from the video strolling down the road, where everyone could see him.
"Everybody was outside with cameras. It was exciting," he said.
Powell said his backyard acts as a natural swamp, which is perfect alligator habitat. Alligator sightings are particularly common during mating season, Powell said, as they get more active and begin to roam.
Alligator breeding season is about to begin. They typically mate in the spring months, and nest in late June and July.
Powell's home is based in a Florida resort called The Great Outdoors, where all the surrounding lakes have alligators.
"The Resort is surrounded by swamp and woods...There are lakes at both ends of our street. With no fences in the neighborhood, the back is used as a sidewalk for wildlife," Powell said.
"[We've seen] other smaller gators as well. They look freaky at night. Also deer, wild hogs, bobcat, coyote."
He said he is "not at all" nervous about alligators as he has lived in Florida for over 30 years: "I have never had a problem with them. Fishing, kayaking, hiking you do come across them. You have to respect them, and pay attention," he said.
The Florida Fish and Wildlife Conservation Commission says that if a resident becomes concerned about an alligator, they should call a trapper to remove it. In the state, an alligator is considered a nuisance if it's at least four feet in length and poses a threat to property, people and/or pets.
Powell said the alligators in and around this resort generally keep to their lakes and rarely bother people.