'Hot Batch' of Heroin Laced With Fentanyl Linked to More Than a Dozen Overdoses in Michigan
A "hot batch" of heroin laced with fentanyl was linked to more than a dozen heroin overdoses in Genesee County, Michigan, according to police.
Some 16 people in Genesee County, including 12 in the city of Flint, overdosed on heroin in the past week, NBC 25 reported.
Deputies saved the lives of the individuals by administering Naloxone, a treatment which knocks the opioids from brain receptors.
Genesee County Sheriff Robert Pickell said some of the heroin was laced with fentanyl.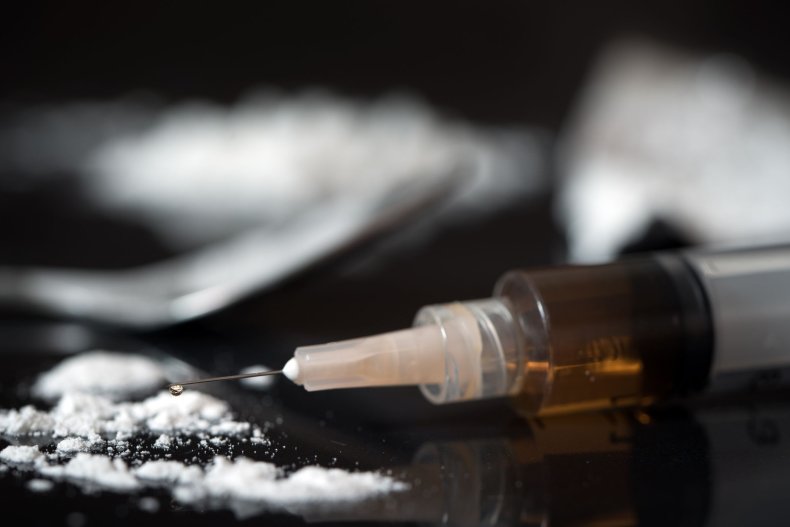 "We're at epidemic proportions of heroin overdoses in our community," Pickell said according to M Live. "We've had what we refer to as a 'hot batch.' The difference between a good high and dying is slim."
In an already devastating opioid epidemic, which kills some 115 people in the U.S. each day, fentanyl has presented an extra threat to public health, as it is 30 to 50 times more potent than heroin.
For the average person, two milligrams of fentanyl, which would amount to a few grains of salt, could be fatal. Some batches in Michigan also contained the fentanyl derivative carfentanil, which is 100 times more potent than fentanyl.
In a medical setting, fentanyl is prescribed to patients in severe, chronic pain (cancer patients, for example) who are already taking other drugs. But for drug traffickers, the synthetic drug is a gold mine as it can be cooked up and sold at a high profit margin. The drug is also added to non-opioid drugs such as cocaine, according to the Centers for Disease Control and Prevention (CDC).
Read more: 'You are going to die': Police warn against fake pills
"I don't know of anyone who wants to grow up and be a heroin addict," said Pickell. "The heroin is mixed or cut with fentanyl or carfentanyl."
Pickell will work with Genesee County health officials to devise a plan to deal with the epidemic, he said.
The CDC recently issued a countrywide health alert warning that deaths linked to synthetic opioids like fentanyl and its analogs, including carfentanil, have spiked since 2015.
Per its statement, "The dramatic rise in the supply of illicitly manufactured fentanyl and fentanyl analogs has been mirrored by an equally dramatic rise in deaths involving synthetic opioids other than methadone, a category which includes fentanyl and fentanyl analogs."
Between 2015 and 2016, the deaths in the U.S. caused by synthetic opioids per 100,000 people doubled.