Hotel Fined Nearly $11,000 After Hosting 'Evangelicals for Trump' Event Against Social Distancing Regulations
A hotel close to the Las Vegas Strip has been fined almost $11,000 after it hosted an "Evangelicals for Trump" event and a beauty pageant in early August in violation of Nevada's social distancing regulations.
The Ahern Hotel and Convention Center was issued a $10,930 fine last week after hosting the Trump event on August 6 and a Miss Nevada pageant on August 9, local TV station KVVU-TV Fox 5 reported on Monday. Police visited the hotel following the beauty pageant, and the fine was issued by the state's Occupational Safety and Health Administration for four violations of coronavirus rules.
The Las Vegas Review-Journal reported that the Evangelicals for Trump event had about 550 people in attendance, according to Nevada's Department of Business and Industry, while the Miss Nevada pageant hosted about 200. The guests were reportedly "observed within arm's reach of other guests." Under Nevada Governor Steve Sisolak's emergency directive, public or private gatherings of more than 50 people are banned.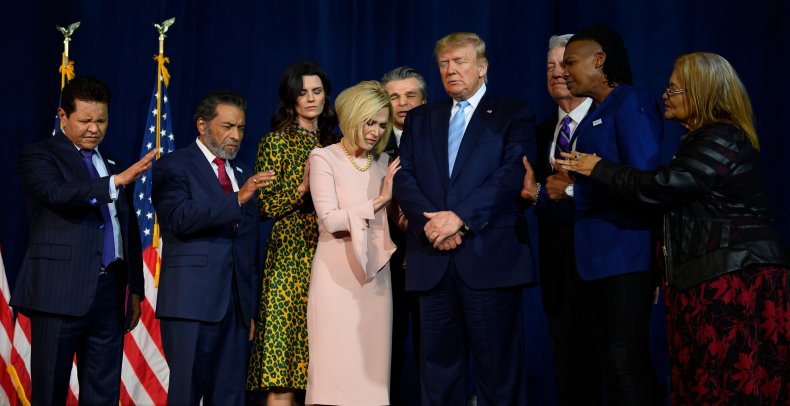 On August 7, Sisolak, a Democrat, tweeted his criticism of the campaign event for President Donald Trump.
"I was deeply disheartened and dismayed to see the callous and dangerous behavior displayed last night in Las Vegas at a campaign event for President Trump," the governor wrote at the time.
"President Trump's own campaign has ignored his experts and state law. This campaign event put more people at risk, including his supporters and the hardworking Nevadans who staffed the event," Sisolak added in a Twitter thread. He called on the president to "focus on the real threat to the health & lives of Nevadans & Americans: the senseless spread of COVID-19."
Sisolak urged the president and his campaign to follow state regulations. The Trump campaign told Newsweek that the event had been targeted due to partisan politics.
"From the moment the Trump campaign announced an event at the Ahern Hotel, Gov. Sisolak and his Democrat minions in state and local government sought to shut it down for purely political reasons," Samantha Zager, the campaign's deputy national press secretary, said in an email.
Prior to the event moving forward, the Las Vegas City Council urged the hotel and event organizers to reconsider. They warned in a letter that the rally would be "in violation of the governor's current directive for public and private gatherings," noting that it could "result in civil fines, license suspensions, and/or denial of your pending permanent licenses."
The Ahern Hotel filed a lawsuit against Sisolak, Nevada, the city of Las Vegas and the city's director of planning, Robert Summerfield, last Monday over the ban on events of more than 50 people. It alleged that there is "no rational basis" for the directive. The governor's office told Newsweek that Sisolak would not comment for this story due to ongoing litigation.
Paula White, Trump's personal spiritual adviser, headlined the event and criticized the governor at the time, saying he had tried to prevent the rally from going ahead.
"Our president understands how important faith is to our country," White said during the event, according to local media reports.
"I remember looking at him knowing in my spirit he was going to be president someday," she added. "And I said, 'Our country needs you, sir.'"
White evangelical Christians have been one of the president's strongest bases of support since his 2016 election. A Pew Research Center survey found that about 77 percent of the conservative demographic backed Trump in 2016, while just 17 percent supported Hillary Clinton. A Pew survey conducted this past June found that the president's level of support from white evangelicals had slipped slightly, down 5 points to 72 percent.
At the time the Trump event was held, more than 53,000 confirmed cases of the coronavirus had been confirmed in Nevada. As of Tuesday morning, the state had reported 69,318 cases and 1,305 deaths.
Updated September 2, 2020 at 6:53 a.m.: Comment from the Trump campaign and a line noting that Nevada's governor declined to comment was added.