House Democrats in Swing Districts Support Impeachment Despite Trump Campaign's Warning They Could Lose Seats
A majority of House Democrats in swing districts that President Donald Trump won in 2016 have declared they will vote for Trump's impeachment on Wednesday, despite warnings from the president's reelection campaign that such a move could lose them their seats in 2020.
Twenty-five of the 31 moderate Democrats from Trump districts have indicated they will back articles of impeachment, including Reps. Tom O'Halleran from Arizona, Lucy McBath from Georgia, Abby Finkenauer from Iowa, Elissa Slotkin from Michigan, Angie Craig from Minnesota, Susie Lee from Nevada, Chris Pappas from New Hampshire and others.
Democratic members and staffers told Axios this week that they expect between four to six swing district moderates to vote against impeachment amid rising fears that their votes could endanger their seats.
Trump's reelection campaign on Tuesday perpetuated these concerns by releasing a new internal poll showing that support for impeachment is endangering all 30 Democrats occupying House seats in Trump districts. The poll excluded New Jersey's 2nd District, a seat held by Democratic congressman Jeff Van Drew who recently indicated he will be switching to the Republican Party.
The Trump campaign-commissioned poll shows that voters in swing districts oppose impeachment by 10 points—53-43—and also favor electing a new person over the incumbent by 11 points—47-36. The survey interviewed 900 likely 2020 voters across all 30 CD's carried by Trump in 2016 where Democrats are the current Congressional incumbents.
"These Democrats already knew they were in trouble before the sham impeachment, but now they are in serious jeopardy," Trump 2020 campaign manager Brad Parscale said in a statement emailed to Newsweek. "By moving forward with her political theater of impeachment, Nancy Pelosi has accomplished two things: she has energized the President's supporters and walked her entire majority caucus off the plank."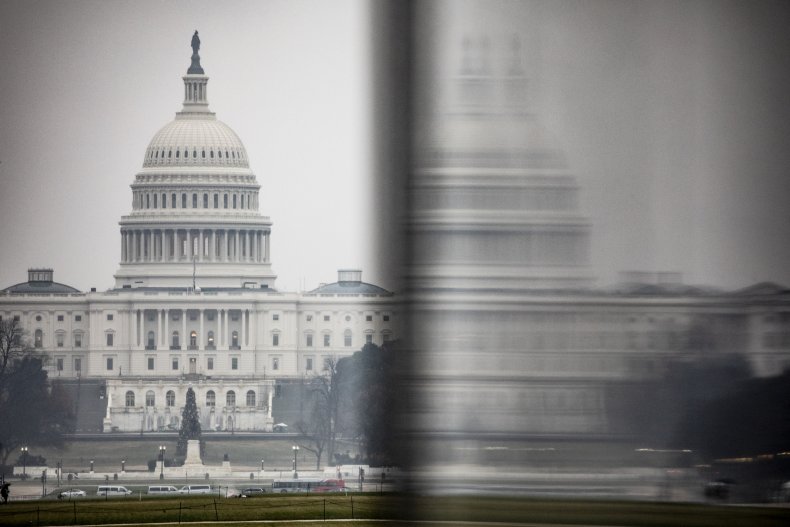 In addition to Van Drew, who has recently expressed his opposition to impeachment on numerous occasions, Minnesota Democratic Congressman Collin Peterson has also indicated that he will not support articles of impeachment unless new damning evidence against Trump convinces him to change his mind.
Peterson on Monday said he doesn't believe Democrats in the Senate have sufficient evidence to warrant the trial and that even if they did, the Republican-controlled Senate are still unlikely to impeach the president. The process would just divide the country, he added.
The congressman revealed that GOP members have approached him to join their party. "I'm staying in the party, in spite of some of the stuff that's going on that I don't agree with, I am not going to switch parties at this stage of my career, " he said.