House Democrats Who Flipped Trump Districts Raked In 3 Times More Campaign Cash Than GOP Challengers
Democrats in the U.S. House of Representatives who are at the highest risk of losing their seats swept in a massive amount of campaign cash in the first three months of the year—an early sign that the party could maintain control of the chamber in the November elections.
The group of nearly four dozen Democrats known as Frontliners—mostly first-term members who in 2018 flipped districts won by President Donald Trump—on average outraised their Republican challengers threefold. Together, the Democratic lawmakers now have five times more money in their accounts, Newsweek's analysis of Federal Election Commission filings showed.
The 42 Democrats raised a total of nearly $29 million, which averages to roughly $685,000 per member. The cash on hand averages more than $2.3 million for each campaign. In contrast, their GOP opponents together brought in less than $9 million, averaging $212,000 per candidate, with the average cash on hand a mere fraction of what Democrats banked—or less than $434,000.
The Democrats' fundraising haul doesn't bode well for Republicans looking to take back the House, only furthering incumbents' edge while the coronavirus pandemic cripples campaign activity, including fundraising. Barring the chamber's open seats are replaced with members of the same political party, Republicans need to flip 18 from blue to red.
"Between retirements, weak recruitment and anemic fundraising, it's clear Republicans aren't even pretending to put up a fight," Robyn Patterson, a spokesperson for House Democrats' fundraising arm, the Democratic Congressional Campaign Committee (DCCC), told Newsweek in a statement. "Democrats have put in the work to protect our majority, prioritize the needs of hardworking working Americans—not special interests—and keep pushing deeper into Republican territory."
Overall, DCCC outraised its GOP counterpart, the National Republican Congressional Committee (NRCC), with $17 million compared with $15 million in February, the most recent data available for the groups. The DCCC in 2019 outraised the NRCC by $40 million.
The NRCC did not respond to Newsweek's requests for comment.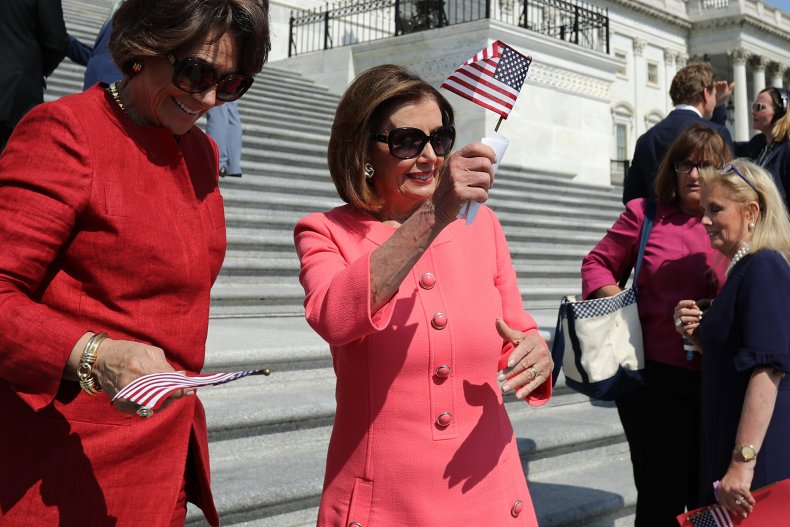 Democrats consider $500,000 per quarter a solid amount for incumbents to raise because the figure lends candidates the ability to vigorously defend their seats with ads and other campaign efforts. Thirty of the vulnerable Democrats raised that much, with five of them bringing in more than $1 million.
Only three Republican rivals managed to fundraise more than $500,000 in the first quarter.
The fundraising shortfalls for House Republicans is an issue that's handicapped the party in recent quarters. NRCC Chairman Tom Emmer (R-Minn.) publicly addressed the GOP's fundraising challenges earlier this year after Democrats performed similarly well in the final three months of 2019.
"Our members need to get their act together and raise more money," Emmer told members of the GOP public policy group Ripon Society in January. "The individual campaigns need to raise more money. They cannot expect somebody else is going to do it for them...That's the one issue that I think we're going to have over the next quarter, is getting these guys moving."
Certain swing-district incumbents have caught the eye of Democratic officials as promising indicators the party is well-poised to defend its House majority. Those include California Representatives Josh Harder and Katie Porter, Antonio Delgado and Anthony Brindisi of New York, and Lauren Underwood of Illinois. All five are first-term members. Brindisi, Underwood and Delgado won districts captured by Trump in 2016.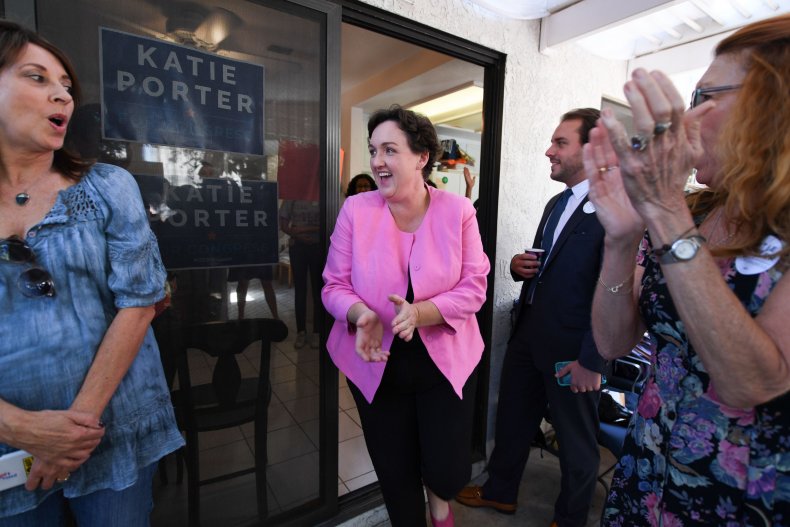 For example, Delgado, whose district went for Trump by nearly seven percentage points, raised nearly $762,000 in the first quarter and has $2.6 million cash on hand compared with Republican Ola Hawatmeh's $260,000-first quarter and $254,000 in the bank.
Porter, whose district narrowly went for former Secretary of State Hillary Clinton, raised north of $1.77 million in the first three months of 2020 and has $4.57 million cash on hand. Her GOP challenger, Greg Raths, brought in less than $70,000 and has a total of $151,000 at his disposal.
"We dominated. How do Republicans come back and compete in these districts?" said a Democratic source familiar with the numbers who was not authorized to speak publicly about specific races. "These numbers are brutal for Republicans. This takes some races off the map."
Regardless of political party, incumbents nearly always possess advantages over rivals. Their official position draws more media attention and increased name recognition, and they have more established fundraising and campaign networks, advantages that are only reinforced by the ongoing health crisis.
Campaigns' pocketbooks saw little impact from the pandemic during the first quarter. However, social distancing measures for many districts did not begin taking place until the later half of March.
That means the next three months will severely hamstring candidates' campaign abilities, further constraining the potential for Republicans to erase the large money deficits that swing-district Democrats have created.