'House of the Dragon' at San Diego Comic-Con: Panel Time, Who Will Be There
From July 21 to July 24 at the San Diego Convention Center, after a two-year hiatus, the famous San Diego Comic-Con returns—and with it, a sneak peek at HBO's Game of Thrones spinoff, House of the Dragon.
When attending the event, fans can get an advance look at upcoming movies and TV shows, dress up as their favorite characters and check out what people are selling in a variety of booths.
One of the many tv shows being showcased is HBO's House of the Dragon.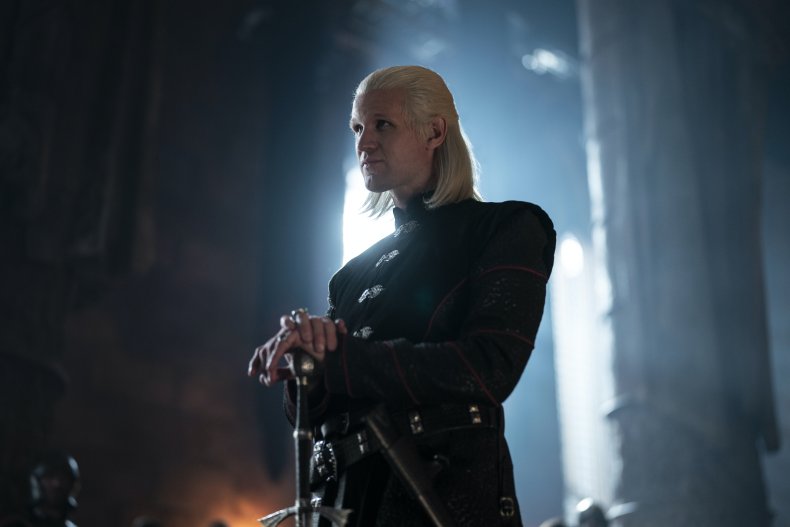 Which cast members from the show will be attending the panel?
Cast members from House of the Dragon expected to attend include Matt Smith (Prince Daemon Targaryen), Olivia Cooke (Alicent Hightower), Emma D'Arcy (Princess Rhaenyra Targaryen) and Paddy Considine (King Viserys Targaryen), Steve Toussaint (Lord Corlys Velaryon) and author George R.R. Martin.
Where will the panel be located and what time does it start?
The House of the Dragon panel will take place in Hall H and will begin at 11:30 a.m. and end at 12:30 p.m. PST/ 2:30 p.m. to 3:30 p.m. EST on Saturday, July 23.
Will the House of the Dragon panel be live streamed?
Unfortunately, the House of the Dragon panel doesn't look like it's going to be live streamed. Check social media for any live updates.
Along with the panel, HBO gives Comic-Con attendees a one-of-a-kind experience into the world of Westeros. Fans can get their picture taken on the infamous Iron Throne and interact with other immersive content including a large dragon skull and dragon eggs. In celebration of comic-con, HBO released a brand new look at the upcoming fantasy series.
House of the Dragon is based on the George R.R. Martin novel, Fire & Blood. It takes place about 200 years before the events of Game of Thrones. The show follows the Targaryen family and the civil war called the "Dance of the Dragons," where siblings Aegon II and Rhaenyra fight over the throne following the death of their father, Viserys.
"I've seen a rough cut of the first episode. And loved it. It's dark, it's powerful, it's visceral... just the way I like my epic fantasy," Martin wrote on his blog last December. "Ryan and Miguel [producers and writers of the show] have done an amazing job, and the cast... just as with GAME OF THRONES, most viewers will only have heard of a few of the actors, but I think you are going to fall in love with a lot of them. I think the Targaryens are in very good hands."
House of the Dragon
premieres on HBO and HBO Max on Sunday, August 21.