Where Is Patrizia Reggiani and Maurizio Gucci's Daughter Alessandra Now?
Ridley Scott's House of Gucci details the life story of Patrizia Reggiani and her ex-husband Maurizio Gucci, but it pays little attention to their daughter Alessandra.
Reggiani (played by Lady Gaga) and Gucci (played by Adam Driver) had two daughters together, Alessandra and Allegra.
Allegra isn't featured in the film but Alessandra is, and while the film explains what happened to their mother after she hired a hitman to kill Gucci it doesn't share what happened to the two girls following the events.
Maurizio was the final member of the Gucci family to run the company as he was bought out by investment bank Investcorp in 1992, and the fashion house was then run by Domenico De Sole with designer Tom Ford helping to revive the brand.
What Happened to Alessandra and Allegra After Their Father's Murder?
Alessandra and her younger sister Allegra were aged just 20 and 16 respectively when their mother was arrested in 1997.
The two women were given control of their father's estate after Reggiani was found guilty and sent to prison for 26 years.
Alessandra and Allegra campaigned for a retrial in their mother's case in 2004, with Vogue reporting they argued their mother was "not in command of her mental faculties at the time of the murder" after undergoing surgery to remove a brain tumor in 1992.
According to the publication, Allegra also studied law in order to help with her mother's case.
Where Are Alessandra and Allegra Now?
Alessandra and Allegra inherited their father's millions following his death, and also inherited his yachts "Creole" and "Avel" as well as properties in New York, Saint Moritz and Milan.
In 2013, Allegra spoke about their yachts with Classic Boat magazine, saying that she and her sister were keen to keep the spirit of their father alive through the vessels.
"My father would be so happy to see the boats now and how his philosophy of them is continuing," she said.
The Guardian claimed Alessandra and Allegra are both married and now live in Switzerland with their families, and they are keen to remain out of the public eye.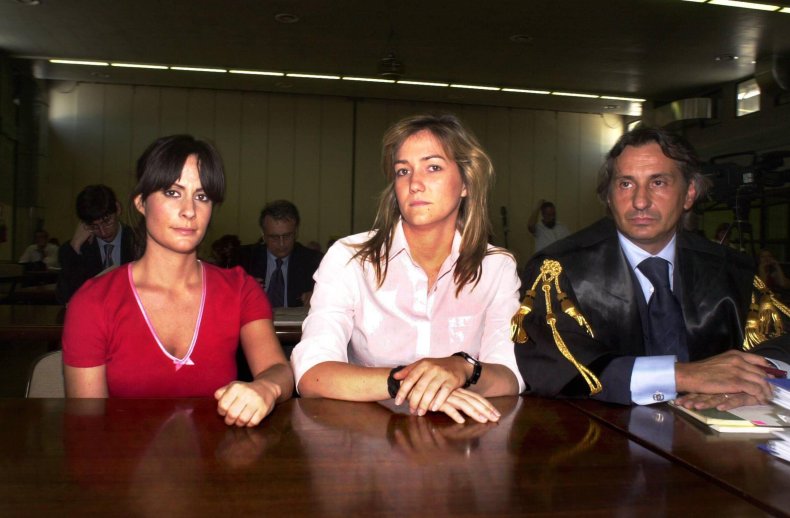 Are Alessandra and Allegra Still in Touch With Their Mother?
Reggiani was released from prison early for good behavior in October 2016 after serving 18 years of her 26-year sentence.
While Alessandra and Allegra had publicly defended her, Reggiani said in an interview with The Guardian in 2016 that they were no longer on speaking terms.
She said: "We are going through a bad time now. They don't understand me and have cut off my financial support. I have nothing, and I haven't even met my two grandsons."
In 2017, Alessandra and Allegra refused to pay their mother her divorce settlement, the case went to Italy's Supreme Court and Reggiani won, Forbes reported.
Reggiani receives an annual pension of $1.47 million because, before his death, Gucci had signed an accord in which he agreed to pay her the sum for the rest of her life.
House of Gucci is out in U.S. theaters now.
Update: 11/24/21, 9.57 a.m. ET: This article was updated to add a picture of Alessandra and Allegra Gucci in 2004.