House Majority Whip Jim Clyburn Joins Maxine Waters in Urging Protesters to 'Be Confrontational'
House Majority Whip Jim Clyburn of South Carolina on Saturday joined Rep. Maxine Waters of California in urging Black Lives Matter protesters to "be confrontational" when demanding racial justice.
Speaking to CNN's Jim Acosta, Clyburn echoed Water's remarks in calling for protesters to fight against systemic racism and police brutality against Black people in America.
"What I'm saying to people today, we have got to stand up now. And if I might use this word that my colleague Maxine Waters was chastised for, we have to confront injustice. That's what we gotta do," he said.
Asked by Acosta whether he's saying "be confrontational," Clyburn said, "Yes, we have to."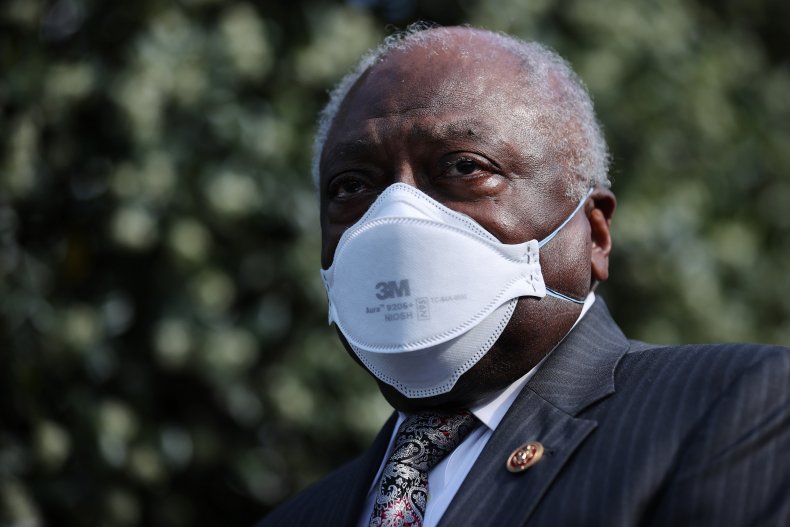 "We can't sit idly by while you've got a governor down there in Florida saying he's gonna allow what happened to the young lady [Heather] Hyer up in Charlottesville, give immunity to the guy that ran over her and killed her," he continued. "Come on, this stuff is crazy. We just can't sit by and think it'll go away. It's not going to go away. We gotta push it away. We gotta confront it."
He added: "We cannot sit by and this is not about whether you are Black, this is about whether you are in favor of maintaining this democracy. A democracy that started off as a protest that was called the Boston Tea Party. That was a protest and that was what led to what this country is today."
Last Saturday, Waters joined protesters gathered in Minnesota after the police killing of Daunte Wright for a seventh night of demonstrations.
Asked by reporters about the nearby trial of Derek Chauvin, Waters said that if the ex-cop isn't found guilty, "we've got to stay on the street and we've got to get more active, we've got to get more confrontational. We've got to make sure that they know that we mean business."
Republicans quickly condemned Waters' remarks and Georgia Rep. Marjorie Taylor Greene announced that she would introduce a resolution to expel Waters from Congress for inciting violence.
On Tuesday afternoon, a jury found Chauvin guilty of second-degree unintentional murder, third-degree murder and second-degree manslaughter after he killed George Floyd on May 25, 2020. Footage of the incident showing Chauvin kneeling on Floyd's neck for over nine minutes as he gasped for air triggered a nationwide reckoning and protests across the country against systemic racism and police brutality.
Newsweek reached out to the White House for comment. This story will be updated with any response.