As a House Panel Argued, Gunshots Killed 10 People. Here Are the Victims
As the House Judiciary Committee met for nearly 10 hours on Thursday to discuss new gun control measures, at least 10 people in the U.S. were killed by gunfire.
Overall, at least 82 shooting incidents occurred in the nation on Thursday, according to data from the Gun Violence Archive, and nine of them had fatalities, all while the House panel was in session from 10 a.m. to about 7:30 p.m. ET.
Newsweek reviewed Thursday's fatal shooting incidents and used reports from local news outlets across the nation to compile a list of the locations and the victims.
Columbia, South Carolina
Two victims killed in a murder-suicide were identified as 37-year-old Yoni Vargas and 33-year-old Rosa Salguero-Landaverde, according to WIS-TV in Columbia, South Carolina.
Vargas allegedly shot his wife and then took his own life at about 4:25 p.m. local time, WIS reported.
Onslow County, North Carolina
Shatina Watson, 43, was allegedly shot dead by her husband, Michael Watson, at about 3 p.m. local time.
He was arrested by officers with the Onslow County Sheriff's Office on Friday morning, according to WITN-TV in Washington, North Carolina.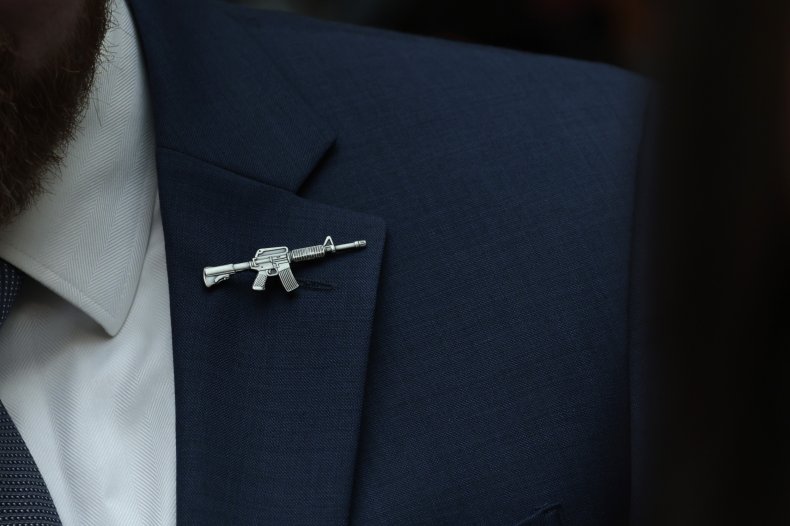 Prince George's County, Maryland
Bernard Lewis Jr., 27, was found fatally shot at about 11:30 a.m. local time, according to the Prince George's County Police.
"On June 2, 2022, at approximately 11:30 am, patrol officers were called to the 4400 block of 23rd Parkway for a report of a shooting. The officers discovered Lewis outside suffering from gunshot wounds. He was pronounced dead on the scene," police said in a press release Friday morning. They added that the authorities are still working to identify a suspect.
Houston County, Texas
Donnie Williams, 30, was fatally shot by an unknown suspect in an apparent road-rage incident, authorities said.
Houston County Sheriff Ed Gonzalez first reported the incident at around 12:56 p.m. local time.
On Friday, the sheriff tweeted: "Update to yesterday's road-rage shooting: the male was driving w/b on the N Sam Houston Toll Rd, approaching the Veterans Memorial toll plaza when he was involved with an altercation with a black male (20-25) in a SUV Crossover. As they exited, the driver of the SUV Crossover...fired multiple gunshots at the passenger side, striking the front seat passenger. The victim, Donnie Williams (30), was pronounced deceased at the scene."
New Athens, Illinois
Austin Evans-Blakey, 25, was found fatally shot at about 11:30 a.m. local time.
Police believe that Evans-Blakey and two others interrupted a burglary when they were shot, according to St. Louis TV station KTVI. The two others suffered gunshot wounds but are expected to survive, the station said.
"A confrontation directly between homeowners and criminals is pretty rare. Unfortunately, the subject was armed and opened fire for whatever reason. We hope to get to the bottom of what this is about," Captain Bruce Fleshren of the St. Clair County Sheriff's Department said during a press conference on Thursday, KTVI reported.
Phenix City, Alabama
Derante Person, 23, was shot at about 3:30 p.m. local time and pronounced dead about an hour later, according to TV station WTVM in Georgia.
No information on a possible suspect has been released by authorities.
Ypsilanti Township, Michigan
A 37-year-old man from Ypsilanti Township took his own life at about 11 a.m. local time after he barricaded himself in an apartment for several hours.
On Thursday morning, the Washtenaw Sheriff's Office said it received reports of shots fired on Wednesday night near the 1600 block of Laurel Bay Drive in Ypsilanti Township. The office announced the death in an update that afternoon.
"The investigation is ongoing, but our understanding at the moment is the 37-year-old suspect was angry with his girlfriend for moving out, and as she and her friend were leaving, the suspect shot up the vehicle they were in," authorities said.
Chicago, Illinois
An unidentified 39-year-old male was fatally shot at about 5 p.m. local time, the Chicago Sun-Times reported. The incident occurred near the 7100 block of South Champlain Avenue, the newspaper said.
Toledo, Ohio
Cah'von Graves, 19, was found fatally shot in an apartment at about 3:45 p.m. local time, TV station WTOL reported. Police immediately attempted lifesaving measures at the scene and transported Graves to a hospital shortly afterward. He was pronounced dead at the hospital, according to WTOL.
During its nearly 10-hour meeting on Thursday, the House Judiciary Committee passed the so-called Protecting Our Kids Act, a legislative response to the nation's recent mass shootings, including the one at Robb Elementary School in Uvalde, Texas, that left 19 students and two teachers dead.
Democratic Representative Jerry Nadler, the chairman of the panel, responded after being informed by Newsweek about the number of victims killed by gunfire during his committee's meeting.
"This startling and horrifying fact underscores exactly why it's imperative that Congress pass the Protecting Our Kids Act immediately," he said.