Tennessee House Resolution Says Media Hyped COVID-19
On Friday, Tennessee's Republican-led House of Representatives passed House Resolution 340, a resolution that congratulates the state's citizens "for clearly seeing that the mainstream media has sensationalized the reporting on COVID-19 in the service of political agendas."
The resolution, authored by Republican State Representative Micah Van Huss, said that mainstream media for criticized those citizens who sought to reopen businesses, gather at the beach or attend church services while now largely ignoring social distancing narratives when it comes to mass demonstrations.
In January, Huss had filed a resolution to "recognize CNN and The Washington Post as fake news and part of the media wing of the Democratic Party," according to Mediaite, but his resolution failed to make it out of committee.
Newsweek reached out to Huss for comment. This story will be updated with any response.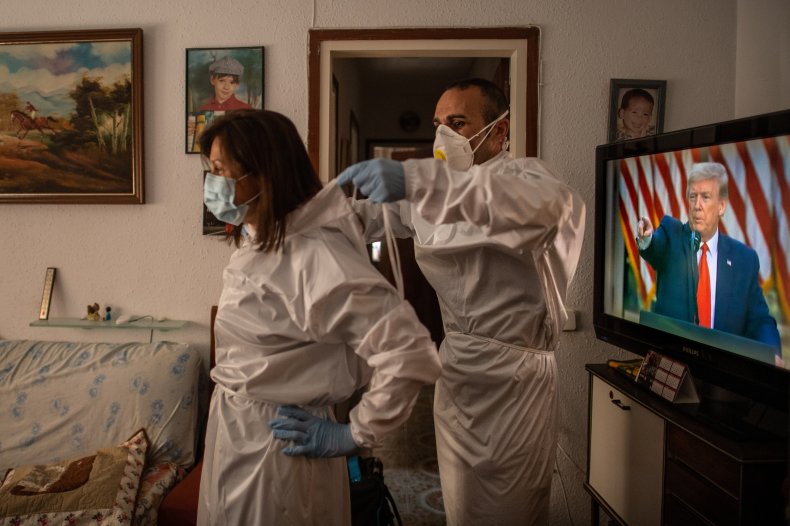 As of June 18, Tennessee has seen a total of 32,143 confirmed COVID-19 cases and 497 deaths since the epidemic began, according to the Tennessee Department of Health website. For the last 10 days, the state has fallen mostly on the higher range of 300 and 800 new cases every day.
Media coverage during the epidemic has proved deep divides in the American appetite for public health information.
In late March, more than 200,000 people signed a petition asking news broadcasters to stop providing live coverage of the White House's daily coronavirus briefings. Signers believed President Donald Trump was using the briefings to spread disinformation and as televised rallies for his re-election.
On April 2, two major broadcasters, CNN and MSNBC, cut away from Trump's coronavirus briefing when Trump used the occasion to discuss "enhanced counter-narcotics operation" in the Pacific Ocean & Caribbean Sea.
A May 8, 2020 Pew Research Study on Americans views of news media during the epidemic showed a majority of U.S. adults have considered the news coverage as informational, accurate, beneficial and helpful. However, Republican-leaning adults were about 30 percent less likely to feel this way than Democratic-leaning adults.
The same study revealed that just over half of all American adults have "not much" or "no" confidence that journalists act in the best interests of the public. Roughly 56 percent also said journalists have "low" or "very low" ethical standards. Four in 10 Americans surveyed felt the media coverage of the epidemic was more negative than it should be.
A May 14, 2020 study by the banking research company BBVA analyzed over 80,000 online news publications in more than 100 languages and found an increased quantity of news and increased negativity in coverage as the number of infections increase, and less so when they decrease.