House Passes Stimulus Bill 359-53, Headed to Senate For Midnight Vote
The U.S. House of Representatives passed an economic stimulus bill worth roughly $900 billion on Monday by a vote of 359-53, allowing the legislation to be forwarded to the U.S. Senate for an expected late-night vote. Democrats voted for the bill by a vote of 230-2 while Republicans approved the stimulus package by a vote of 128-50. The two Independent Representatives split their votes 1-1.
Included in the bill are $600 direct stimulus checks for eligible Americans, a $300 increase in weekly unemployment benefits and the reinstitution of the Paycheck Protection Program, which would allow small businesses affected by the COVID-19 pandemic to cover their expenses with low-interest loans. Democrats and Republicans haggled over details of the proposal for weeks, causing many to criticize the delay.
During a Monday interview with CNBC, U.S. Treasury Secretary Steven Mnuchin said that direct assistance could start being dispersed as soon as "the beginning of next week."
"Much needed relief," Mnuchin said, "and just in time for the holidays."
Some lawmakers pushed for more direct assistance including Missouri Senator Josh Hawley, who supported stimulus checks in the amount of $1,200.
"I have to say that the levels of support that I understand will be offered to working people are hardly adequate and we should not pretend otherwise," Hawley said Sunday during a Senate floor speech.
Senate Majority Leader Mitch McConnell said Monday that the relief bill was necessary. "What the country needs is exactly what we are going to pass later tonight," said during a Monday interview with Fox News. Newsweek reached out to McConnell's office for further comment.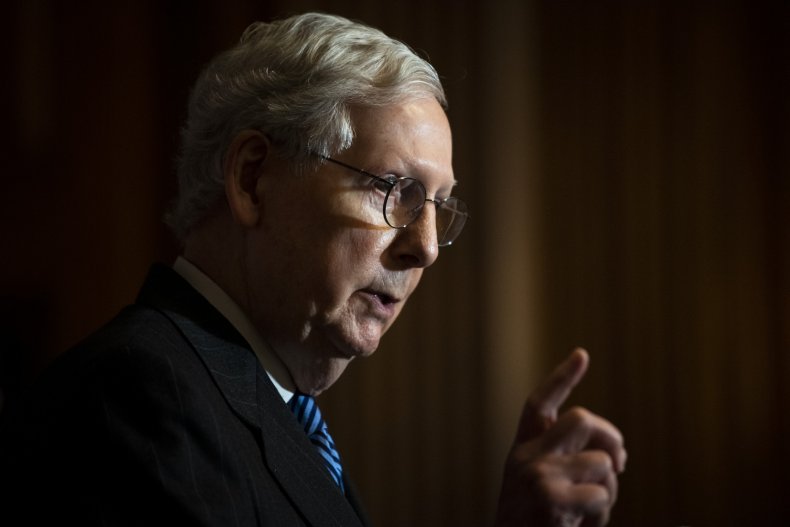 Describing it as a "good bipartisan bill", Democrat House Speaker Nancy Pelosi said Monday that the bill would extend a moratorium on evictions, allowing some Americans whose income has been decreased because of the COVID-19 crisis to remain in their homes.
"We can accept the short term because we'll have a new president during the length of that moratorium to extend it further when necessary," Pelosi said.
Funding and benefits provided by the CARES Act, which was signed into law in March, is expected to run dry in December. Meanwhile, the unemployment rate in the U.S. was 6.7 percent in November, according to the U.S. Department of Labor.
The U.S. is also seeing a rise in positive diagnoses of COVID-19. According to information from Johns Hopkins University, 17,994,936 positive cases of COVID-19 have been reported in the U.S. since the beginning of the pandemic with 319,086 fatalities attributed to the virus.
Senate Minority Leader Chuck Schumer acknowledged on Sunday that the new stimulus package was "far from perfect, but it will deliver emergency relief to a nation in the throes of a genuine emergency."
"The agreement on this package could be summed up by the expression, 'better late than never,' Schumer said Sunday, "although I know many of my Republican colleagues wished it was never."