Steven Mnuchin Says Second Stimulus Check Will Be Deposited Within Days
Treasury Secretary Steven Mnuchin said stimulus checks would be sent out at the beginning of next week after Congress reached a deal on the outline of the next coronavirus relief package last night.
The Trump administration official told CNBC that he wanted the $600 direct payments provided in the coming stimulus bill to be sent at the start of next week so money could circulate through small businesses and other parts of the economy in need of relief.
Speaking to Squawk on the Street about the delivery of stimulus checks, Mnuchin said: "The president wanted direct payments, so we will be sending out next week direct deposit. I suspect we'll get the money out by the beginning of next week: $2,400 for a family of four, so much needed relief."
He later added: "People are going to see this money the beginning of next week. So it's very fast. It's money that gets recirculated in the economy, so people go out and spend this money and that helps small business. That helps getting more people back to work."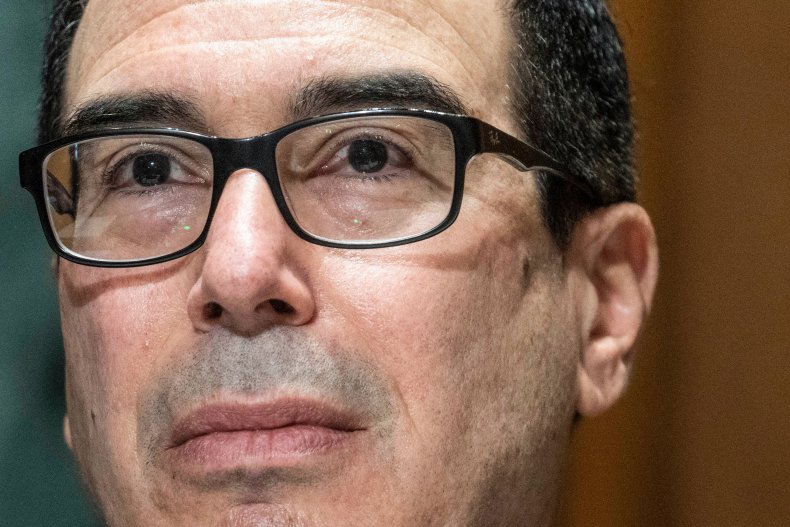 The $900 billion stimulus package negotiated by Congress at the weekend, after a nine-month delay, will include $600 individual stimulus checks—or half the $1,200 checks provided under the CARES Act in March.
It is expected that the relief bill will also include $300 a week of extra unemployment benefits; federal food and rent relief; money for schools and small business aid through the Paycheck Protection Program.
Rent relief provided under the package will tally at $25 billion, according to a letter House Speaker Nancy Pelosi (D-CA) sent to her colleagues on Capitol Hill last night. The sum is a little more than a third of forecast rent and utility bill debt in January. It is not clear how long Americans will be covered under the extended eviction ban.
"With the millions of people on the verge of eviction, we have rental assistance and a moratorium," she told reporters. "Food, rental assistance, Earned Income Tax Credit and Child Tax Credit for America's working poor families."
Senate Majority Leader Mitch McConnell also heralded the deal after its lengthy delay last night. But he also refrained from heaping praise on Congress. He said: "When we finalize this measure and pass it, Congress will only have done our job. We will have finally done our duty in getting more relief to those who need it most."
The stimulus bill has yet to reach the floor of Congress and be passed by both houses. The New York Times reported that the text of the legislation was still being finalized at the end of Sunday night.