House Pushes Plan to Keep Pentagon From Banning LGBTQ Pride Flags
Dozens of U.S. Representatives have hatched a plan to stop the Department of Defense from banning the display of rainbow LGBTQ pride flags at military installations.
A July 16 memo from Secretary of Defense Mark Esper was aimed at banning the Confederate flag from being flown at U.S. military bases but also resulted the prohibition of many other flags that had been previously allowed, including the LGBTQ pride flag and flags of sovereign Native American nations. On Friday, a group of over 30 Democratic House members sent a letter to Esper, urging him to revisit the policy and explicitly ban the Confederate flag.
"The action by the Department to implicitly ban the LGBTQ Pride flag only serves to create a discriminatory environment for LGBTQ service members and continue to isolate them from their fellow Airmen, Marines, Sailors, and Soldiers," stated the letter from representatives including House Armed Services Committee Vice Chair Rep. Anthony Brown (Md.) and Rep. Jackie Speier (Calif.), who chairs the Subcommittee on Military Personnel.
"We ask that you immediately revise the new policy on flag display, explicitly ban the Confederate Battle Flag, and ensure that service members can express support for diversity and inclusion through the display of Native Nations and LGBTQ Pride flags," the letter continued.
Newsweek reached out to the Department of Defense, who declined to comment while noting they would "reply directly to the authors of the letter."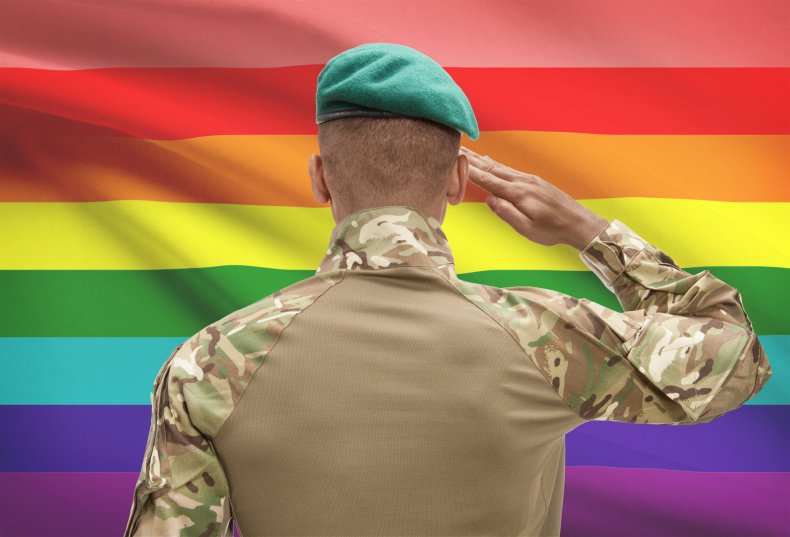 Esper's memo did not explicitly ban the Confederate flag but instead defined a narrow range of flags that could be displayed at military installations—including state flags, flags of allied nations and various flags related to military operations. He wrote that flags that are allowed should displayed with the intent of "treating all our people with dignity and respect" while "rejecting divisive symbols."
Confederate flags and symbols have become the focus of renewed criticism in the wake of mass protests against racial injustice sparked by the May 25 death of George Floyd. Before Esper's memo, the Navy and the Marine Corps had banned the Confederate flag, while the Air Force planned to implement a ban.
Military leaders have also expressed support for renaming bases named after Confederate figures. Both the House and the Republican-controlled Senate recently passed legislation that would mandate that the bases be renamed, although it is unclear whether the changes will become law.
President Donald Trump appears to favor the association with the Confederacy and has vowed to block any attempt at renaming bases, insisting "I don't care what the military says," during a recent Fox News interview with Chris Wallace.