Republicans Stamped Their Mark on the Capitol
In the first few weeks of the GOP-controlled Congress, House Republicans have not only laid out how they want to govern but how they want the actual government building to run.
The 118th Congress, which was sworn in on January 7 following a lengthy vote to elect Kevin McCarthy as House speaker, has already seen a number of rules and procedures brought in at the Capitol, including those introduced by Democrats.
Below, Newsweek takes a look at how the GOP has enforced its own vision of how lawmakers can carry out their duties in Washington, D.C.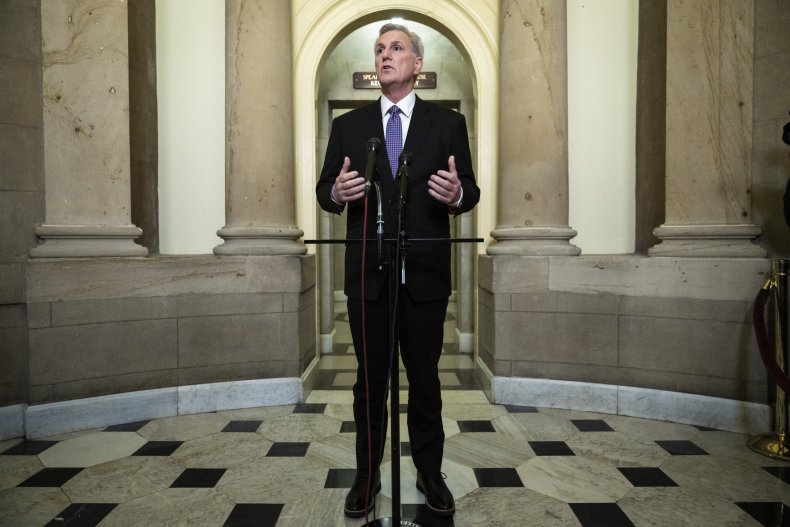 End Capitol smoking ban
One of the first rules that House Republicans scrapped once they took control of the lower chamber was the banning of smoking on Capitol Hill.
While smoking is banned indoors across Washington, D.C., the Capitol building is under its own federal jurisdiction.
Former House Speaker Nancy Pelosi introduced a ban on smoking in the House in 2007 but still allowed it in members' offices.
On January 13, the GOP fully removed the ban, allowing indoor smoking to also be allowed in public areas of the House side of Congress.
Remove proxy voting
In 2020, during the height of the COVID-19 pandemic and the resulting health guidelines, the Democratic-controlled House voted to introduce legislation that would allow representatives to vote on behalf of a fellow lawmaker if they were unable to do so in person.
On January 19, House Republicans ended the practice of proxy voting in virtually all circumstances, even if a lawmaker cannot vote in person because of illness or injury.
McCarthy long vowed to end proxy voting when the GOP took control of the House, saying in December that it was being "misused as a means of convenience rather than as a precaution for health—and it has been, by members of both parties."
In a tweet on January 19, McCarthy confirmed: "No more proxy voting. Effective immediately, Members of Congress have to show up to work if they want their vote to count."
Metal detectors removed from halls
On January 3, metal detectors installed in the wake of the January 6, 2021, Capitol riot, were removed ahead of the GOP taking control of the chamber.
One of those who celebrated the removal was MAGA Colorado Representative Lauren Boebert.
"When I arrived in Congress two years, Nancy Pelosi put this hunk of garbage outside of the House chambers for members of Congress to go through," Boebert said in a video posted to social media showing the metal detectors being removed behind her.
"Today, they are being removed and we are turning Pelosi's House back into the people's House."